Today's Trackdown: Tuesday - May 22, 2018
Brief Recap and Updates on the Markets
SPY Chart and some Technical Analysis
---
May-21-2018
Dow +298.20 at 25013.29, Nasdaq +39.70 at 7394.04, S&P +20.04 at 2733.01
Stocks were up Monday on news that a possible trade war with China was "put on hold".
---
News to keep in mind Tuesday morning:
Markets are slightly higher on all the averages in early pre-market trading.
Early Overnight - Dow futures vs fair value: +25.00. S&P futures vs fair value: +1.00. Nasdaq futures vs fair value: +6.00.
10-yr Treasury yields are still over 3.00% - Keep an eye on how this affects the market.
Will we see a follow through of Monday's rally or a pause/pullback today?
Today's Economic Calendar:

Redbook 8:55 AM ET
Richmond Fed Manufacturing Index 10:00 AM ET
4-Week Bill Auction 11:30 AM ET
52-Week Bill Auction 11:30 AM ET
2-Yr Note Auction 1:00 PM ET
---
On the SPY chart below it is important to note the SPY is still above its 50-day MA. The MACD lines are positive. The Stochastics are neutral. The Chaikin is showing a modest amount of money flowing into the markets.
We had what appeared to be another TOPPING CANDLE last week. With the sharp rise in stocks on Monday this top may get tested. Previously I have used the top of the latest candle at 274, to mark the top of a new short-term trading range. The MACD is positive while the Stochastics are neutral. Money flow is currently a slight positive for the markets. I am now using a trading range with support at 270 and resistance level around 274.
* - The market had a good advance Monday on the China trade news. Will the rally test the 274 level or remain in our short-term trading range?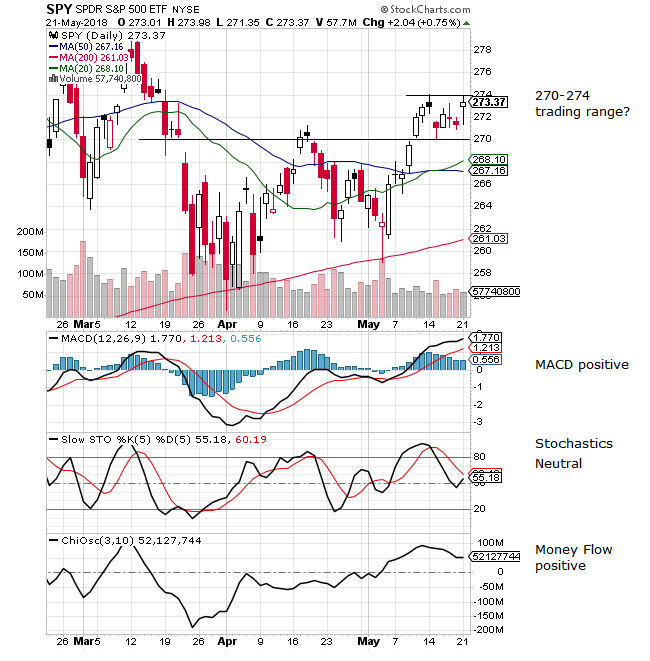 In the longer term chart, we are still looking at a large declining triangle. Recently we broke above the declining tops line. I marked 270-275 as the latest range or congestion area to watch.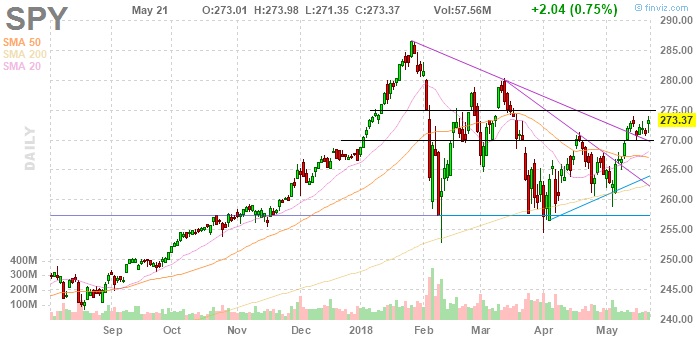 Nasdaq Composite +7.1% YTD
Russell 2000 +6.6% YTD
S&P 500 +2.2% YTD
Dow Jones Industrial Average +1.2% YTD
---
Disclosure: I may trade in the ticker symbols mentioned, both long or short. My articles represent my personal opinion and analysis and should not be taken as investment advice. Readers should do their own research before making decisions to buy or sell securities. Trading and investing include risks, including loss of principal.
If you liked this article, please click the LIKE (thumbs up) button.
Feel free to leave any comments, question, or opinions.
Follow us and check back occasionally for additional articles or comments.
With our Daily Trackdowns, we may add additional analysis/observations during the trading day in the comments.