Markets by Mike Paulenoff 9/25 - Resilient FB Facing Strong Resistance
Tuesday September 25th, 2018
by Mike Paulenoff
FB-- has withstood all sorts of negative news, analysis, and knee jerk selling pressure during the past 48 hours, which triggered a plunge from 165 to 160, where it held, and has since turned up to 164.79 so far.
Even Cramer's criticism during his pre-market analysis could not keep FB down, which suggests to me that indeed, FB has reached downside exhaustion in the aftermath of its major correction from 219.00 (2/19/18) to 158.25 (9/18/18).
That said, however, let's notice on my attached 4 hour chart that FB has powerful and consequential resistance from 166.40 up through 1687.25, which needs to be hurdled and sustained for the recovery rally to gain additional potent upside traction that will point to a 180 area target thereafter. Last is 164.65/70... Our Model Portfolio is long FB at 166.02 from 9/20/18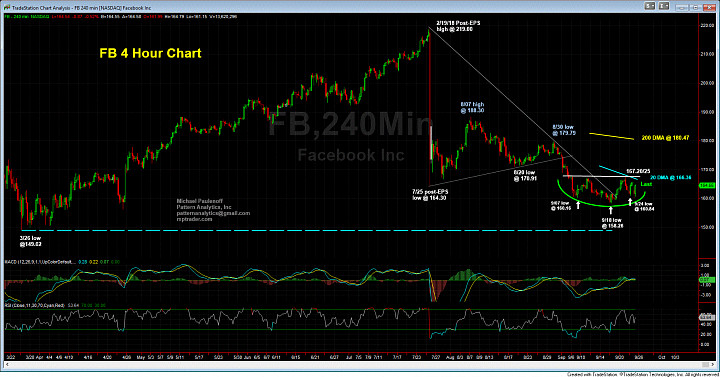 Mike Paulenoff is author of MPTrader.com, a real-time diary of his technical analysis & trade alerts on ETFs for precious metals, energy, currencies, and an array of equity indices and sectors, including international markets, plus key ETF component stocks in sectors like technology, mining, and banking. Sign up for a Free 15-day Trial!
* I really like Mike's charts and analysis. This is shared with my readers here via MPtrader.com *
---
Disclosure: I may trade in the ticker symbols mentioned, both long or short. My articles represent my personal opinion and analysis and should not be taken as investment advice. Readers should do their own research before making decisions to buy or sell securities. Trading and investing include risks, including loss of principal.
If you liked this article, please click the LIKE (thumbs up) button.
Feel free to leave any comments, question, or opinions.
Follow us and check back occasionally for additional articles or comments.