Midday Markets by Mike Paulenoff 7/22 - U.S. Dollar Peaking?
By Mike Paulenoff, MPTrader.com
Now that POTUS has weighed directly into the currency manipulation issue, basically accusing both the EU and China of manipulating their currencies lower to achieve competitive advantage while the US economy attempts to fire on all cylinders amid a rising rate cycle, the trading world has been put on notice that POTUS can and probably will play that game, too. Or at least he may jawbone about a lower USD to achieve the same goal without actually forcing the Treasury to intervene in the markets.
It is through this quasi-politically charged prism that we now view the technical set up ahead of the next potentially significant directional move in the USD.
Looking at the BIG picture chart of the U.S. Dollar Index (DXY), we can make the case from a pattern perspective that the powerful decline from the January 3, 2017 high at 103.82 to the February 16, 2018 low at 88.25 ended the first major down-leg of an incomplete USD bear phase. This was followed by a February-July counter-trend rally into the 95.50/65 area, which represents a recovery of almost exactly 50% of the prior initial down-leg.
As such, this is a natural resistance zone from where we should be expecting a downside pivot reversal that signals the resumption of the dominant underlying bear trend.
Let's notice on the attached DXY daily chart that during the past 4 weeks, DXY has attempted but failed to hurdle the 95.50/65 fifty percent resistance zone. Ironically it, turned down to 94.50 from the 95.50/65 plateau in reaction to President Trump's comments in his July 19 CNBC interview.
My suspicion is that DXY is peaking, or already has peaked at 95.65, especially when the post-February price action is overlaid on my daily RSI and MACD momentum gauges, which reinforce evidence of upside exhaustion ahead of a downturn.
That said, to trigger an initial sell signal, DXY must break and sustain beneath its multi-month up trendline, now in the vicinity of 94.20. In the absence of such a close beneath 94.20, let's watch price behavior in and around both the 5 DMA, now at 94.85, and the 20 DMA, now at 94.67. A close beneath the 5 and 20 DMA's will argue strongly for downside continuation that breaks the dominant recovery up trendline at 94.20.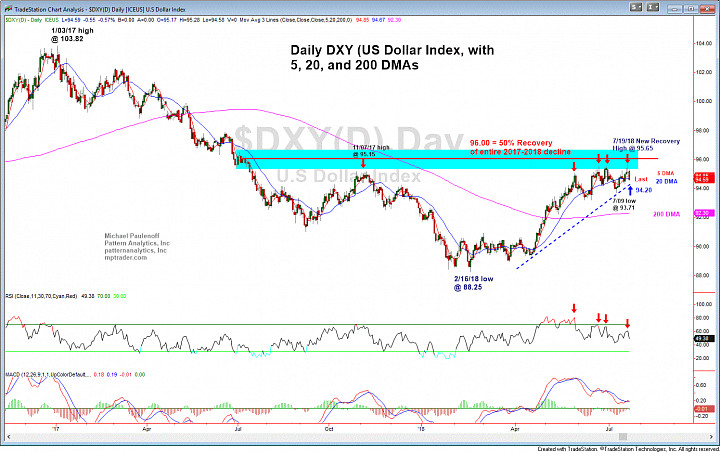 Mike Paulenoff is author of MPTrader.com, a real-time diary of his technical analysis & trade alerts on ETFs for precious metals, energy, currencies, and an array of equity indices and sectors, including international markets, plus key ETF component stocks in sectors like technology, mining, and banking. Sign up for a Free 15-day Trial!
* I really like Mike's charts and analysis. This is shared with my readers here via MPtrader.com *

---
Disclosure: I may trade in the ticker symbols mentioned, both long or short. My articles represent my personal opinion and analysis and should not be taken as investment advice. Readers should do their own research before making decisions to buy or sell securities. Trading and investing include risks, including loss of principal.
If you liked this article, please click the LIKE (thumbs up) button.
Feel free to leave any comments, question, or opinions.
Follow us and check back occasionally for additional articles or comments.