Analysts got it right here Friday - Buy the Dip in Amazon >
Amazon - $AMZN - As you can see by the chart and price action today/Friday the analysts get it right this morning, this time.
---
Though Amazon's Q3 sales got a boost from Prime Day and one-day shipping, its profit missed expectations
Shares of Amazon.com (AMZN) dropped after its third quarter profit missed analysts' expectations, even as sales in the quarter got a boost from Prime Day deals, new Echo and Fire TV devices and the implementation of one-day shipping. Following the earnings report, several analysts advised buying the dip, but Barclays analyst Ross Sandler said that while it is historically a good idea to buy Amazon shares in the "7th-8th inning of its investment cycles, closer to where we are coming out [...] unfortunately it feels like we are only in the 3rd-4th inning."

EARNINGS AND GUIDANCE: After the market close on Thursday, Amazon reported third quarter earnings per share of $4.23, missing analysts' consensus estimates of $4.62. Revenue of $70B exceeded the $68.81B consensus. Much of the quarter's upside can be attributed to Amazon Prime's higher membership price of $119 per year, as well as the rollout of free next-day delivery, both of which were announced earlier this year. The company said AWS revenue was $9B against $6.68B a year ago, with operating income for the cloud segment of $2.26B vs. $2.08B a year ago.

In a statement, Amazon founder and Chief Executive Officer Jeff Bezos commented that "We are ramping up to make our 25th holiday season the best ever for Prime customers - with millions of products available for free one-day delivery. Customers love the transition of Prime from two days to one day - they've already ordered billions of items with free one-day delivery this year. It's a big investment, and it's the right long-term decision for customers. And although it's counterintuitive, the fastest delivery speeds generate the least carbon emissions because these products ship from fulfillment centers very close to the customer."

Looking ahead, Amazon forecast fourth quarter revenue of $80B-$86.5B, below the $87.37B consensus. It said the guidance contemplates an unfavorable impact of approximately 80 basis points from foreign exchange rates. Operating income is expected to be between $1.2B-$2.9B, compared with $3.8B in fourth quarter 2018.
WHAT'S NOTABLE: Amazon's third quarter results included sales from Prime Day, which the company called its biggest shopping event in history. Amazon previously said Prime Day sales surpassed those of Black Friday and Cyber Monday combined, with more than 175 million items sold over the 48-hour event in July. Prime Day was also the biggest event ever for Amazon devices, when comparing two-day periods - top-selling deals worldwide were Echo Dot, Fire TV Stick with Alexa Voice Remote, and Fire TV Stick 4K with Alexa Voice Remote, Bezos said in July.

Chief Financial Officer Brian Olsavsky commented on Thursday's earnings conference call that "customers are buying more often and they're buying more products."
FEELS LIKE '3RD OR 4TH INNING': Barclays analyst Ross Sandler lowered his price target for Amazon.com to $2,000 from $2,180 after the company's outlook for Q4 came in below expectations. Historically it's a good idea to buy Amazon shares in the "7th-8th inning of its investment cycles, closer to where we are coming out, but unfortunately it feels like we are only in the 3rd-4th inning," Sandler told investors in a research note. However, the analyst's long-term bullish stance is unchanged.

Mizuho analyst James Lee lowered his price target for Amazon.com to $2,150 from $2,200 saying the company's revenue guidance for Q4 was soft and operating income came in well below consensus on increased investments in Prime one-day shipping and Wed Services. Despite the near-term cost headwinds, however, the analyst remains confident about Amazon's ability to gain market share on retail and operating efficiency over time. Piper Jaffray analyst Michael Olson said Amazon's Q4 outlook was well below the Street, however, as the AWS deceleration is likely to persist and increased spending on the company's one-day shipping initiative will continue to weigh on operating income, contends Olson. He lowered his price target for Amazon.com shares to $2,150 from $2,225.

BUY THE DIP: Meanwhile, Benchmark analyst Daniel Kurnos lowered his price target on Amazon shares to $2,100 from $2,300 given the company's "thorough Q4 guidance miss," noting that the mid-point of the company's operating income view was over 50% below consensus, which he attributes to "a much more aggressive" push into one-day availability for the holidays. Though he significantly underestimated the level of the company's upfront spend, Kurnos sees Amazon reestablishing a deeper competitive moat once the bulk of the one-day push is completed and he would be a buyer on the post-earnings weakness. Baird analyst Colin Sebastian also said he would be a buyer of Amazon on a pullback following its earnings report. The analyst said investors need to digest the cost of one-day Prime as the company continues to invest heavily in shipping which is weighing on margins. He believes the significant platform investments bodes well for Amazon's future growth and that its revenue guidance will likely prove to be conservative.
JPMorgan analyst Doug Anmuth also recommended buying shares of Amazon on the post-earnings selloff, saying he'll take the trade-off of lighter profits for higher revenue. Prime One Day is accelerating Amazon's revenue and unit growth, Anmuth tolds investors in a research note. In addition, Web Services growth of 35% was a bit below the analyst's 36% estimate, but he noted that it came in better than the larger deceleration many feared heading into the quarter.
OTHER ANALYST COMMENTARY: Morgan Stanley analyst Brian Nowak said Amazon's Q3 results and Q4 guidance speak to the success of 1-day shipping as well as the costs and challenges it brings. However, he contends that "the most impressive [and important] part of the results" were how quickly 1-day shipping has ramped and how Amazon is improving the efficiency materially faster than expected. Wedbush analyst Michael Pachter lowered his price target for Amazon to $2,000 from $2,350, saying he believes the company can deliver significant earnings over the long term by growing spending more slowly than revenues. However, he noted that guidance for Q4 is below expectations and it is difficult to assess when Amazon will again begin to deliver profit upside.

SunTrust analyst Youssef Squali raised his price target on Amazon to $2,350, saying its Q3 results were stronger than expected as 1-day shipping is having a positive impact on accelerating its unit shipment and online store growth rates. The analyst noted that while the "soft" Q4 guidance weighed on the stock price after yesterday's earnings, he sees Amazon as "one of the most attractive assets" in his coverage universe, adding that its AWS investments also "solidify" the company's competitive moat.
Source:(thefly.com)
---
$AMZN
, Amazon.com, Inc. / M5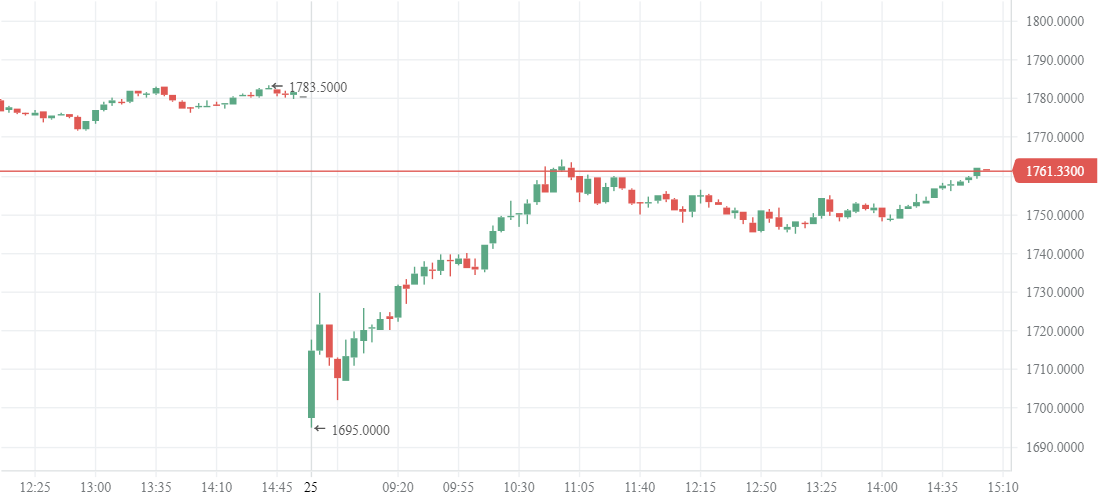 ---
Disclosure: I may trade in the ticker symbols mentioned, both long or short. My articles represent my personal opinion and analysis and should not be taken as investment advice. Readers should do their own research before making decisions to buy or sell securities. Trading and investing include risks, including loss of principal.
If you liked this article, please click the LIKE (thumbs up) button.
Feel free to leave any comments, question, or opinions. (Sign-up if you haven't already done so).
Follow us/bookmark us and check back occasionally for additional articles or comments on our page...