Trading List: Feb. 5 - Updates, Analyst Actions, Our Take - TGTX
Notable updates, news, or analysts actions from our trading lists followed by 'Our Take'.
---
HUGE DAY FOR TGTX!!!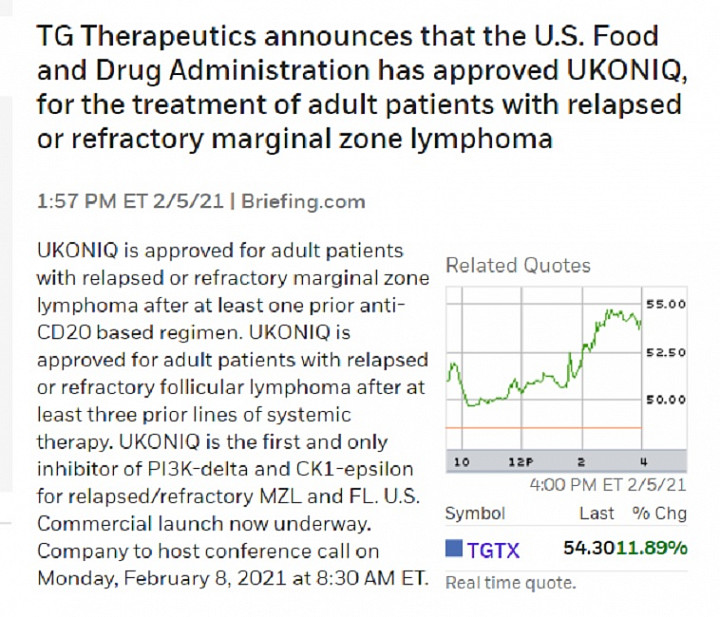 ---
What a big day for our Top Pick! FDA approval one week early!
Note the company will have it's victory lap/conference call on Monday morning.

---
Also today before the FDA news TGTX received a huge price target raise on their other drug for MS.

TG Therapeutics price target raised to $90 from $67 at B. Riley Securities
B. Riley Securities analyst Mayank Mamtani raised the firm's price target on TG Therapeutics to $90 from $67 and reiterates a Buy rating on the shares after conducting a survey of 31 U.S.-based multiple sclerosis treating physicians to help inform the commercial opportunity of TG's ublituximab. Doctors are keen to get their hands on ublituximab as the preferred anti-CD20 antibody as they continue driving new patient starts and switches to the highly efficacious therapeutic CD20 class, Mamtani tells investors in a research note. He views the survey as bullish for TG Therapeutics.
Our Take: Still our Top Pick and we believe their is much more upside to come here. This price target raise came before the FDA approval news and was based on TGTX's MS drug which is extremely promising!
A buy out over $100+ is definitely a possibility at some point in time.

---
Disclosure: I may trade in the ticker symbols mentioned, both long or short. My articles represent my personal opinion and analysis and should not be taken as investment advice. Readers should do their own research before making decisions to buy or sell securities. Trading and investing include risks, including loss of principal.
If you liked this article, please click the LIKE (thumbs up) button.
Feel free to leave any comments, question, or opinions. (Sign-up if you haven't already done so).
Follow us/bookmark us and check back occasionally for additional articles or comments on our page...
.