Trading List: May 1 - Updates & Analyst Actions - AMRN, CRWD, TGTX, VKTX
$AMRN - $CRWD - $TGTX - $VKTX - On our trading list. All with news today or analyst comments. Busy day!
---
Citi doubles Amarin price target to $12 ahead of appeal decision
Citi analyst Joel Beatty doubled the firm's price target on Amarin to $12 from $6 and keeps a Buy rating on the shares. The stock closed Thursday down 65c to $7.61. Beatty sees a "relatively high likelihood" of share upside from a European partnership in the second half of 2020, and also believes competitors are unlikely to launch a generic version of Vascepa before the appeal decision expected by the end of the year. While acknowledging a high risk to the stock from the appeal decision, he believes his 20%-40% probability of success on appeal for Amarin still provides a "favorable enough risk/reward" to buy the stock at the current price. Shares of Amarin are worth $24 on an appeal win, and $7 on a loss, Beatty tells investors in a research note.
---
Amarin hired good attorney for Vascepa appeal, says H.C. Wainwright
H.C. Wainwright analyst Andrew Fein believes Amarin (AMRN) hired a good attorney for the Vascepa patent litigation appeal process in Jonathan Singer, head of the life sciences litigation practice at intellectual property litigation leader Fish & Richardson. In consultation with a patent attorney, Fein learned that Singer has tried several high profile cases, including being on the team that won an appeal on behalf of Gilead Sciences (GILD) regarding the hepatitis C drug sofosbuvir, in which the judge overturned a $2.5B jury verdict and the Federal Circuit affirmed. The analyst reiterates a Buy rating on Amarin with a $51 price target. While Fein thinks Vascepa growth can continue in the near term, he believes the combination of in-person Vascepa sales calls being suspended and reduced patient visits to physician offices amid the COVID-19 pandemic can have a continued impact on new prescriptions looking ahead to Q2.

---
Crowdstrike price target raised to $80 from $67 at BTIG
BTIG analyst Gray Powell raised the firm's price target on Crowdstrike (CRWD) to $80 from $67 and keeps a Buy rating on the shares. The analyst cites his "field discussion" suggesting that the rise in work-from-home initiatives are expanding the company's addressable market while driving an acceleration in adoption of cloud form factors and pushing faster migrations away from Broadcom's (AVGO) Symantec.
---
TG Therapeutics released the results from a Phase 2 clinical trial evaluating ublituximab in patients with relapsing forms of multiple sclerosis (MS). The data were published in the Multiple Sclerosis Journal.
The responder rate was 100% in 48 patients and the annualized relapse rate at week 48 was 0.07 (average follow-up of ~47 weeks).
At weeks 24 and 48, no patient had new or persisting gadolinium-enhancing lesion on any brain MRI scan (100% reduction from baseline; P=0.003).
Two Phase 3 studies are ongoing.
Our take: Results were good!
---
Viking Therapeutics initiated with a Buy at BTIG
BTIG analyst Julian Harrison initiated coverage of Viking Therapeutics with a Buy rating and $9 price target. Within the TR beta space, VK2809 is positioned to be "best-in-class" with a favorable mix of potency and tolerability/safety, Harrison tells investors in a research note. The analyst believes VK2809's "strong" clinical data and Viking's enterprise value of only $140M as a chance for investors to invest in an "undervalued asset" ahead of "derisked" readouts

---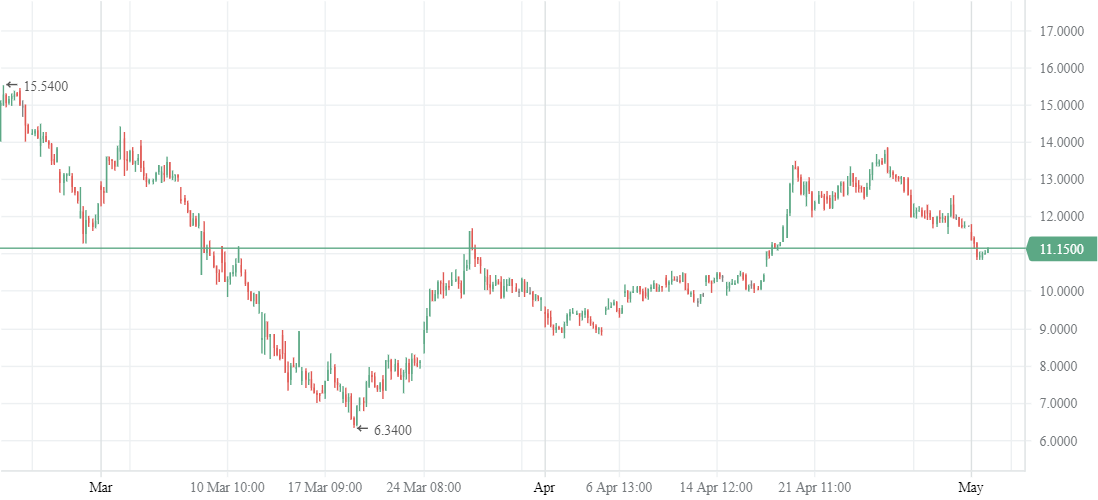 ---
Disclosure: I may trade in the ticker symbols mentioned, both long or short. My articles represent my personal opinion and analysis and should not be taken as investment advice. Readers should do their own research before making decisions to buy or sell securities. Trading and investing include risks, including loss of principal.
If you liked this article, please click the LIKE (thumbs up) button.
Feel free to leave any comments, question, or opinions. (Sign-up if you haven't already done so).
Follow us/bookmark us and check back occasionally for additional articles or comments on our page...
Wild Tiger Trading - start/main page.
.
Are you interested in trading stocks to supplement your income or make a living? Maybe become a professional trader? Many traders have the skills and nerves to trade, but not the upfront capital. Well now that problem is solved!
Try2BeFunded has expanded its trading program! If you're a novice or experienced trader, you can earn access to a trading account with up to $100,000! To learn more about how to qualify, click HERE and give it a shot! You have nothing to lose it is free to try.
.