Today's Trackdown: Thursday - March 26, 2020
SPY Charts and some Technical Analysis

News to keep in mind Today - Today's Economic Calendar - The Charts - Opinion & Stock Picks.
Previous market day....End of Day Brief....(click here)... Dow +495.64 at 21200.61, Nasdaq -33.56 at 7383.65, S&P +28.23 at 2475.56

---
News to keep in mind Thursday morning:

Futures trade vs fair value were trading a bit lower late last night after the Senate passes the stimulus bill. Maybe buying the rumor and then selling the news type of event.
So have we finally hit a bottom? Still unpredictable!
Dow -80, S&P -10, Nasdaq -22, Russell -12.
The biggest factors in the market right now are; Coronavirus headlines, the Fed, the Oil price war, the Global Economy and Global Geopolitical conflicts.
Keeping an eye on the VIX - the CBOE Volatility Index is spiking due to virus fear and fear of economic fallout due to the virus. When the Vix peaks, the market bottoms.
---
Today's Economic Calendar:
With the sudden stop in the economy, initial weekly unemployment claims will set an all time record this week, and will be huge next week too.

8:30 AM ET, The initial weekly unemployment claims report will be released. The consensus is for a huge number of initial claims, up from 281 thousand the previous week.

8:30 AM, Gross Domestic Product, 4th quarter 2019 (Third estimate). The consensus is that real GDP increased 2.1% annualized in Q4, the same as the second estimate of 2.1%.

11:00 AM, the Kansas City Fed manufacturing survey for March.

---
THE CHARTS:
(NOTE: Charts are a good guide but when a tweet or news item can jerk the markets around, they mean a bit less.)

The markets were mostly higher on Wednesday, with the SPY gaining 3 points. Late last night the Senate passed the large stimulus package. Even so, the futures were pointing to a slightly lower opening.
Remain cautious as the Vix remaines high even during the rally. Some Amazon $AMZN buildings have gotten cases of the virus.
A support level has yet to be proven, but we see the possibility of SPY 240 being that level.
What we need in order to make a bottom is 2 days in a row or more of gains and for the Vix to start coming down. Also bottoms are found when there is little market reaction to negative news.
* Still Not much new to say with our charts for awhile, until some sort of SANITY returns to the markets. So for now the market will be a casino like environment, fairly close to outright gambling. Don't hold your breath waiting for a support level to be finally found. But be ready to make some trades when it does.

IF wanting to gamble: Options trades on these ETFs will give you a way to place your bets. $TQQQ - $SQQQ - $SPXL

CHANGES:
The MACD continued its drop, BUT shows signs of curling up.

We continue to break any support levels we put out. Possibility of finding a support level now, but no guarantee.
POSITIVES:

We are still oversold.

The MACD maybe bottoming and curling up.

Not technical - BUT it appears the Chinese are going back to work.
NEGATIVES:
The MACD is declining.
We are under the 50-day moving average.

The 50-day moving average is declining.
We are under the 200-day moving average
The Vix remains high.

OPINION & STOCKS:

Short-term using caution, maybe defensive.
We are susceptible to large pullbacks or dips with spikes in volatility.
Keep using caution as the Coronavirus is not cured and continues to spark fears about an economic slowdown.
The U.S. economy is uncertain. (as far as we are told/know). We must keep an eye on how the virus might slow it down and by how much.
After any big sell-offs or dips - look for names that are oversold to buy. Have your trading list ready.



We like: $AMRN - Amarin, $AUPH - Aurinia Pharma, $CARA - Cara Therapeutics, $COLL - Collegium, $EPZM - Epizyme, $HZNP - Horizon Pharma, $IMMU - Immunomedics, $KPTI - Karyopharm, $TGTX - TG Therapeutics.
All high beta biotech stocks / healthcare stocks, all oversold.
Also if the dividend is safe: $T - AT&T is worth a look/grab, near 7% yield.
* Currently some of the market action is "unpredictable or irrational". Keep that in mind if trading. *
Using some caution: * Meaning - Do not use margin at this time. *
VIX: Spikes on virus fears! Expect possible price swings. If the market has truly found a bottom or support the Vix will start coming back down.
INDICATORS: The MACD is negative. The Stochastics are neutral. The Money Flow is negative.
MA +/-: The 50-day MA (303.91)(-1.59) and the 200-day MA (299.62)(-0.18)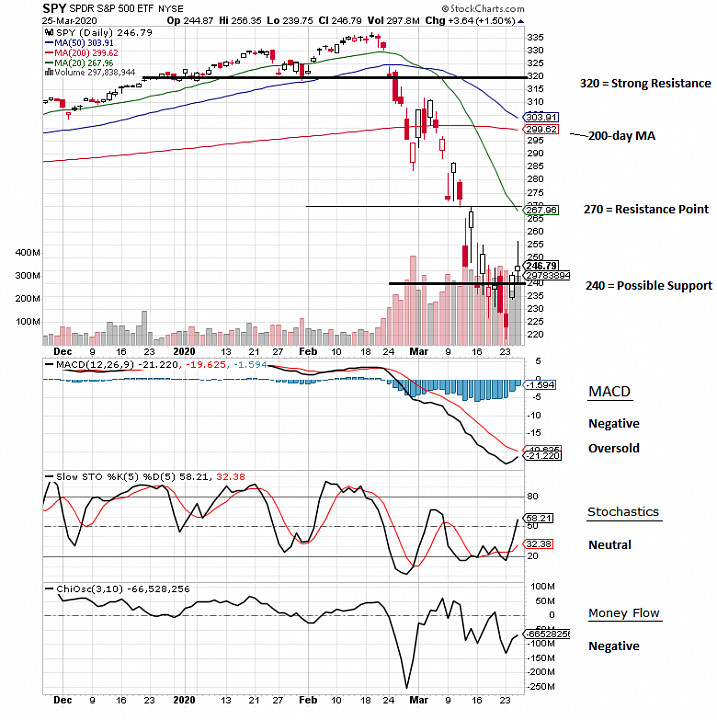 On the 9-month chart below, we were looking at a severe and quick drop of the market. All previous patterns are broken and voided. Next step is to see if some sort of support level actually holds.
We see the possibility of a 240 area for support. Stay tuned.
Continue to use caution as we deal with the breaking down of the previous chart patterns.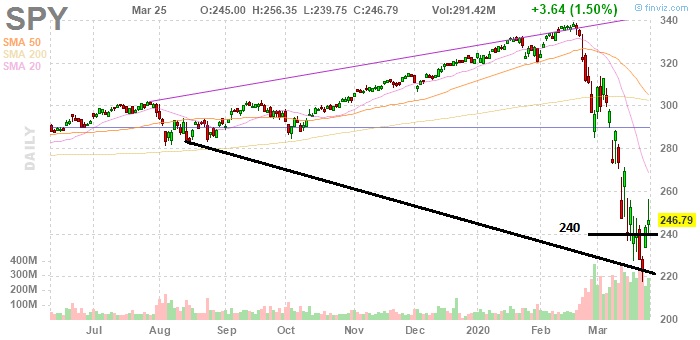 Disclosure: I may trade in the ticker symbols mentioned, both long or short. My articles represent my personal opinion and analysis and should not be taken as investment advice. Readers should do their own research before making decisions to buy or sell securities. Trading and investing include risks, including loss of principal.
If you liked this article, please click the LIKE (thumbs up) button.
Feel free to leave any comments, question, or opinions. (Sign-up if you haven't already done so).
Follow us/bookmark us and check back occasionally for additional articles or comments on our page...
Wild Tiger Trading - start/main page.
With our Daily Trackdowns, check back for additional analysis/observations during the trading day in the comments by us or our readers.