Trading List: Favorites & Trade ideas - June 2
Trading List: Favorites & Trade ideas

---
Current favorites:
---
$AMRN - Amarin - Vascepa sales growth slowed down due to the virus, but will pick up. The outcome of their appeal of the recent generic court decision is still a question mark.
At just $6-$7 bucks not a bad value here with potential to double if appeal is successful.
---
$AUPH - Aurinia Pharma - Recently completed the rolling submission of a New Drug Application to the United States FDA for voclosporin as a potential treatment for lupus nephritis. The drug candidate has the potential to become the first FDA-approved therapy for treating lupus nephritis.
We expect approval and see this as having nice potential. Buy the stock outright or sell some naked puts.
---
$BFYT - Benefytt Tech - After hosting a call with CEO Gavin Southwell, Lake Street analyst Mark Argento maintained a Buy rating on Benefytt Tech with a $50 price target. The analyst feels the company has taken adequate steps to ensure the safety and continued productivity of its workforce. Further, Argento is impressed by the "rapid" growth of Benefytt's Medicare business and the opportunity the healthinsurance.com platform presents for driving lead gen and customer conversion.
Back in March, Andrew Lefts' Citron Research argued that this is "the moment that will make telemedicine mainstream" and sees Benefytt Technologies (BFYT) at "the forefront of this mega-trend." Citron sees the stock surpassing $60 by the end of the year.
* We notice this stock hugging the $20 level lately and seems stuck there. A good buy under $20. Also this stock has enough volatility to make options plays. So selling some puts for cash or as a way to enter the stock a bit cheaper. *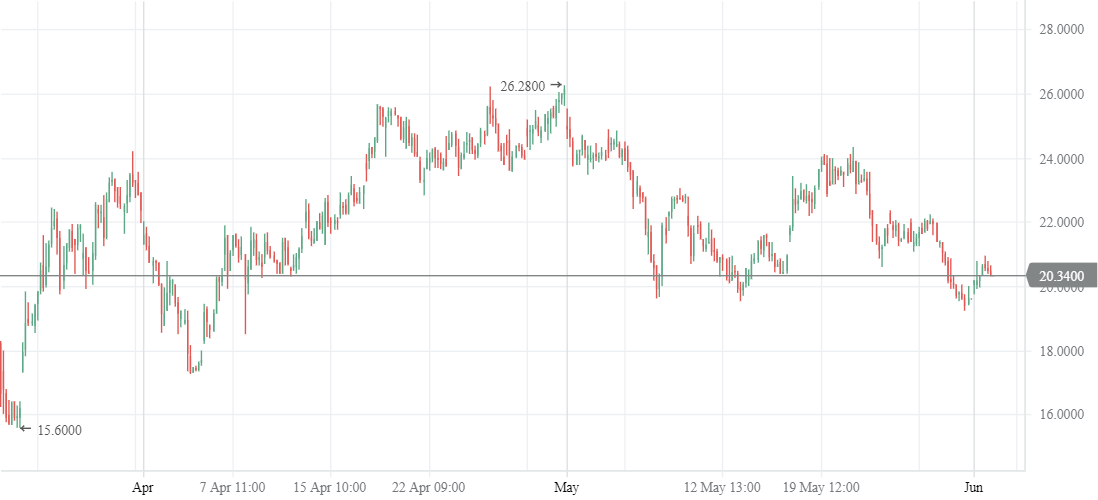 ---
$COLL - Collegium - On our favorites list for trading, but we are a bit more cautious on this one longer term. Both of their drugs Xtampza ER and the Nucynta franchise will face generic competition in the mid-2020's.
---
$EPZM - Epizyme - On our favorites list for trading. Wedbush was very positive on it, others more luke warm.

Wedbush analyst David Nierengarten added Epizyme to his firm's Best Ideas List in March as he sees limited downside risk amidst the current general market selloff for commercial-stage, small molecule oncology companies such as Epizyme with significant label expansion potential. The analyst fully expects that the company's lead asset, the oral EZH2 inhibitor TAZVERIK, will follow up its recent approval in epithelioid sarcoma with accelerated approval in 3L+ follicular lymphoma irrespective of EZH2 status by its PDUFA date of June 18. Moreover, as a result of taz's favorable clinical profile and competitive pricing, Nierengarten anticipates widespread access and rapid adoption, including meaningful off-label use in earlier lines of therapy, which will cause TAZVERIK to outperform Street expectations and achieve blockbuster potential in fiscal year 2024. He has an Outperform rating and a $30 price target on the shares.
---
$EXEL - Exelixis - A high potential biotech that makes money and is working on label expansions.

Piper Sandler analyst Edward Tenthoff keeps his Overweight rating and $30 price target on Exelixis after the company disclosed in an ASCO abstract that CABOMETYX combination with checkpoint inhibitors has now been active in multiple solid tumors. The analyst continues to forecast product sales of $776M in 2020, noting that the expected presentation of mCRPC data could form the basis for accelerated approval in 2021, with label expansions re-accelerating CABO sales to $918M in 2021.

---
$HZNP - Horizon Therapeutics - At new all-time highs and keeps growing earnings momentum. A good longer term buy and trading stock in the biotech/drug space. Recently mentioned very favorably by the following analysts.
Stifel analyst Annabel Samimy raised the firm's price target on Horizon Therapeutics to $60 from $50 and keeps a Buy rating on the shares. After speaking to Dr. Bobby Korn, oculoplastic surgeon at UCSD Shiley Eye Institute, the analyst says it was "impressive" to hear that Horizon's Tepezza has changed his treatment approach and will now be used first-line, ahead of any surgery. Thus far, Tepezza was working in all patients placed on therapy, and the doctor surmised that the drug was working beyond the immunological response and changing the biology of disease, Samimy tells investors in a research note. With a population upwards of 100,000 according to Korn, the analyst sees Tepezza's opportunity exceeding $1B in peak sales and the $200,000 expected in 2020. Samimy sees upside in Horizon Therapeutics shares.

Piper Sandler analyst David Amsellem raised the firm's price target on Horizon Therapeutics to $61 from $50 and keeps an Overweight rating on the shares. The analyst increased U.S. sales estimates for Tepezza to reflect "not only the brisk pace of initial uptake," but also what is "increasingly looking like rapid adoption" of the product as a standard-of-care option in patients with active thyroid eye disease.

---
$IMMU - Immunomedics - High potential biotech in the cancer space. Recently received FDA approval for their triple-negative breast cancer treatment. In addition testing their drug for treatment of metastatic urothelial cancer and bladder & endometrial cancer. This stock has potential to go much higher.

Announced in early May - that Trodelvy is now available through major specialty distributors in the United States and that the first patient was treated with commercial product on April 29, 2020. Trodelvy is the first anti-Trop-2 ADC recently approved by the U.S. Food and Drug Administration for the treatment of adult patients with metastatic triple-negative breast cancer who have received at least two prior therapies for metastatic disease.

---
$IOVA - Iovance - Been a volatile biotech stock lately. Recently announced good drug study results and shows very strong potential. Mentioned periodically as a takeover/buyout target. Also decided to raise cash by doing a painful secondary offering last week. But now with that behind it, could be a could bet again. With the volatility the options in this one offer some good premiums. Mentioned positively in late April by the following 2 analysts.
H.C. Wainwright analyst Joseph Pantginis raised the firm's price target on Iovance Biotherapeutics to $48 from $36 and keeps a Buy rating on the shares. The positive Moffitt study results strengthen the relevance of targeting non-small cell lung cancer with tumor-infiltrating lymphocytes, Pantginis tells investors in a research note. While the analyst believes the Moffitt study should drive investor confidence on the potential clinical success of the Iovance's basket trial in NSCLC, he notes that investors may have expected data from more patients with longer follow-up date.
Oppenheimer analyst Mark Breidenbach raised the firm's price target on Iovance Biotherapeutics to $43 from $35 and keeps an Outperform rating on the shares.

---
$KPTI - Karyopharm - Very speculative and volatile biotech name. They do have a FDA approved product (Xpovio) and are currently seeking approval for other indications/uses. This is a gambling like stock in the biotech space. Keep that in mind if trading it.
Under Priority Review status, the FDA accepted Karyopharm Therapeutics' supplemental marketing application seeking approval to use Xpovio (selinexor) to treat adults with relapsed/refractory diffuse large B-cell lymphoma who have received at least two prior therapies. The agency's action date is June 23.
---
$TGTX - TG Therapeutics - One of our BEST performing picks. This one has multiple drugs in Phase 3 trials and some test data on these drugs has been outstanding. In early May it was announced a Phase 3 drug trial "will be stopped for superior efficacy"! This usually means FDA approval is a good bet. Under $20 this is a buy/accumulate. With options - Buy-Writes & Short Puts could be a good way to play it.

H.C. Wainwright analyst Edward White in early May - Raised the firm's price target on TG Therapeutics to $32 from $24 and keeps a Buy rating on the shares after the company announced that the Phase 3 UNITY-CLL trial met its primary endpoint of improved progression free survival and will be stopped for superior efficacy. The analyst now has increased confidence in the approval for both umbralisib and ublituximab.

Positively mentioned by analyst firm FBR recently: B. Riley FBR analyst Mayank Mamtani raised the firm's price target on TG Therapeutics to $37 from $29 and keeps a Buy rating on the shares. The analyst has increased conviction in ublituximab's value across the oncology and multiple sclerosis franchises. Further, TG's strengthened balance sheet removes a key stock overhang.

---
If your thinking longer-term/income:
$T - AT&T is worth a look - high dividend yield.

---
Tech Pick:
$CRWD - CrowdStrike - Just today had analysts coming out and raising their price targets! This is a cyber security play and has recently taken off in share price. That is the only caution we have in this name, it has already had a good run up and is reporting earnings Tuesday. Possible set up for a 'buy the rumor - sell the news' situation. After the event could be a good longer-term tech growth holding. Buy the dips and sell the peaks on this one.
June 1: Barclays analyst Saket Kalia earlier today raised the firm's price target on Crowdstrike Holdings to $100 from $60 and keeps an Overweight rating on the shares ahead of tomorrow's results. Crowdstrike in midday trading is up 7% to $93.93. The analyst estimates $52M in net new annual recurring revenue for Q1, but notes that bulls could be expecting at least $75M and that his $250M estimate in net new ARR for fiscal 2021 could be beatable. Data points, including a survey of chief investment officers, show increasing interest in Crowdstrike and falling interest in Symantec, Kalia told investors in a research note.
DA Davidson analyst Andrew Nowinski this morning raised the firm's price target on Crowdstrike to $105 from $60 and kept a Buy rating on the shares.

---
Disclosure: I may trade in the ticker symbols mentioned, both long or short. My articles represent my personal opinion and analysis and should not be taken as investment advice. Readers should do their own research before making decisions to buy or sell securities. Trading and investing include risks, including loss of principal.
If you liked this article, please click the LIKE (thumbs up) button.
Feel free to leave any comments, question, or opinions. (Sign-up if you haven't already done so).
Follow us/bookmark us and check back occasionally for additional articles or comments on our page...
.
Are you interested in trading stocks to supplement your income or make a living? Maybe become a professional trader? Many traders have the skills and nerves to trade, but not the upfront capital. Well now that problem is solved!
Try2BeFunded has expanded its trading program! If you're a novice or experienced trader, you can earn access to a trading account with up to $100,000! To learn more about how to qualify, click HERE and give it a shot! You have nothing to lose it is free to try.
.