Markets by Mike Paulenoff 3/22 - S&P Completes a Round-Trip to the FOMC-AAPL Upgrade Lows
Friday March 22nd, 2019
by Mike Paulenoff
ES approaching Noon ET, has violated its nearest term up trendline from the March 8th low (2726.50), which cuts across the price axis this morning at 2825.00. Inability of ES to claw its way back above 2825 will be a cause for concern technically, and will point ES towards a probe of more important near term support at 2802-2813, which must contain the selling pressure to avert locking-in all of the action from March 13th as a near term top-- that will project to 2760/70... Last is 2819.50/75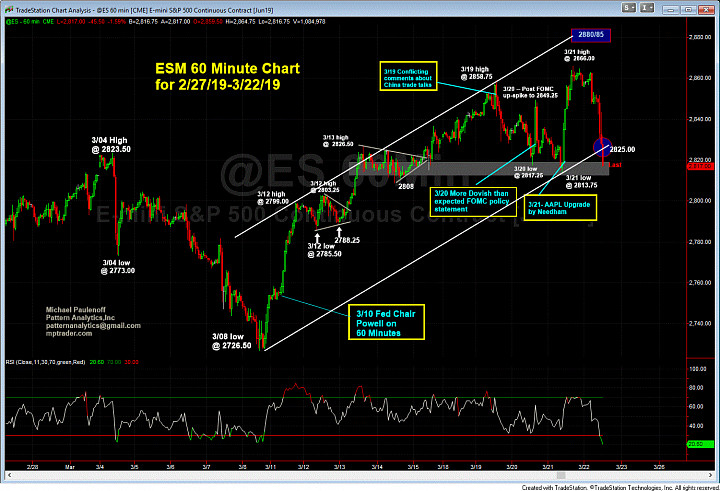 Mike Paulenoff is author of MPTrader.com, a real-time diary of his technical analysis & trade alerts on ETFs for precious metals, energy, currencies, and an array of equity indices and sectors, including international markets, plus key ETF component stocks in sectors like technology, mining, and banking. Sign up for a Free 15-day Trial!
* I really like Mike's charts and analysis. This is shared with my readers here via MPtrader.com *
---
Disclosure: I may trade in the ticker symbols mentioned, both long or short. My articles represent my personal opinion and analysis and should not be taken as investment advice. Readers should do their own research before making decisions to buy or sell securities. Trading and investing include risks, including loss of principal.
If you liked this article, please click the LIKE (thumbs up) button.
Feel free to leave any comments, question, or opinions.
Follow us and check back occasionally for additional articles or comments.