Today's Trackdown: Thursday - April 16, 2020
SPY Charts and some Technical Analysis

News to keep in mind Today - Today's Economic Calendar - The Charts - Opinion & Stock Picks.
Previous market day....End of Day Brief....(click here)... Dow -445.41 at 23504.35, Nasdaq -122.56 at 8393.18, S&P -62.70 at 2783.36
---
News to keep in mind Thursday morning:
Virus headlines and the reaction to them are running the markets.
Futures trade vs fair value were trading a bit lower late last night.
Still unpredictable! But we have successfully held above the SPY 245 support line and broken over the resistance 270.
Dow -160, S&P -20, Nasdaq -46, Russell -4.
The biggest factors in the market right now are; Coronavirus headlines, the Fed, the Global Economy and Global Geopolitical conflicts.
Keeping an eye on the VIX - the CBOE Volatility Index is spiking due to virus fear and fear of economic fallout due to the virus. When the Vix peaks, the market bottoms.
---
Today's Economic Calendar:
8:30 AM ET, The initial weekly unemployment claims report will be released. The consensus is for a 6.500 million initial claims, down from 6.606 million the previous week.

8:30 AM, Housing Starts for March. The consensus is for 1.307 million SAAR, down from 1.599 million SAAR in February.

8:30 AM, the Philly Fed manufacturing survey for April. The consensus is for a reading of -30.0, down from -12.7.

---
THE CHARTS:
(NOTE: Charts are a good guide but when a tweet or news item can jerk the markets around, they mean a bit less.)

The markets had a pullback day off of an overbought level in the Stochastics and due to poor economic news. The good news is, we did not sustain any technical damage to our charts. We still have some positives on our charts as well as two concerns to watch out for. We are still above our resistance line at 270. If we stay above it for a while longer it could become support.
The concerns to watch out for are the 280 level, which is the next obvious resistance area, and the 50-day moving average. The 50-day MA is just up above us and maybe a level of resistance (or not as the markets don't seem normal currently). Keeping an eye on the 50-day MA is important as many market technicians use this as their benchmark.
* We may stay under the control of virus headlines, so keep an eye on them.
* Much will depend on how soon the economy is opened back up and how much damage was caused by the shutdowns.

* Don't risk to much for awhile, there is still a lack of SANITY in the markets. For the moment, the market will still be like a casino. Some trading is fairly close to outright gambling. Don't hold your breath waiting for normal market action to return, but be ready to make some trades when it does.

IF wanting to gamble: Options trades on these ETFs will give you a way to place your bets. $TQQQ - $SQQQ - $SPXL - $SPXS

* Beware - levered ETFs are subject to decay and are not for long-term holding. *

CHANGES:
The Stochastics are still high/overbought.

We are staying above our 270 resistance level, which could become support.
POSITIVES:

We are still way under the old highs.

The MACD has bottomed and is rising.

We are over the 20-day moving average.

We have held support (245) and broken over resistance (270).
The Money Flow is currently positive.

NEGATIVES:
We are under the 50-day moving average.
The 50-day moving average is declining.
We are under the 200-day moving average
The Stochastics are high/overbought.

The Vix still is high, even though it has come down some.
OPINION:

Beware we are short-term overbought according to the Stochastics. But, the MACD is currently strong and the Money Flow has gone positive due to recent rallies.
Keep using caution, maybe defensive. We still have a bunch of uncertainties.
Look for trading opportunities with this high volatility!

Be aware that we are susceptible to large pullbacks or dips with the current high level of volatility.
The U.S. economy is uncertain. We must keep an eye on how much the virus slows it down and for how long. (Currently an unknown).
After any big sell-offs or dips - look for names that are oversold to buy. Have your trading lists ready.

Feel free to share your list/picks in the comments below.

STOCKS: (Our most recent FULL Trading List was posted here).
We like: $AMRN - Amarin, $AUPH - Aurinia Pharma, $CARA - Cara Therapeutics, $COLL - Collegium, $EPZM - Epizyme, $EXEL - Exelixis, $HZNP - Horizon Pharma (if under 32), $IOVA - Iovance (constant buyout rumors), $IMMU - Immunomedics (FDA approval date coming soon), $KPTI - Karyopharm, $TGTX - TG Therapeutics.
If your thinking longer-term/income: $T - AT&T is worth a look - high dividend yield.
* Currently some of the market action is "unpredictable or irrational". Keep that in mind if trading. *
Using some caution: * Meaning - Do not use MARGIN at this time unless absolutely certain of your trade!. *

INDICATORS:
The MACD is rising. The Stochastics are high/overbought. The Money Flow is positive.

MA +/-: The 50-day MA (286.60)(-0.89) and the 200-day MA (298.08)(-0.06)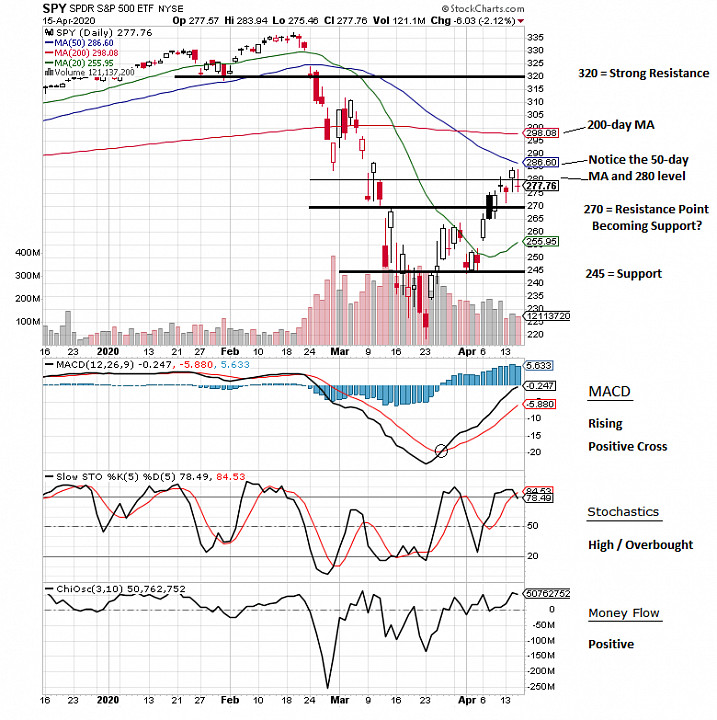 On the 9-month chart below, we are looking at a severe and quick drop of the market and the rebound. All previous patterns are broken and voided.
The 260 support line is now 'confirmed'. It would be a good technical sign for the markets if we stay above 260 or even 270.
270 was drawn as a resistance level, but we will be watching for the possibility of it becoming a support level. 280 is the next obvious spot for resistance.
* Continue to use caution - Still many unknowns. *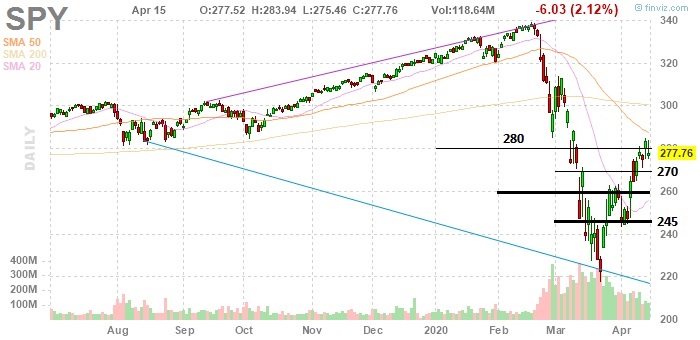 Disclosure: I may trade in the ticker symbols mentioned, both long or short. My articles represent my personal opinion and analysis and should not be taken as investment advice. Readers should do their own research before making decisions to buy or sell securities. Trading and investing include risks, including loss of principal.
If you liked this article, please click the LIKE (thumbs up) button.
Feel free to leave any comments, question, or opinions. (Sign-up if you haven't already done so).
Follow us/bookmark us and check back occasionally for additional articles or comments on our page...
Wild Tiger Trading - start/main page.
With our Daily Trackdowns, check back for additional analysis/observations during the trading day in the comments by us or our readers.