Today's Trackdown: Friday - Oct. 19, 2018
Brief Recap and Updates on the Markets
SPY Charts and some Technical Analysis

In Thursday's action:
Stocks closed lower Thursday, with the Dow off more than 400 points at its lows, on worries about global growth and as investors continued to weigh minutes of the Federal Reserve's September meeting.
News to keep in mind Friday morning:
Markets are higher in pre-market trading
At 5:00am ET - Dow futures vs fair value: +52.00. S&P futures vs fair value: +5.50. Nasdaq futures vs fair value: +24.00. Russell 2000 futures vs fair value: +2.00.
Keep an eye out for any trade headlines or political risks - Big Economic Calendar today.
Keep an eye on the VIX - down almost 2% in pre-markets
Today's Economic Calendar:
---
The SPY charts are pictured below. The first is a 4-month chart followed by a longer-term 9-month chart.
The markets were lower on Thursday, but did bounce and find support at 275. The MACD lines are currently negative. The Stochastics are neutral. The Money Flow is currently negative.
I am watching the 280 and 275 levels. The question is at what level will we retest and hold? So far 275 did hold on a retest Thursday. I am a bit cautious about the negative money flow, keeping an eye on it. With the big declines in the market it appears we have put in a top around 292/293.
Also watching the 200-day moving average, It is important to some to remain above that line. So far we have bounced off the 200-day and are now a good bit above it.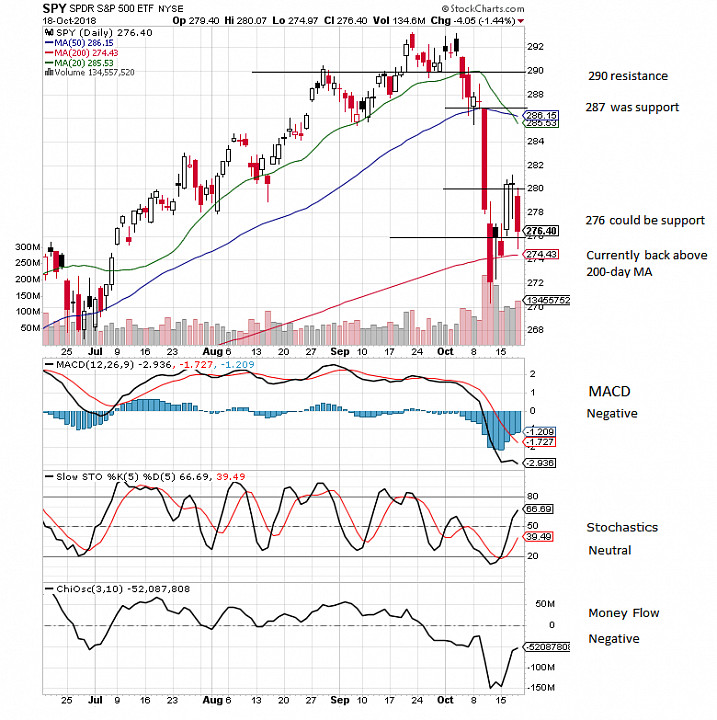 On the 9-month chart, the nice channel since April has been shown. This trend/pattern was broken to the downside. Awaiting the emergence of the next pattern. The next level of support may be around either 280 or 275. 270 is a strong support level.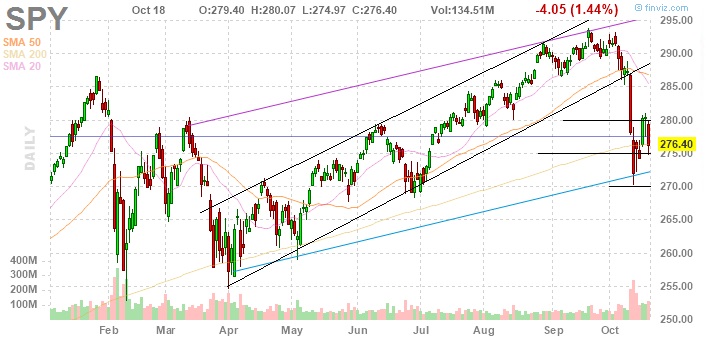 Nasdaq Composite +8.4% YTD
S&P 500 +3.6% YTD
Dow Jones Industrial Average +2.7% YTD
Russell 2000 +1.6% YTD
---
Disclosure: I may trade in the ticker symbols mentioned, both long or short. My articles represent my personal opinion and analysis and should not be taken as investment advice. Readers should do their own research before making decisions to buy or sell securities. Trading and investing include risks, including loss of principal.
If you liked this article, please click the LIKE (thumbs up) button.
Feel free to leave any comments, question, or opinions.
Follow us and check back occasionally for additional articles or comments.
With our Daily Trackdowns, additional analysis/observations during the trading day in the comments by us or our readers.