Markets by Mike Paulenoff 11/16 - The US Dollar is Showing Signs of Technical Fatigue
The US Dollar is Showing Signs of Technical Fatigue
Friday November 16th, 2018
by Mike Paulenoff
On the subject of the US Dollar, using DXY as a gauge, price weakness this week from 97.69 to 96.50 comes off of a second consecutive new multi-month recovery high off of the Feb. 2016 low at 88.25 that has been accompanied by two glaring negative momentum divergences at the 10/31 and 11/09 highs (see Red Arrows on attached chart). DXY made its CONFIRMED momentum and price high at 96.98 on 8/15/18. The subsequent new recovery highs recorded lower Daily RSI readings, which represent a major technical warning signal that the Feb. 2018 to Nov. 2018 advance is at or very near to upside exhaustion, which leaves DXY vulnerable to weakness.
How much weakness? My intermediate pattern and momentum work point to a press into the 95.50 target zone, which if violated, will point to 94.20 to 93.80 thereafter.
If such a scenario unfolds in DXY, precious metals and miners will enjoy US Dollar tailwinds for change... Last in DXY is 96.49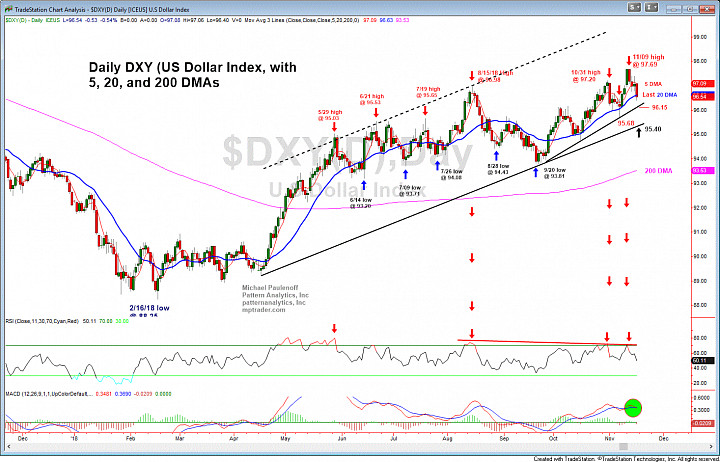 $DXY
---
Mike Paulenoff is author of MPTrader.com, a real-time diary of his technical analysis & trade alerts on ETFs for precious metals, energy, currencies, and an array of equity indices and sectors, including international markets, plus key ETF component stocks in sectors like technology, mining, and banking. Sign up for a Free 15-day Trial!
* I really like Mike's charts and analysis. This is shared with my readers here via MPtrader.com *
Disclosure: I may trade in the ticker symbols mentioned, both long or short. My articles represent my personal opinion and analysis and should not be taken as investment advice. Readers should do their own research before making decisions to buy or sell securities. Trading and investing include risks, including loss of principal.
If you liked this article, please click the LIKE (thumbs up) button.
Feel free to leave any comments, question, or opinions.
Follow us and check back occasionally for additional articles or comments.