Today's Trackdown: Tuesday - Feb. 12, 2019
Brief Recap and Updates on the Markets
SPY Charts and some Technical Analysis

In Monday's action:
The S&P 500 gained 1 point on Monday in a lackluster session. The market wavered around their flat lines throughout the day with investors wanting to wait and see for progress on U.S.-China trade talks or U.S. budget talks.
---
News to keep in mind Tuesday morning:
Futures trade vs fair value were higher late last night after a budget deal was reached - Dow +127, S&P +13, Nasdaq +43, Russell +6.
The China trade war news and Fed watching are still the 2 biggest issues currently to keep an eye on.
Keep an eye on the VIX - The Vix it has been staying in the mid-teens. There have been no large spikes in the volatility measure in a while, this is good news for the bulls.
We are staying above the 50-day moving average on the S&P 500 - This level is now strong support.
---
Today's Economic Calendar:
06:00 NFIB Small Business Optimism Index Jan
10:00 JOLTS - Job Openings
11:00 Household credit

12:45 Jerome Powell speaks
18:30 Loretta Mester speaks
19:30 Esther George speaks
---
Quick Notes: $L
Loews Corp (L 44.56, -2.91, -6.1%) was one of the worst-performers in the S&P 500 after the company reported a Q4 loss of $0.53 per share. Its disappointment was construed as company-specific though.
---
THE CHARTS:
The markets were mixed on Monday again with the Dow down and Nasdaq/S&P a bit higher. It was a 'wait and see' kind of day.
We are still above the 50-day moving average AND the average is rising in a slight upward slope. A very good sign for the market technically when the moving averages are all headed in an upward sloping direction.
The MACD is positive. The Stochastics are back down to neutral. The Money Flow is positive.
I see us in a trading range between the 50-day MA (260.78) and the 200-day MA (271.85) UNTIL we break back above the 200-day.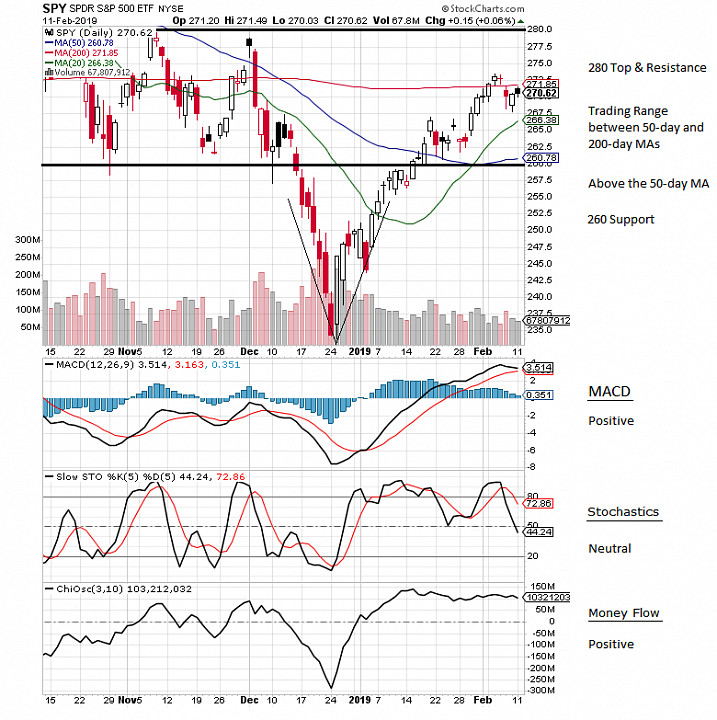 On the 9-month chart below, the previous patterns are behind us. Shown now is the resistance level at 280. Support is found at 260. Getting back into a trading range.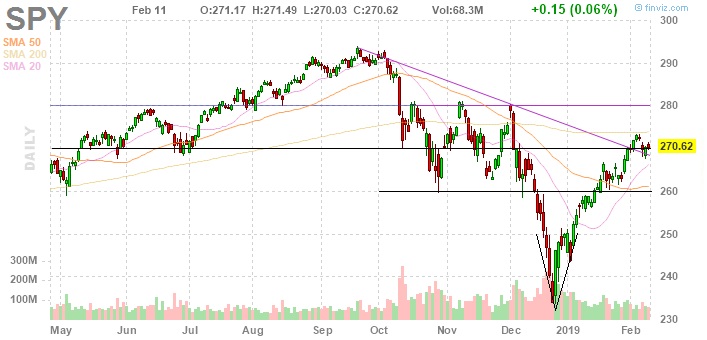 Russell 2000 +12.6% YTD
Nasdaq Composite +10.1% YTD
S&P 500 +8.1% YTD
Dow Jones Industrial Average +7.4% YTD
NOTICE: The Russell 2000 (IWM) is leading the market higher so far this year, outperforming the larger averages.
---
Disclosure: I may trade in the ticker symbols mentioned, both long or short. My articles represent my personal opinion and analysis and should not be taken as investment advice. Readers should do their own research before making decisions to buy or sell securities. Trading and investing include risks, including loss of principal.
If you liked this article, please click the LIKE (thumbs up) button.
Feel free to leave any comments, question, or opinions.
Follow us and check back occasionally for additional articles or comments.
With our Daily Trackdowns, additional analysis/observations during the trading day in the comments by us or our readers.