Today's Trackdown: Friday - Nov. 8, 2019
Brief Recap and Updates on the Markets
SPY Charts and some Technical Analysis
---
In Thursday's action: Nov. 7, 2019
Dow 27674.84 +182.24 (0.66%)
Nasdaq 8434.52 +23.89 (0.28%)
SP 500 3085.18 +8.40 (0.27%)
Stocks rallied to new highs again on Thursday after China's Commerce Ministry said it reached an agreement with the U.S. for both sides to phase out tariffs. But, news of internal strife within the White House about those plans diminished some of the enthusiasm in the market. The S&P 500 finished near its lows on the day, but still set new record highs, closing up 8 points.
---
News to keep in mind Friday morning:
Futures trade vs fair value were slightly lower late last night. Dow -5, S&P -4, Nasdaq -17, Russell -1.
The biggest factors in the market right now are; the Global Economy, China trade talks, Fed speak, and the US Treasury markets.
Keep an eye on the VIX - The CBOE Volatility Index is under 14, this is risk on.
CHINA TRADE WAR is still something to be aware of.
---
Today's Economic Calendar:
10 am Consumer sentiment index Nov.
10 am Wholesale inventories Sept.
---
THE CHARTS:
(NOTE: Charts are a good guide but when a tweet or news item can jerk the markets around, they mean a bit less.)
The markets were higher on Thursday, but did come off the highs at the end of the day. This creates what some would call an 'Evening Star' candle, which sometimes marks a topping point. There were no big changes to our charts, except due to the later day pullback in the market the Money Flow did decline a little bit while remaining positive.
[Repeated] As far as the technical indicators go; the Stochastics are at short-term overbought while the MACD and the Money Flow are positive. With the Stochastics this high and such a large move upwards recently, we would expect some kind of breather or pullback to be possible. As long as the 300 level holds as support that pullback should be bought.
The current set-up under 'normal conditions' is telling us the next move is up or sideways. We notice the 20, 50, and 200 day moving averages are all in alignment and are all moving higher. Even so, we do remain a bit cautious and would not go all-in or use excessive margin.
The Vix is under 14, which is full risk on for the markets. Keep an eye on all the trade news, political, Fed news, and Trump tweets as those things are capable of raising the Vix and risk quickly.
The MACD is positive. The Stochastics are overbought. The Money Flow is positive. We are above the 50-day MA. The 20,50,200 day moving averages are in a positive alignment and heading higher. [/Repeated].
The 50-day MA (297.92)(+.41) and the 200-day MA (287.32)(+.24)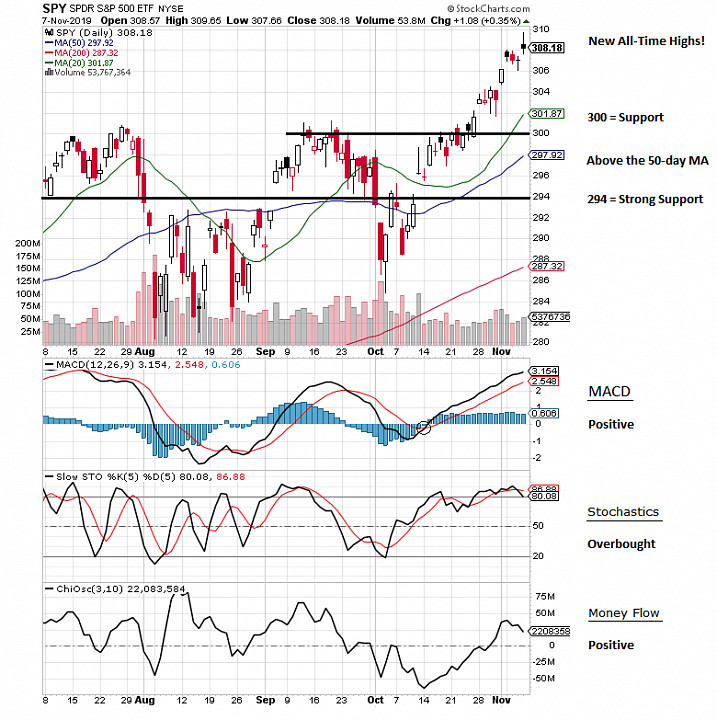 On the 9-month chart below, we were in a large trading range of 285 to 300. We have broken above that area and are now making new all-time highs, 300 has become a support level.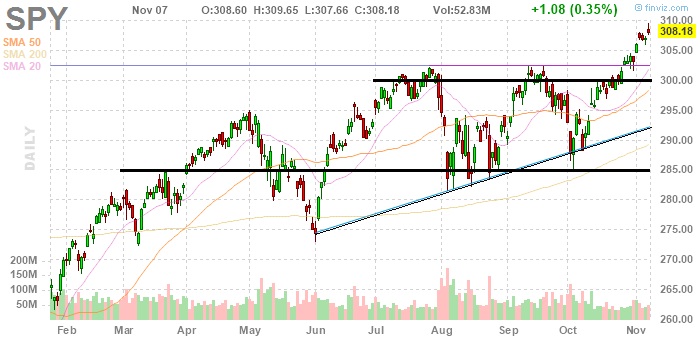 Nasdaq Composite +27.1% YTD
S&P 500 +23.1% YTD
Dow Jones Industrial Average +18.6% YTD
Russell 2000 +18.2% YTD
---
Disclosure: I may trade in the ticker symbols mentioned, both long or short. My articles represent my personal opinion and analysis and should not be taken as investment advice. Readers should do their own research before making decisions to buy or sell securities. Trading and investing include risks, including loss of principal.
If you liked this article, please click the LIKE (thumbs up) button.
Feel free to leave any comments, question, or opinions. (Sign-up if you haven't already done so).
Follow us/bookmark us and check back occasionally for additional articles or comments on our page...
Wild Tiger Trading - start/main page
With our Daily Trackdowns, check back for additional analysis/observations during the trading day in the comments by us or our readers.