Markets by Mike Paulenoff 11/21 - What is the Longer Term TWTR Chart Telling Us? Nothing Good!
Wednesday November 21st, 2018
by Mike Paulenoff
TWTR-- deserves and requires more than a one-liner. Wow, what a chart! My attached Weekly Chart shows a massive Head & Shoulders Top Formation that is in the process of carving out a Right Shoulder between 36 on the high side and 27 on the low side.
The implication from the pattern indicates that if for whatever reason TWTR declines beneath 26-27 support, it will be vulnerable to powerful forces of long liquidation that sends the stock towards 12-15 optimally, and possibly to SINGLE DIGITS thereafter.
If Left-Right Shoulder time symmetry is equal, then 10-12 weeks will be needed to complete the Right Shoulder, which means another 3-5 weeks from now, or mid-to-late December before TWTR will be extremely vulnerable to acute selling pressure.
Only a climb above 36-37 will invalidate the Top Formation...
Anyone have some thoughts about what conditions or fundamentals would send TWTR into an existential tailspin?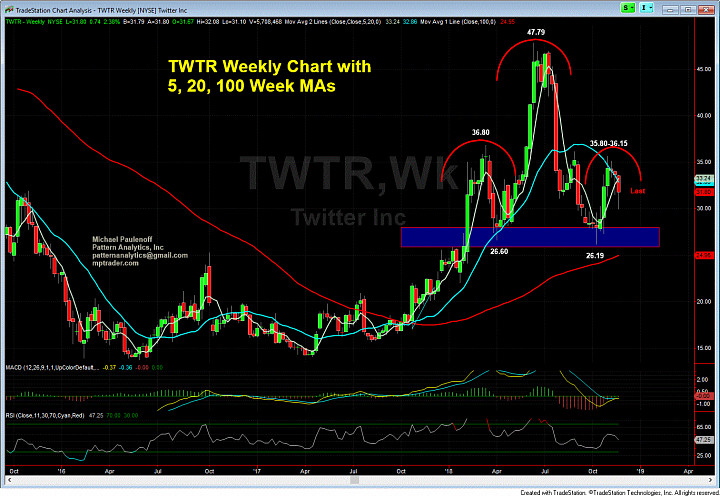 Mike Paulenoff is author of MPTrader.com, a real-time diary of his technical analysis & trade alerts on ETFs for precious metals, energy, currencies, and an array of equity indices and sectors, including international markets, plus key ETF component stocks in sectors like technology, mining, and banking. Sign up for a Free 15-day Trial!
* I really like Mike's charts and analysis. This is shared with my readers here via MPtrader.com *
---
Tiger's Take: Looks bad for Twitter stock holders, a huge head & shoulders bearish pattern.
Disclosure: I may trade in the ticker symbols mentioned, both long or short. My articles represent my personal opinion and analysis and should not be taken as investment advice. Readers should do their own research before making decisions to buy or sell securities. Trading and investing include risks, including loss of principal.
If you liked this article, please click the LIKE (thumbs up) button.
Feel free to leave any comments, question, or opinions.
Follow us and check back occasionally for additional articles or comments.