Markets by Mike Paulenoff 6-12 - AMZN: Top or Bullish Set-Up?
Wednesday June 12th, 2019
by Mike Paulenoff
AMZN-- also (like AAPL) has been carving out a multi-month Coil Formation since September 2018. Each successive leg within the Coil travels a shorter distance as the price structure winds its way into the apex of the pattern. In that the Coil has formed in the upper 35% of AMZN's big picture pattern, we have to consider the post-September price action to be a bullish digestion period ahead of another powerful thrust. As long as any acute weakness is contained above the June low at 1672.00, an upside resolution to the pattern points to an intermediate term target zone of 2220 at a minimum to 2450 as an outlier...
What could go wrong? US Government oversight and anti-trust scrutiny, and well, POTUS dislike of the Washington Post, which is separately owned by Jeff Bezos, are all factors that could weaken AMZN, and press it to test and/or destroy the integrity of the developing bullish pattern... Last is 1856.00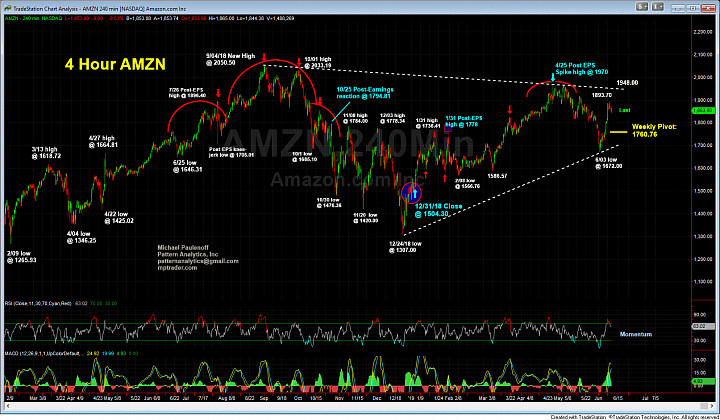 ---
Mike Paulenoff is author of MPTrader.com, a real-time diary of his technical analysis & trade alerts on ETFs for precious metals, energy, currencies, and an array of equity indices and sectors, including international markets, plus key ETF component stocks in sectors like technology, mining, and banking.
* I really like Mike's charts and analysis. This is shared with my readers here via MPtrader.com *
---
Disclosure: I may trade in the ticker symbols mentioned, both long or short. My articles represent my personal opinion and analysis and should not be taken as investment advice. Readers should do their own research before making decisions to buy or sell securities. Trading and investing include risks, including loss of principal.
If you liked this article, please click the LIKE (thumbs up) button.
Feel free to leave any comments, question, or opinions.
Follow us and check back occasionally for additional articles or comments.