Today's Trackdown: Wednesday - Oct. 9, 2019
Brief Recap and Updates on the Markets
SPY Charts and some Technical Analysis
---
In Tuesday's action: Oct. 8, 2019
Dow 26164.04 -313.98 (-1.19%)
Nasdaq 7823.78 -132.52 (-1.67%)
SP 500 2893.10 -45.73 (-1.56%)
The S&P 500 declined 45 points on Tuesday following a series of trade developments that heightened concerns about upcoming trade talks and global growth prospects. The U.S. placed 28 Chinese firms on its trade blacklist for their part in fostering human rights abuses against a Muslim minority in China and will impose some visa restrictions. In return, China denied violations and warned it could retaliate. Supposedly, still plans on proceeding calmly and is reportedly sincere in reaching a comprehensive deal?
* The market does not like this uncertainty. Volatility has been increasing due to it. *
---
News to keep in mind Wednesday morning:
Futures trade vs fair value were a bit higher late last night... Dow +85, S&P +9, Nasdaq +26, Russell +7.
The biggest factors in the market right now are; Global Economy, China trade talks, Fed speak, and the US Treasury markets.
Keep an eye on the VIX - The CBOE Volatility Index is just over 20 now after rising up in Tuesday. This is a level at which usually means some risk off and cautious.
CHINA TRADE WAR is still an ongoing drama! Over and over again....
---
Today's Economic Calendar:

7:00 AM ET, The Mortgage Bankers Association (MBA) will release the results for the mortgage purchase applications index.
10:00 AM, Job Openings and Labor Turnover Survey for August from the BLS.

2:00 PM, FOMC Minutes, Meeting of September 17-18, 2019
---
THE CHARTS:
(NOTE: Charts are a good guide but when a tweet or news item can jerk the markets around, they mean a bit less.)
The markets ended lower on Tuesday, giving us some negative changes to our charts. The MACD has resumed its decline and the Money Flow has returned to a negative.
We are now right back just above our 288 support line. We believe chances are good this level will hold, as long as we do not get additional negative headlines about the trade war. Below here 282 offers very strong support.
We expect volatility to stay elevated.
We would still be using caution and taking some profits (on a case by case basis depending on your own risk tolerance). We also would take a few new starter size positions in names beaten down or offering good value (also depends on your own risk tolerance).
The MACD is declining after crossing down. The Stochastics are neutral. The Money Flow is negative. We are below the 50-day MA.
The 50-day MA (292.58)(-.24) and the 200-day MA (281.82)(+.23)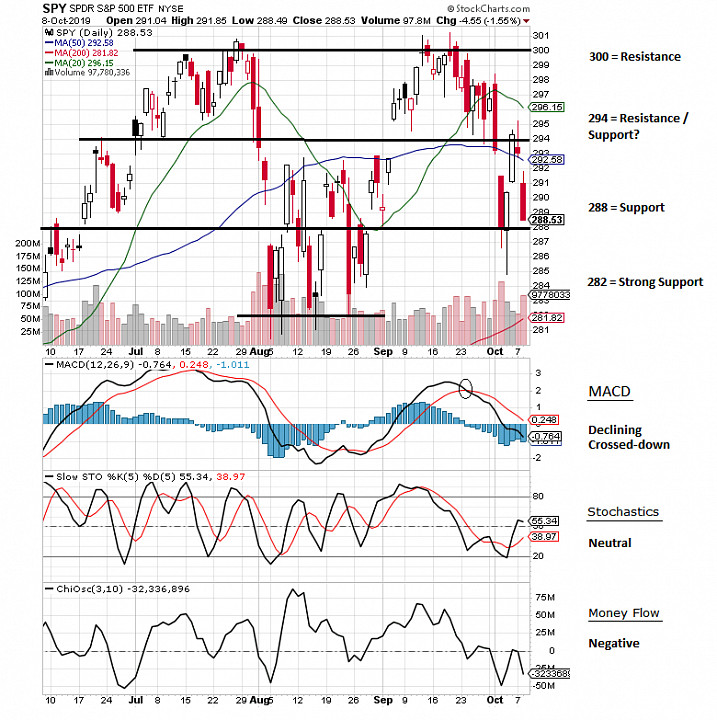 On the 9-month chart below, the last patterns are null and void and we are in a large trading range of 282 to 302.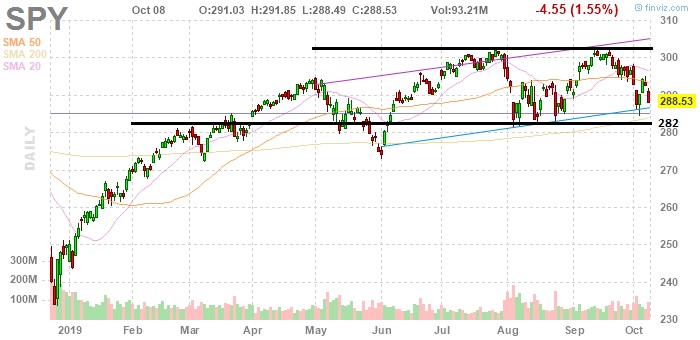 Nasdaq Composite +17.9% YTD
S&P 500 +15.1% YTD
Dow Jones Industrial Average +12.2% YTD
Russell 2000 +9.2% YTD
---
Disclosure: I may trade in the ticker symbols mentioned, both long or short. My articles represent my personal opinion and analysis and should not be taken as investment advice. Readers should do their own research before making decisions to buy or sell securities. Trading and investing include risks, including loss of principal.
If you liked this article, please click the LIKE (thumbs up) button.
Feel free to leave any comments, question, or opinions. (Sign-up if you haven't already done so).
Follow us/bookmark us and check back occasionally for additional articles or comments on our page...
Wild Tiger Trading - start/main page
With our Daily Trackdowns, check back for additional analysis/observations during the trading day in the comments by us or our readers.