Watchlist Update: 4-29-2019 - IMMU - Immunomedics - Analyst Comments + News
Piper says Immunomedics' licensing terms for sacituzumab 'very favorable'
After Immunomedics announced a partnership with Everest Medicines to commercialize sacituzumab for all cancer indications in Asian countries including China and South Korea, Piper Jaffray analyst Joseph Catanzaro called the terms of the deal "very favorable," adding that he believes they "set a new benchmark for greater China licensing deals." Catanzaro also addressed the news that Chief Medical Officer Rob Iannone has decided to leave the company for personal reasons, telling investors that he does not believe the change will affect the company's resubmission process for sacituzumab's BLA. The analyst keeps an Overweight rating and $20 price target on Immunomedics shares.

Read more at: (source) $IMMU
https://thefly.com/land ingPage...
---
Immunomedics announces license agreement with Everest Medicines
Receives $65M Immunomedics and Everest Medicines announced an exclusive license agreement to develop, register and commercialize sacituzumab govitecan in Greater China, South Korea and certain Southeast Asian countries. Immunomedics will receive an upfront payment of $65M and an additional $60M based on FDA approval of sacituzumab govitecan in metastatic triple-negative breast cancer. Everest will develop and commercialize the product in various global and local indications across the territory. The company is eligible to receive development and sales milestone payments of up to $710M, as well as escalating tiered royalties that begin in the mid-teens based on net sales within the territory. Pursuant to the agreement, Everest Medicines will be responsible for all costs associated with the clinical development and commercialization of sacituzumab govitecan in the territory, while a joint steering committee will be established between the companies to oversee the overall strategy and priorities.

Read more at:
https://thefly.com/landingPage...
---
On our trading list, a biotech with good potential.
Stock is down today on the news of the CMO leaving, but the licensing deal is a very good thing. We believe stock is on sale an d would add a bit here.
---
$IMMU
, Immunomedics, Inc. / H1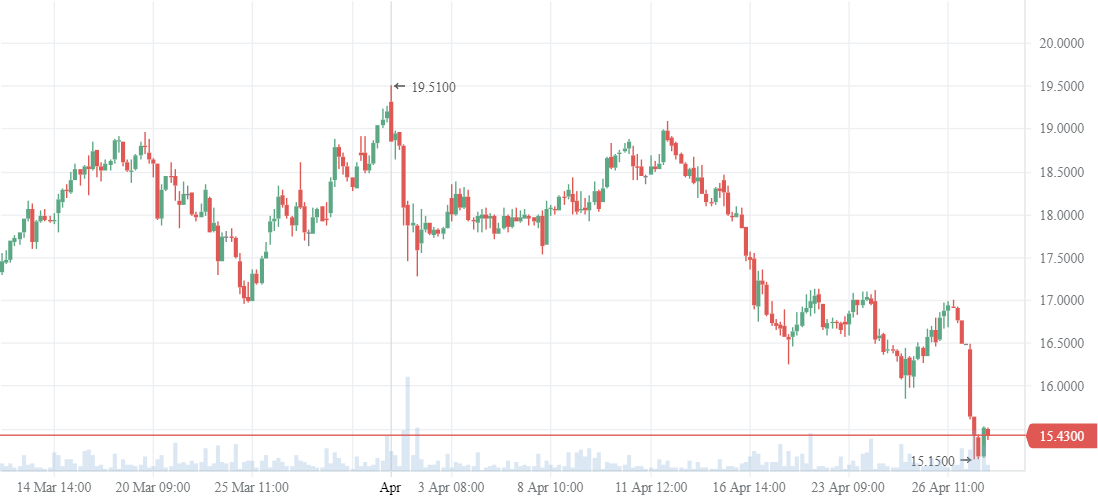 ---
Disclosure: I may trade in the ticker symbols mentioned, both long or short. My articles represent my personal opinion and analysis and should not be taken as investment advice. Readers should do their own research before making decisions to buy or sell securities. Trading and investing include risks, including loss of principal.
If you liked this article, please click the LIKE (thumbs up) button.
Feel free to leave any comments, question, or opinions.
Follow us and check back occasionally for additional articles or comments.