Today's Trackdown for Tuesday - Sept 21, 2021
SPY Charts and some Technical Analysis

Today's Economic Calendar - The Charts - Opinion - Stock Picks.

---
Today's Economic Calendar:
8:30 AM ET, Housing Starts for August. The consensus is for 1.560 million SAAR, up from 1.534 million SAAR.
---
THE CHARTS:
(NOTE: Charts are a guide, do other research as well.)

BRIEFING/OPINIONS:
The markets had a bad day! More technical damage was done to the market. We now have a decisive break below the 50-day moving average. We would expect a rebound attempt and some dip buying and then a sideways range bound market for a while.
On the chart indicators, with the exception of the MACD, there were no major changes. The MACD now shows a steep decline.
(Some people are telling us that September is a weak month historically for the markets.) ** - Looks like they were right - **
Currently, the longer-term trend was also broken today. Look below to the chart.

SPY 425 has been our strong support level and we expect this to hold. These levels could also be considered stop levels for some traders.


* If you have any questions, opinions, or comments to add please do so! *


IF wanting to gamble: Options trades on these ETFs will give you a way to place your bets. $TQQQ - $SQQQ - $SPXL - $SPXS.

* Beware - levered ETFs are subject to decay and are not for long-term holding. *


CHANGES:

MACD noticeable decline.
Long-term trendline broken down.

POSITIVES:

We are above the 200-day moving average, which is rising.

NEGATIVES:

MACD decline.
Money Flow negative.
Below the 20-day moving average.

Below the 50-day moving average. (Don't like this.)

Possible market top or trading range in the future?

Thinking about the Fundamentals, Valuations, Virus news, the Economy, Jobs, Politics, The FED, etc.?

Some things out there to worry about still! Or a wall of worry to climb as the saying goes.

OUTLOOK:

Longer-term we are still bullish, But we could see a sideways range bound type of market for a while.
Risk of drops or pullbacks still exist. Increase of volatility a good possibility as the markets try to figure everything out.


Longer-term questions to ask: When will the Fed's easy money and the stimulus sugar run out?

Will higher inflation cause the Fed to raise rates? Covid still hurting the economy?



We still say "Use Caution" for a reason. Do not over risk yourself or over leverage yourself.

We are still susceptible to large drops or dips.
Look for trading opportunities that could result and have your trading lists ready.
* Be careful if using MARGIN, be certain of your trades! *

INDICATORS:
The MACD is declining. The Stochastics are low. The Money Flow is negative.

MA +/- (slope): The 50-day MA (441.33)(+0.00) and the 200-day MA (406.99)(+0.36)
The 8-month chart (below).
We are above the 425 strong support level, but our previous 437 support a well as the long term trend line were broken.
Next step is a rebound attempt and then some kind of sideways trading range should develop.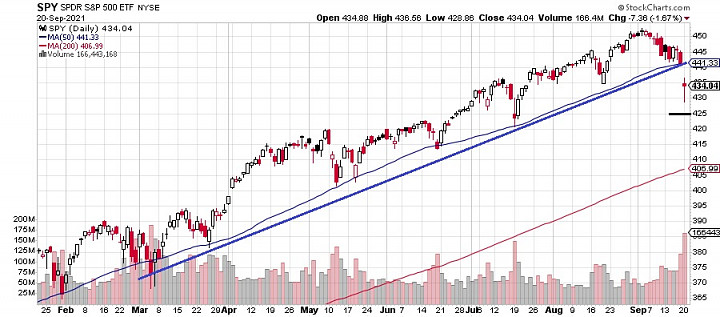 ---
STOCK PICKS: (For trades and/or investments.)
Current trading favorites: AUPH - Aurinia Pharma (Doing very well lately!), CARA - Cara Therapeutics, EPZM - Epizyme, EXEL - Exelixis (A bargain here), HZNP - Horizon Therapeutics (A big winner for us last year), IOVA - Iovance, KPTI - Karyopharm (Good buy under $10), SGMO - Sangamo, TGTX - TG Therapeutics (Our Top Pick!), TRIL - Trillium Therapeutics (Got bought out by Pfizer for a huge gain!).
Tech Picks: CRWD - CrowdStrike (Be aware it has a high valuation), DT Dynatrace (Good longer-term hold).
Also watching: IMGN, VKTX.
** TGTX is a great buy at current levels. Longer-term this will be higher. Accumulate this one. Their pipeline MS drug looks like it will be best in class. **
* Feel free to share your list/picks in the comments below.

---
Disclosure: I may trade in the ticker symbols mentioned, both long or short. My articles represent my personal opinion and analysis and should not be taken as investment advice. Readers should do their own research before making decisions to buy or sell securities. Trading and investing include risks, including loss of principal.

If you liked this article, please click the LIKE (thumbs up) button.
Feel free to leave any comments, question, or opinions. (Sign-up if you haven't already done so)!
Follow us/bookmark us and check back occasionally for additional articles or comments on our page...
With our Daily Trackdowns, check back for additional analysis/observations during the trading day in the comments by us or our readers.
.