Markets by Mike Paulenoff 6-13 - Bring on the Fed Rate Cuts-- Add Oil Prices to the Threat of Deflation
Thursday June 13th, 2019
by Mike Paulenoff
Crude Oil was up $1.03, less than 12 hours after two tankers were attacked in the Gulf of Oman.
How about today's pathetic price action as a signal that US fracking, OPEC cheating, excess supply and possibly sagging global demand are-- and will continue to be-- problematic for Oil prices short of all out war in the Mid East...
But wait. What if Oil prices do the opposite, and implode? What message might that send to equity investors?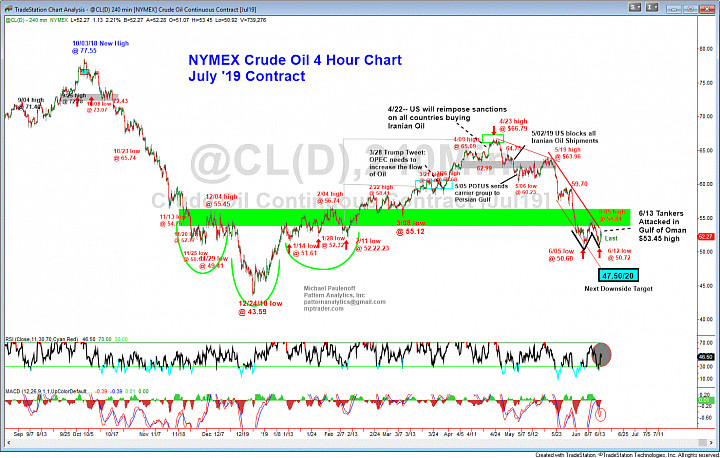 ---
Mike Paulenoff is author of MPTrader.com, a real-time diary of his technical analysis & trade alerts on ETFs for precious metals, energy, currencies, and an array of equity indices and sectors, including international markets, plus key ETF component stocks in sectors like technology, mining, and banking.
* I really like Mike's charts and analysis. This is shared with my readers here via MPtrader.com *
---
Disclosure: I may trade in the ticker symbols mentioned, both long or short. My articles represent my personal opinion and analysis and should not be taken as investment advice. Readers should do their own research before making decisions to buy or sell securities. Trading and investing include risks, including loss of principal.
If you liked this article, please click the LIKE (thumbs up) button.
Feel free to leave any comments, question, or opinions.
Follow us and check back occasionally for additional articles or comments.