Chart Update: 3-24-2018 - the Vix chart - what it might mean? >
Posting a Vix chart of the last 5 days.
One could say the Vix spiked and topped out Friday making the big down day a one-time event that will soon be behind us.
Just a theory I am putting out there. Also of note the Vix is still in the 16s/Mid-teens which is not a panic or sell-off level.
Friday being a one off event caused by rising to quickly through multiple resistance levels, the Europe global growth story disaster, or Mueller report due over the weekend causing potential political uncertainty.
Anybody agree or disagree?
---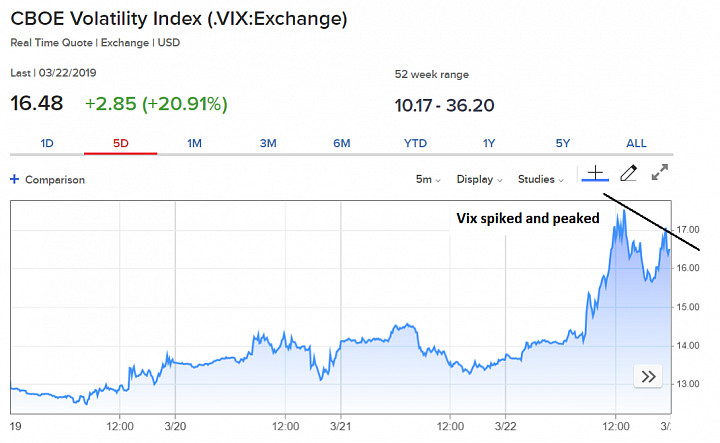 $SPY $QQQ $DIA $VIXY $VIXM $TVIX $UVXY $VXX
---
Disclosure: I may trade in the ticker symbols mentioned, both long or short. My articles represent my personal opinion and analysis and should not be taken as investment advice. Readers should do their own research before making decisions to buy or sell securities. Trading and investing include risks, including loss of principal.
If you liked this article, please click the LIKE (thumbs up) button.
Feel free to leave any comments, question, or opinions.
Follow us and check back occasionally for additional articles or comments.