Today's Trackdown: Friday - Jan. 11, 2019
Brief Recap and Updates on the Markets
SPY Charts and some Technical Analysis

In Thursday's action:
The S&P 500 gained 11 more points on Thursday, extending its winning streak to five straight trading days. A renewal of the 'Buy-the-dip mentality' helped fuel an intraday rebound with the markets ending higher.
News to keep in mind Friday morning:
Futures trade vs fair value are slightly lower early this morning - Dow -47, S&P -7, Nasdaq -19, Russell -1.
The China trade war news and Fed watching are the 2 biggest issues currently to keep an eye on.
Keep an eye on the VIX - If the Vix can drop and stay under 20 it may mark the signal to buy the dips and start taking more risk again.
Remember the December nonfarm payrolls increased by 312,000. A huge out performance of expectations! The economy is still doing very well if measured by the job market.
Keep any eye on the small caps as they have been leading the way. Up 7.9% to start off the year!
Today's Economic Calendar:
---
Earnings warnings from department store Macy's (M 26.11, -5.61, -17.7%) and airline operator American Airlines (AAL 32.04, -1.38, -4.1%) started the market lower early on.
Tiger's Take: "I would avoid these two companies and the sectors they are in. Two questions come to mind for me. With Macy's, the holiday season was huge this year but they are not doing well? Something wrong here to me, so avoiding. For AA, the biggest cost for them is fuel and those prices have come down considerably so why are they not doing well? Avoid this one also."
---
CHARTS:
The SPY charts are pictured below. The first is a 4-month chart followed by a longer-term 9-month chart.
The markets finished higher on Thursday as the rally continued on. The technicals are still damaged due to being below both the 50-day and 200-day moving averages, but have really improved. Resistance levels are now at 280, 260, and both of the moving averages. Support is at 250 with very strong support at 235.
The MACD just had a positive cross. The Stochastics are at overbought. The Money Flow is nicely positive after a huge "V" bottom formation was completed.
The Vix remains a bit high still, but has been slowly drifting lower and is just under 20. This is a good sign for the bulls. For now we are in a 250-260 trading range.
We may see a pullback as the rally has lasted a week now as the stochastics are overbought. I expect any pullback will not break the 250 support level as the MACD and Money Flow look very constructive going forward.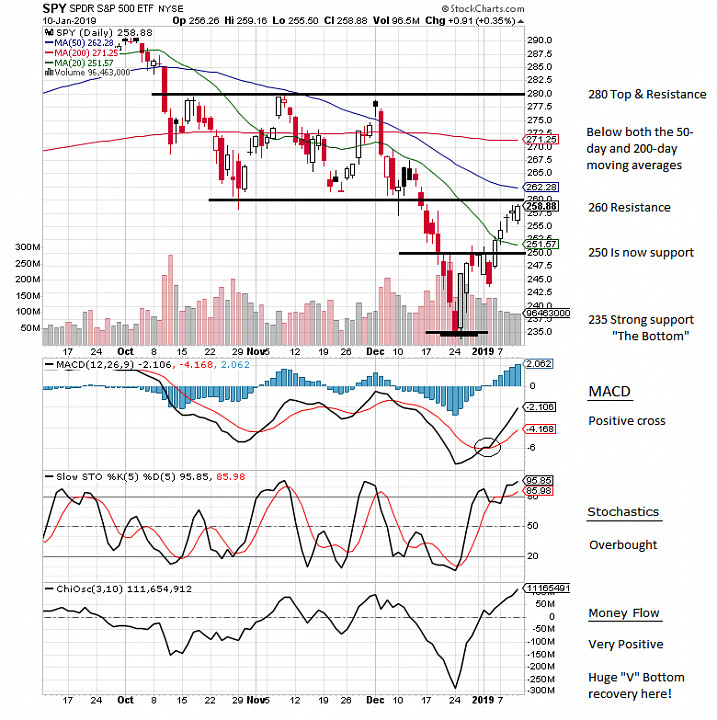 On the 9-month chart below, the previous patterns are behind us. Shown now are the resistance levels of 280 and 260. Support is found at 250 with strong support bottom at 235.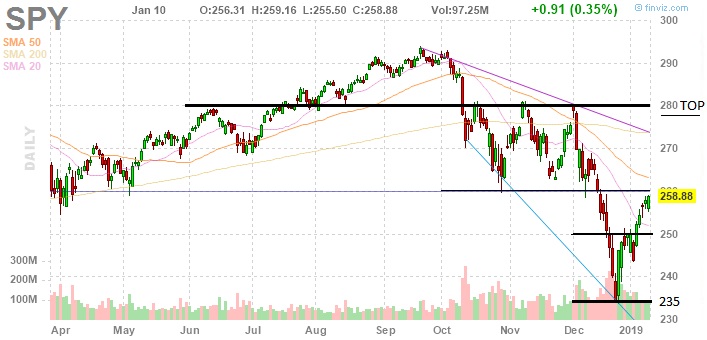 Russell 2000 +7.2% YTD
Nasdaq Composite +5.3% YTD
S&P 500 +3.6% YTD
Dow Jones Industrial Average +2.9% YTD
---
NOTICE: The Russell 2000 is leading the market higher so far this year, outperforming the larger averages.
---
Disclosure: I may trade in the ticker symbols mentioned, both long or short. My articles represent my personal opinion and analysis and should not be taken as investment advice. Readers should do their own research before making decisions to buy or sell securities. Trading and investing include risks, including loss of principal.
If you liked this article, please click the LIKE (thumbs up) button.
Feel free to leave any comments, question, or opinions.
Follow us and check back occasionally for additional articles or comments.
With our Daily Trackdowns, additional analysis/observations during the trading day in the comments by us or our readers.