Today's Trackdown: Tuesday - Feb. 11, 2020
SPY Charts and some Technical Analysis
* - Note to readers: We switched to a slightly different format. The Brief Recap/Update on the Markets and the Charts/Technical Analysis are now separate. - *
Recap of the previous market day.... (click here).... Dow +174.31 at 29276.73, Nasdaq +107.88 at 9628.41, S&P +24.38 at 3352.09
---
News to keep in mind Tuesday morning:
Futures trade vs fair value were trading higher late last night.
Dow +105, S&P +13, Nasdaq +51, Russell +8.
The biggest factors in the market right now are; Coronavirus headlines, the Fed, the Global Economy and Global Geopolitical conflicts.
Keeping an eye on the VIX - The CBOE Volatility Index has returned to normal levels. In the mid-teens, which is 'Risk-On'.
---
Today's Economic Calendar:
6:00 AM ET, NFIB Small Business Optimism Index for January.
10:00 AM, Job Openings and Labor Turnover Survey for December from the BLS.
10:00 AM, Testimony, Fed Chair Jerome Powell, Semiannual Monetary Policy Report to the Congress, Before the Committee on Financial Services, U.S. House of Representatives
11:00 AM, NY Fed: Q4 Quarterly Report on Household Debt and Credit
---
THE CHARTS:
(NOTE: Charts are a good guide but when a tweet or news item can jerk the markets around, they mean a bit less.)
* The charts mean a bit less currently as the coronavirus news is in the headlines and can spark fears. *
The markets ended higher on Monday as traders turned a blind eye to any coronavirus headlines and were led higher by the large cap tech companies. Three names behind the advance were Amazon ($AMZN 2133.91, +54.63, +2.6%), Microsoft ($MSFT 188.70, +4.81, +2.6%), and Alphabet ($GOOG 1508.68, +29.45, +2.0%).
CHANGES:
The Stochastics have risen up to high/overbought. (This is a short-term indicator).
We have made new all-time highs again!
POSITIVES:
We are above the 20-day, 50-day, and 200-day moving averages.
All 3 MAs are also in the proper alignment and headed in an upward direction. This is bullish.
The MACD is positive.
The Money Flow is slightly positive.
NEGATIVES:
The Stochastics are high/overbought.
We may have risen to far/to quickly.
OPINION:
Longer-term bullish. Shorter-term bullish, but using some caution.
We will keep using some caution as the coronavirus is not cured and we may have risen to new highs to fast. We would still buy the dips if any occur.
The U.S. economy is doing well.
Using some caution: * Meaning - we would not use excessive margin at this time. *
VIX: Spiked a bit on virus fears initially, but is back down in the mid-teens. This is a 'Risk-On' level.
INDICATORS: The MACD is positive. The Stochastics are high/neutral. The Money Flow is a slight positive now.
MA +/-: The 50-day MA (322.52)(+0.45) and the 200-day MA (299.89)(+0.24)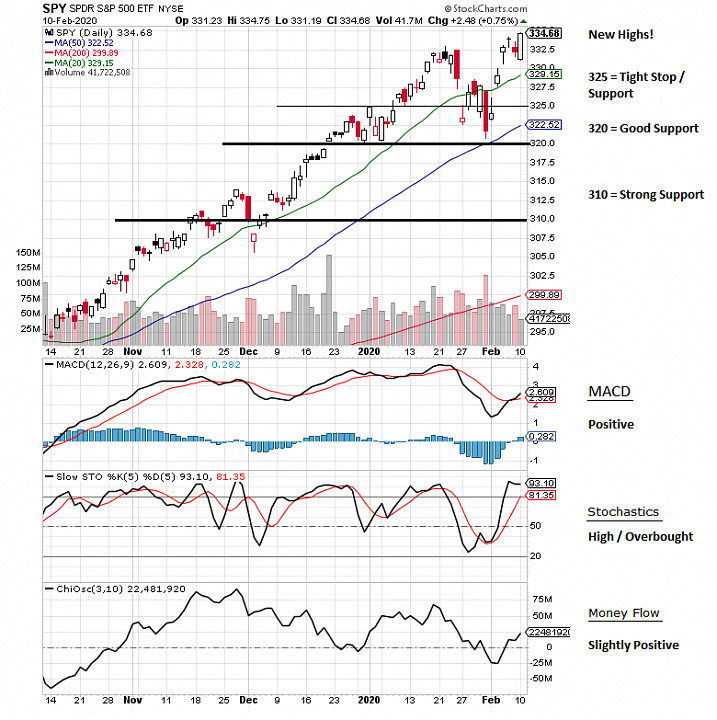 On the 9-month chart below, we are in a megaphone like uptrend channel. Caution though as we are currently at the upper trend line, which is a high or overbought look. In many cases we stay in the channel either by pullbacks or by going sideways until the upper trend line catches up or a new pattern emerges.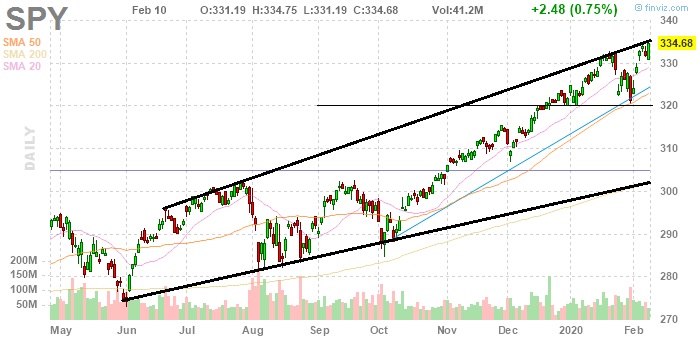 ---
Disclosure: I may trade in the ticker symbols mentioned, both long or short. My articles represent my personal opinion and analysis and should not be taken as investment advice. Readers should do their own research before making decisions to buy or sell securities. Trading and investing include risks, including loss of principal.
If you liked this article, please click the LIKE (thumbs up) button.
Feel free to leave any comments, question, or opinions. (Sign-up if you haven't already done so).
Follow us/bookmark us and check back occasionally for additional articles or comments on our page...
Wild Tiger Trading - start/main page.
With our Daily Trackdowns, check back for additional analysis/observations during the trading day in the comments by us or our readers.