Today's Trackdown: Tuesday - June 18, 2019
Brief Recap and Updates on the Markets
SPY Charts and some Technical Analysis

In Monday's action:
The stock market rose modestly on Monday, finding support in the technology stocks while traders eyed a key policy decision from the Federal Reserve later this week. The S&P 500 gained 2 points and is holding itself just below the 2,900 level.
News to keep in mind Tuesday morning:
Futures trade vs fair value were near unchanged late last night... Dow +1, S&P +1, Nasdaq +10, Russell -1.
The biggest factors in the market right now are; Global Economy, China trade talks, Fed speak, and the US Treasury markets.
Keep an eye on the VIX - The CBOE Volatility Index is back down in the mid-teens.
CHINA TRADE WAR is still an ongoing concern.
FED policy decision and wording due Wednesday 2pm ET.
---
Today's Economic Calendar:
Jun 18 08:30 Housing Starts May
Jun 18 08:30 Building Permits May
---
Quick Notes: (none)
---
THE CHARTS:
(NOTE: Charts are a good guide but when a tweet or news item can jerk the markets around, they mean a bit less.)
The markets were a bit higher on Monday as we await the Fed's action(s) coming to us Wednesday afternoon. On the charts, we still have an obvious top/resistance point at 290/291. The last 5 days on the chart might make what is called a 'bull flag'. Of note today, the Stochastics are no longer overbought and are now neutral. This setup looks like me are going to break upwards, but the Fed policy decisions and words make it less certain.
Our strong support level is at 280 and our strong resistance level is at 290. So for now, a big 280-290 trading range until something breaks either way. If we break down - the 50-day moving average looks like it may act as support now and contain any weakness (287). If we break up - the all-time highs 294/295 is the next resistance.
The MACD is positive. The Stochastics are neutral. The Money Flow is slightly negative.
The 50-day MA (287.23)(+.05) and the 200-day MA (275.71)(+.01)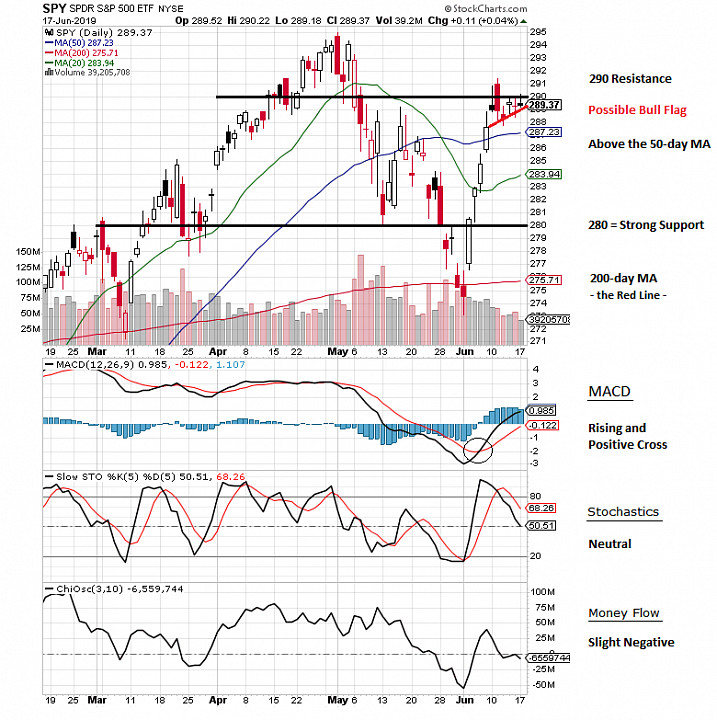 On the 9-month chart below, the previous patterns are behind us. Shown now is the re-established support level at 280 and the resistance at 290.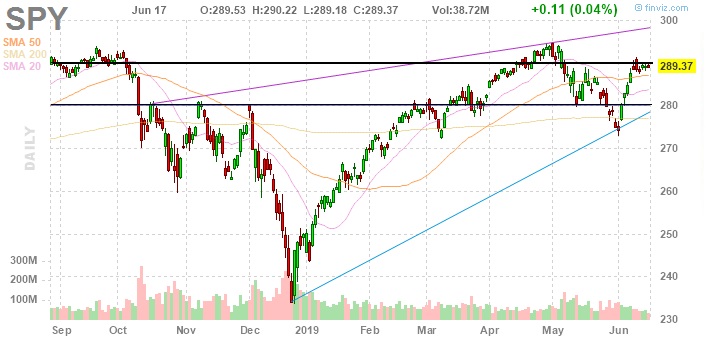 Nasdaq Composite +18.2% YTD
S&P 500 +15.3% YTD
Russell 2000 +13.6% YTD
Dow Jones Industrial Average +11.9% YTD
---
Disclosure: I may trade in the ticker symbols mentioned, both long or short. My articles represent my personal opinion and analysis and should not be taken as investment advice. Readers should do their own research before making decisions to buy or sell securities. Trading and investing include risks, including loss of principal.
If you liked this article, please click the LIKE (thumbs up) button.
Feel free to leave any comments, question, or opinions.
Follow us and check back occasionally for additional articles or comments.
With our Daily Trackdowns, additional analysis/observations during the trading day in the comments by us or our readers.