Today's Trackdown: Thursday - Dec. 6, 2018
Brief Recap and Updates on the Markets
SPY Charts and some Technical Analysis

In Tuesday's action:
The S&P 500 tumbled 90 points on Tuesday, due to concern about the trade negotiations between the U.S. and China and concern over future economic growth.
News to keep in mind Thursday morning:
Futures trade lower - Dow down about 300 early last night.
Keep an eye out for any trade headlines or political risks.
Keep an eye on the VIX - it has been dropping but surged up on Tuesday to get over 20 again.
Today's Economic Calendar:
Dec 06 08:15 ADP Employment Change
Dec 06 08:30 Productivity-Rev.
Dec 06 08:30 Trade Balance Oct
Dec 06 08:30 Unit Labor Costs - Rev.
Dec 06 08:30 Initial Claims
Dec 06 08:30 Continuing Claims
Dec 06 10:00 Factory Orders Oct
Dec 06 10:00 ISM Services Nov
Dec 06 11:00 Crude Inventories
---
The SPY charts are pictured below. The first is a 4-month chart followed by a longer-term 9-month chart.
The markets finished much lower on Tuesday after a late day nosedive. The technicals suffered damage a day after breaking back above the 50-day moving average, we broke back down through the 50-day and 200-day moving averages. Resistance levels are now at 280 and both of the moving averages. Support possibly 264ish.
The MACD is neutral. The Stochastics are high and rolling back down. The Money Flow is slightly positive, but headed downwards.
Thursday and Friday will be about finding support levels and trying to figure out why such a steep decline occurred.
Happy Trading!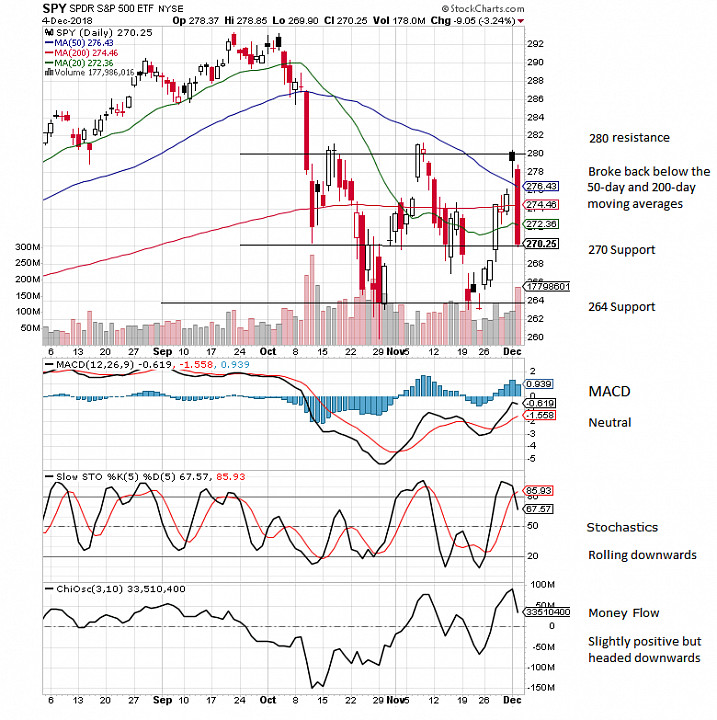 On the 9-month chart, the nice channel from April to September has been shown. This trend/pattern was broken to the downside. Awaiting the emergence of the next pattern. The 200-day moving average (274.46) and 280 are the resistance levels. We will have to see where we can find support, my next level to consider is 264/265ish.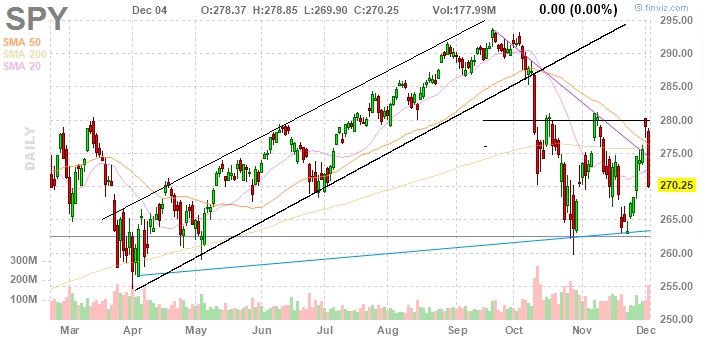 Nasdaq Composite +3.7% YTD
Dow Jones Industrial Average +1.3% YTD
S&P 500 +1.0% YTD
Russell 2000 -3.6% YTD
---
Disclosure: I may trade in the ticker symbols mentioned, both long or short. My articles represent my personal opinion and analysis and should not be taken as investment advice. Readers should do their own research before making decisions to buy or sell securities. Trading and investing include risks, including loss of principal.
If you liked this article, please click the LIKE (thumbs up) button.
Feel free to leave any comments, question, or opinions.
Follow us and check back occasionally for additional articles or comments.
With our Daily Trackdowns, additional analysis/observations during the trading day in the comments by us or our readers.