Weekly S&P 500 Charts - 4/26/2020 by TradesAfterWork
Subscribers Special Report
Via -TradesAfterWork
4/26/2020 Issue 15

Posting this to share with our readers: (We really like these Weekly Technical Briefs by TaW).
---
This weekly chart of the S&P 500 Index gives us an intermediate picture of the market as it is today. Looking at the chart we might initially think that the market is in trouble. It may be, but keep in mind that the intermediate term trend can change as the short term positive trend continues to improve. What you are seeing is a longer term look. It is showing areas that will need to be corrected before we can say that this short term positive trend has turned into a positive intermediate term trend on its way to becoming a positive long term trend in the market.
First, we still have a "Death Cross" on the weekly S&P 500 Index, which means that the shorter term moving average (50 Day SMA) has crossed below the longer term moving average (200 Day SMA). Although a death cross does not always follow through it's still something that's good to be aware of. Second, the Relative Strength Index (RSI) has not broken up above the pivotal 50% area since the March 23rd low. Third, there is a negative Moving Average Convergence Divergence (MACD).
The MACD on the chart of the Nasdaq Composite below looks better than the S&P 500 Indexes does, however it too is still negative. The MACD of the daily chart of the Nasdaq Composite looks good along with its RSI, and prices are above all our major moving averages. Again there is no argument about the markets short term positive trend, but, even on the Nasdaq Composite Index, the intermediate term trend has not given confirmation that we are in anything more than a short term trend rally. That is why this chart also shows a "Death Cross" on its weekly or intermediate chart.
One of the real positives on the Nasdaq Composite chart is that we are over the 50% level on the RSI, at 52.49%. Why do I have a question mark behind the highlighted 50%? Because the RSI seems to be trying to curl downward, but that can be curled upward with a good week in the market this week. This is nothing anyone can control, nor does it not mean that these two indexes will not confirm and continue the short term positive trend into a positive intermediate term trend. All we can do is interpret the charts. No one can predict the future but we can look at what is, with no bias either way.
By the time you look at these next two Point & Figure charts you are probably going to think that Bernard is definitely a bear. Not true. We go with the trend, and the trend is bullish short term. We have to stick with that until the short term positive trend bends. This chart of the NYSE Bullish Percentage Index, which is a risk assessor of the markets condition, is currently in a column of O's or simply stated supply or sellers is in control. This indicator has been very volatile the last 2 months or so, but that doesn't change the fact that the market should be viewed as on defense.
What should we do with this information? Perhaps you may want to lighten up on your positions or tighten your stops or buy a few puts. This indicator is not a timing indicator, but a risk assessor. Therefore, look at your portfolio and make sure that you have your risk dialed down to where you can sleep at night, even if we were to get a real quick pullback. The next Point & Figure chart might be one to be more concerned about when it comes to your portfolio.
This is the Bullish Percent Index for the Nasdaq Composite Index. It measures all of the stocks or charts that are giving buy and sell signals in the Nasdaq Composite. As we have noted since the beginning of this short term rally the Nasdaq has been the strongest of the major 3 indexes, and not surprisingly it is currently in a column of X's or Demand and showing more buyers of stock than sellers of stock. As you will remember, the Nasdaq Composite is stronger than the S&P 500 Index on a relative strength basis.
So, what's the concern then? If you will notice we are only one X or box away from a possible resistance area. Now we may break right through this area of resistance, but it is good to know where we stand at any given time. With the NYSE Bullish Percent Index in a column of O's; the Nasdaq Composite Index Bullish Percent Index near an area of resistance; the Death Cross on both the S&P 500 Index and the Nasdaq Composite weekly charts, and the RSI on the Weekly S&P 500 chart not confirming yet we must not be in the market at full steam. This is why, even though we are in the market and benefiting from our stock picks, we are not in with full positions.
If you have any questions or I can be of any assistance please don't hesitate to contact me.
Take Care!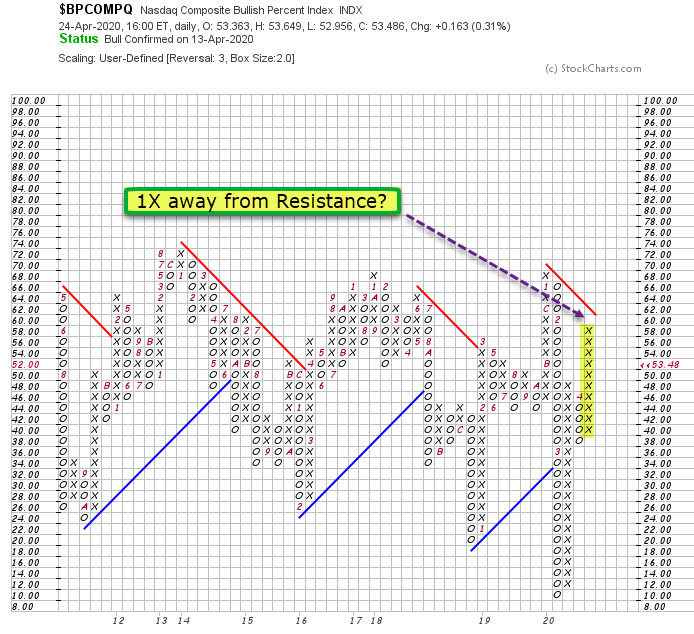 ---
Learn more about them here - TradesAfterWork.com -
https://twitter.com/BERNARDCLAY9

The Subscribers' Special Report (SSR) is a publication TradesAfterWork.com. It should not be regarded as a complete analysis of the subjects discussed nor should the SSR be construed as personalized investment advice. All expressions of opinion reflect the judgment of the authors as of the date of publication and are subject to change. It should not be viewed as legal or tax advice. Always consult an attorney or tax professional regarding your specific legal or tax situation.© 2020 TradesAfterWork.com. All rights reserved. Intended for receipt only and not for further distribution without the consent of TradesAfterWork.com