Today's Trackdown: Friday - August 10, 2018
Brief Recap and Updates on the Markets
SPY Charts and some Technical Analysis

In Thursday's action:
After the mixed performance seen in the previous session, the markets continued to show a lack of direction during trading on Thursday. The major averages spent the day bouncing back and forth across the unchanged line. The Dow finished lower with late day selling, and the Nasdaq kept a small gain.
News to keep in mind Friday morning:
Markets are lower in pre-market trading
At 5:105am ET - Dow futures vs fair value: -107.00. S&P futures vs fair value: -13.00. Nasdaq futures vs fair value: -34.50. Russell 2000 futures vs fair value: -8.50.
The VIX is up 6% in pre-market trading
Keep an eye out for any trade war headlines and earnings reports
Today's Economic Calendar
---
The SPY charts are pictured below. The first is a 4-month chart followed by a longer-term 9-month chart.
The pre-markets are showing a down start for the market. With the pre-market drop we will see if 284 still holds or if we see the next support levels of 282 and 280. The MACD lines are slightly positive. The Stochastics are showing overbought. The Money Flow is currently a positive for the market. The 200-day moving average is looking strong and steady.
With the stochastics overbought, a light pullback could be expected. I expect at worst the 280 level will hold. The pullback could last 1 day or a few days. However, We are expecting the trend of higher lows and higher highs since April to continue. On dips or pullbacks, we may look to add to some positions while keeping an eye out on the trade wars and politics headline risks.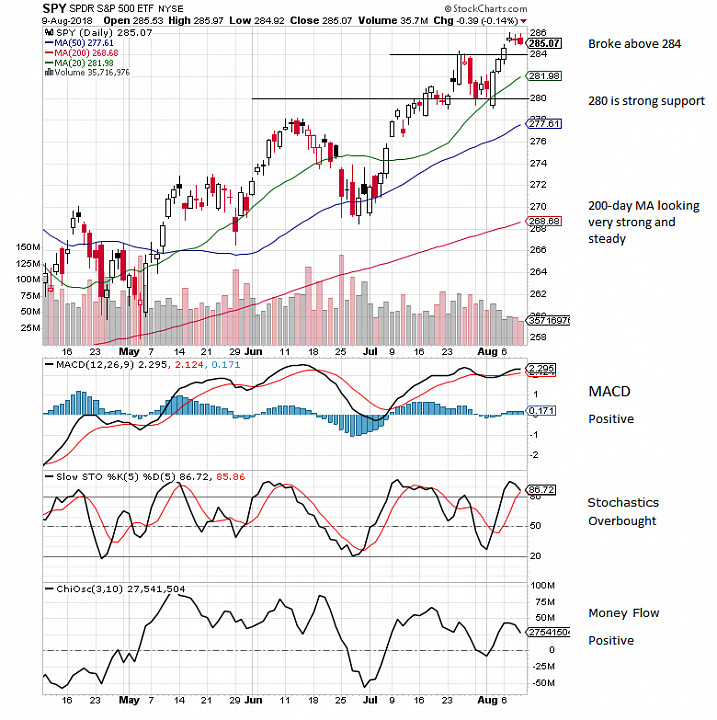 In the longer term chart, we have broken above 284. A nice channel featuring higher lows since April has been shown. At worst we expect any pullbacks will not break the channel's lows. Next resistance level is the all-time highs near 287.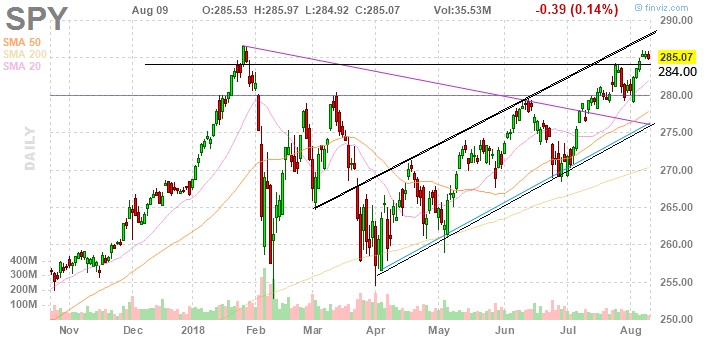 Nasdaq Composite +14.3% YTD
Russell 2000 +10.1% YTD
S&P 500 +6.7% YTD
Dow Jones Industrial Average +3.2% YTD
---
Disclosure: I may trade in the ticker symbols mentioned, both long or short. My articles represent my personal opinion and analysis and should not be taken as investment advice. Readers should do their own research before making decisions to buy or sell securities. Trading and investing include risks, including loss of principal.
If you liked this article, please click the LIKE (thumbs up) button.
Feel free to leave any comments, question, or opinions.
Follow us and check back occasionally for additional articles or comments.
With our Daily Trackdowns, additional analysis/observations during the trading day in the comments by us or our readers.