Today's Trackdown: Friday - Dec. 11, 2020
SPY Charts and some Technical Analysis

News to keep in mind Today - Today's Economic Calendar - The Charts - Opinion - Stock Picks.

---
News to keep in mind Friday morning:

Futures trade vs fair value were trading slightly lower/mixed late last night. Stimulus Deal On/Off?

Dow +14, S&P -1, Nasdaq -27, Russell +5. (1:55 am ET).

We look good technically - But use "Caution" message has been on here for a while for a reason. (Quick sell-offs and/or getting overbought are a possibility at anytime - so we continue to leave this note).
The biggest factors in the market right now are; Coronavirus headlines, the US economy, the Global Economy, and political drama.

Watch the VIX - (CBOE Volatility Index) - Currently back to the low 20s, close to being risk back on.
---
Today's Economic Calendar:

8:30 AM: The Producer Price Index for November from the BLS. The consensus is for a 0.2% increase in PPI, and a 0.2% increase in core PPI.

10:00 AM: University of Michigan's Consumer sentiment index (Preliminary for December).
---
SPECIAL NOTE!: Some of our readers enjoyed the big day in BioTech as 2 of our picks jumped 50%+ ($SGMO) and 40%+ ($TGTX). Boom time for those two as drug trials/data went very well for both of them.

---
THE CHARTS:
(NOTE: Charts are a good guide, but when a tweet or news item can jerk the markets around, they mean a bit less.)
BRIEFING:
Stocks ended mixed Thursday as the stimulus deal talks were reportedly not going well. Our 'Bearish Engulfing Candle' is still on the chart. Sometimes this can mark a change in trend or signal a market topping area. So we will keep a watch on it.
"The possibility of a consolidation, sideways market, or pullback of some kind is likely at some point."

* We still have our 'Bull Flag" formation pictured on our chart, as we have definite gap up and breakaway. We still are using a bit of caution as this market has come up a long way and some uncertainties still remain. *

IF wanting to gamble: Options trades on these ETFs will give you a way to place your bets. $TQQQ - $SQQQ - $SPXL - $SPXS.

* Beware - levered ETFs are subject to decay and are not for long-term holding. *


CHANGES:

The Stochastics have dropped back down to a neutral/high level.
POSITIVES:

The MACD is positive.
The Money Flow is positive.

We are over the 20-day moving average, which is rising.
We are over the 50-day moving average, which is rising.
We are over the 200-day moving average, which is rising.
NEGATIVES:

We now have a 'Bearish Engulfing Candle' to watch.
What about the Fundamentals, Valuations, Virus news, the Economy, Jobs, Election results, Politics, The FED, etc.?

A lot of things out there to worry about still!
** - Although - We are seeing more certainty now with the election past us, Covid vaccine progress, etc.


OPINION:
Currently we are above the 20-day, 50-day and 200-day MAs. (Bullish).


We were thinking about a sideways - range bound type of market for a while, but the market may keep rising.
So - The possibility of making new highs is on the table as the technicals are looking well.



This new bearish candle could mark a short-term top in the market.


We still say "Use Caution" for a reason. Do not over risk yourself or over leverage yourself.

We are still susceptible to large drops or dips.

Look for trading opportunities that could result and have your trading lists ready.
* Do not use MARGIN at this time unless absolutely certain of your trade! *

INDICATORS:
The MACD is positive. The Stochastics are neutral/high. The Money Flow is positive.

MA +/- (slope): The 50-day MA (350.64)(+0.63) and the 200-day MA (315.06)(+0.36)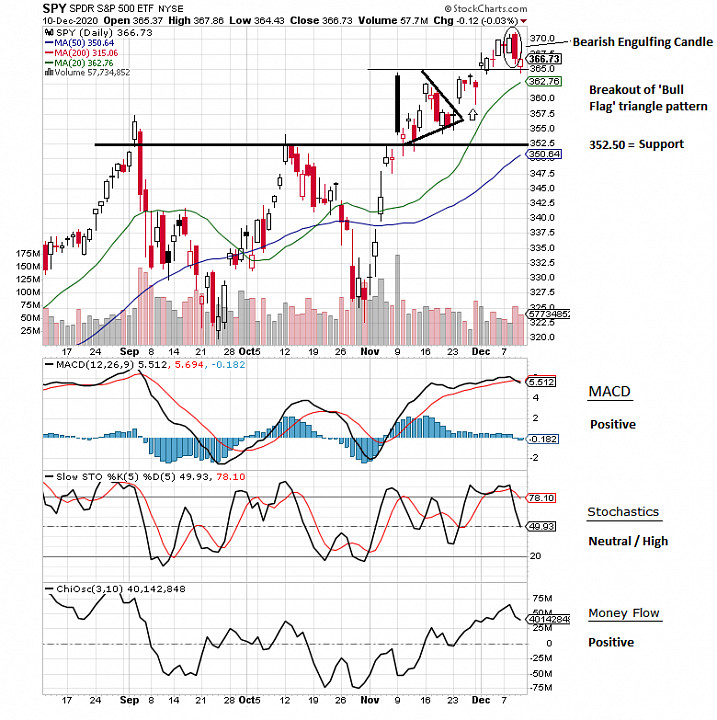 The 9-month chart (below).
We are above the SPY 340 level, which appears to be strong support now.
The market looks to be making an impressive up-channel since the March low. Technically looking well.


---
STOCKS: (Our most recent FULL TRADING LIST is posted here). (11-9-2020).
< Favorites & Trade Ideas > <-- Click here for the quotes, details, news and opinions on our current Favorites and Trade Ideas!

Current trading favorites: AUPH - Aurinia Pharma (Their Lupus drug is on a path to approval), EPZM - Epizyme, EXEL - Exelixis, HZNP - Horizon Therapeutics (A big winner for us this year/tripled), IOVA - Iovance, KPTI - Karyopharm, SGMO - Sangamo, TGTX - TG Therapeutics (Our Top Pick!).
If your thinking longer-term/income: T - AT&T (7%) high dividend yield.
Tech Picks: CRWD - CrowdStrike (Although be aware it has a high valuation now).
* Feel free to share your list/picks in the comments below.

---
Disclosure: I may trade in the ticker symbols mentioned, both long or short. My articles represent my personal opinion and analysis and should not be taken as investment advice. Readers should do their own research before making decisions to buy or sell securities. Trading and investing include risks, including loss of principal.

If you liked this article, please click the LIKE (thumbs up) button.
Feel free to leave any comments, question, or opinions. (Sign-up if you haven't already done so)!
Follow us/bookmark us and check back occasionally for additional articles or comments on our page...
With our Daily Trackdowns, check back for additional analysis/observations during the trading day in the comments by us or our readers.
.