Watchlist Update: 5-22-2019 - Array BioPharma - Analyst Comments(2)
TIGER'S TAKE: On our trading list and had positive drug news yesterday and surged up like a rocket! Today 2 analysts updated their price targets, etc.
---
Array BioPharma analyst commentary at Cantor Fitzgerald
Array BioPharma price target raised to $34 from $30 at Cantor Fitzgerald. Cantor Fitzgerald analyst Varun Kumar raised his price target for Array BioPharma to $34 from $30 saying the company yesterday reported an "impressive" hazard ratio on overall survival in the Beacon-CRC study. The analyst believes the results should support FDA approval in the second-line BRAF mutant metastatic colorectal cancer. He keeps an Overweight rating on shares of Array BioPharma.

Source: (thefly.com)
---
Array BioPharma analyst commentary at SunTrust
Array BioPharma price target raised to $32 form $26 at SunTrust. SunTrust analyst Peter Lawson raised his price target on Array BioPharma to $32 and kept his Buy rating after its "encouraging" results in Phase 3 BEACON CRC trial that met both primary endpoints for overall survival and overall response rate. The analyst notes that he is increasing his assumed probability of success for the "triplet of bini/enco + cetux" in BRAF CRC to 90% from 70% and expects a filing in the second half of this year along with the "full interim data" coming at ESMO in early July.

Source: (thefly.com)
---
$ARRY
, Array BioPharma Inc. / H1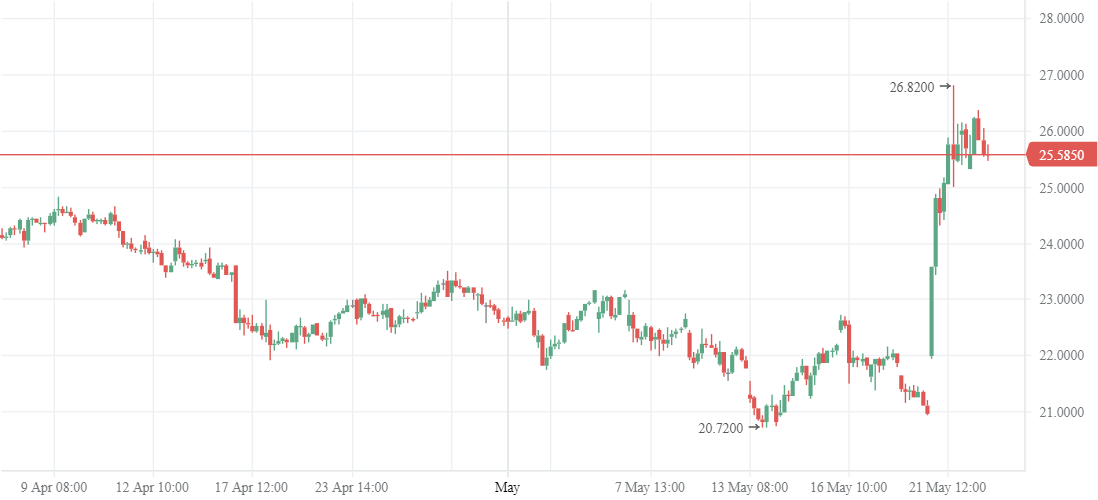 ---
Disclosure: I may trade in the ticker symbols mentioned, both long or short. My articles represent my personal opinion and analysis and should not be taken as investment advice. Readers should do their own research before making decisions to buy or sell securities. Trading and investing include risks, including loss of principal.
If you liked this article, please click the LIKE (thumbs up) button.
Feel free to leave any comments, question, or opinions.
Follow us and check back occasionally for additional articles or comments.