Today's Trackdown: Friday - May 17, 2019
Brief Recap and Updates on the Markets
SPY Charts and some Technical Analysis

In Thursday's action:
U.S. stocks advanced for the third straight session on Thursday, boosted by positive earnings reports from Cisco Systems ($CSCO 55.93, +3.49, +6.7%) and Wal-Mart ($WMT 101.31, +1.43, +1.4%). The S&P 500 gained 25 points which reclaimed its 50-day moving average (2866) on a closing basis.
News to keep in mind Friday morning:
Futures trade vs fair value were slightly lower late last night. Dow -53, S&P -8, Nasdaq -18, Russell -5.
The biggest factors in the market right now are; Global Economy, China trade talks, Fed speak, and the US Treasury markets.
Keep an eye on the VIX - The CBOE Volatility Index spiked again Monday, but did not break higher than last weeks highs. So far this week the Vix has been dropping. This is a possible signal the pullback/panic selling is coming to an end.
CHINA TRADE WAR is back on - Shaking up the markets again.
---
Today's Economic Calendar:
---
Quick Notes: $BA
Boeing (BA 353.81, +8.17, +2.4%) was a notable standout. Shares received a late-session boost after the company said it has "flown the 737 MAX with updated MCAS software for more than 360 hours on 207 flights."
Tiger's Take: Maybe this big Dow component has finally found a bottom/support.
---
THE CHARTS:
The markets were a bit higher on Thursday. The technicals have recovered from the dip we had taken. The MACD has halted it's decline, the Stochastics appear to have bottomed and cycling higher, and the Money Flow is still positive. AND we have risen back above the 50-day moving average.
We are back above the 285 level which I had considered support previously. Our next support is our stronger 280 level which held very well.
The 50-day moving average was broken down through Monday and re-taken on Thursday. The 50-day MA will need to be watched now more closely.
The MACD has bottomed out. The Stochastics are neutral. The Money Flow is still positive.
The 50-day MA (285.99)(+.24) and the 200-day MA (275.36)(+.06)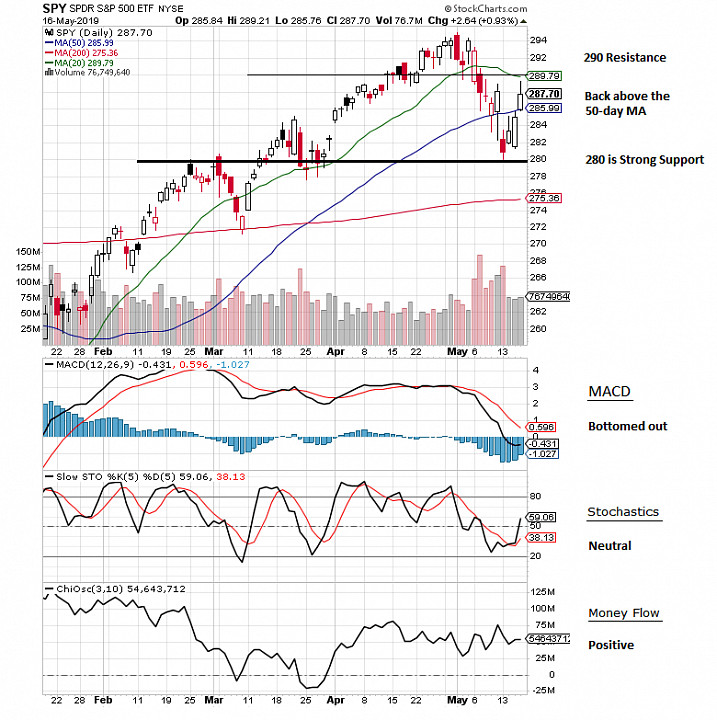 On the 9-month chart below, the previous patterns are behind us. Shown now is the support levels at 280 and the resistance now at 290. We held the 280 level, we may stay in a 280-290 trading range for awhile.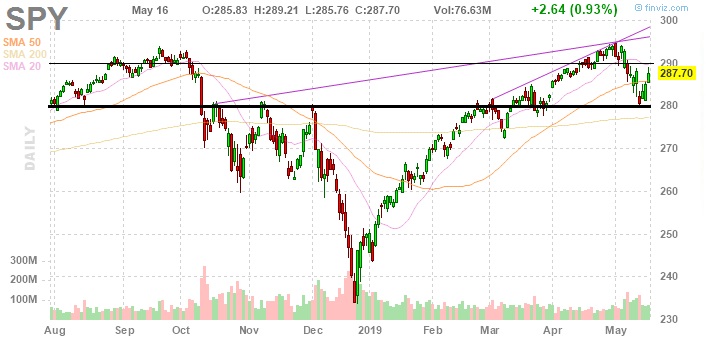 Nasdaq Composite +19.0% YTD
Russell 2000 +15.5% YTD
S&P 500 +14.7% YTD
Dow Jones Industrial Average +10.9% YTD
---
Disclosure: I may trade in the ticker symbols mentioned, both long or short. My articles represent my personal opinion and analysis and should not be taken as investment advice. Readers should do their own research before making decisions to buy or sell securities. Trading and investing include risks, including loss of principal.
If you liked this article, please click the LIKE (thumbs up) button.
Feel free to leave any comments, question, or opinions.
Follow us and check back occasionally for additional articles or comments.
With our Daily Trackdowns, additional analysis/observations during the trading day in the comments by us or our readers.