March 31 - Trading List: Tech Chart & Our Take - TGTX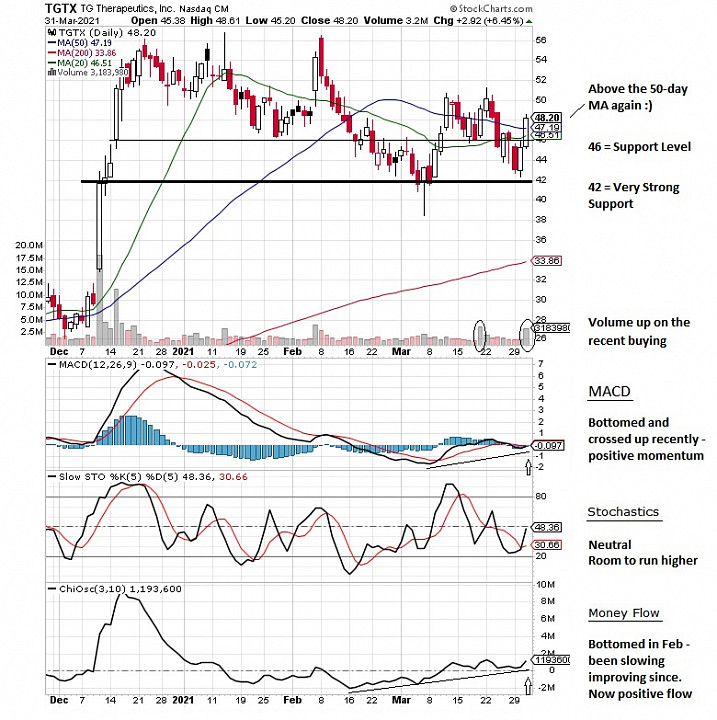 ---
Ok fellow TGTX'rs - Technical chart wise we look good right now! Noticing on the chart the support is now up at $46 bucks and we have broken back above out 50-day moving average. The MACD has bottomed, turned higher and crossed up. The Stochastics have bottomed and our cycling back up. The Money Flow has recovered from a long slide and bottomed back in February. Since then the flow has been improving - and now we are positive. So we have all 3 of our chart indicators+ bullish.
I see Wednesday's volume as significant. We ended up near the highs of the day. It seemed like an unusually strong day, almost feels like someone knows something again.
---
Our Take: "Anything under $50 would be a good entry point. Besides the chart looking favorable, this biotech has a few drugs in phase 3 trials which all have a good chance of approvals. On the chart, during December you can see what very good MS drug data news did to the stock. I expect this stock to run up and have additional large bounce opportunities along the way."
The MACD and Money Flow don't lie, chart wise it appears we could be starting the next run higher. Only caution we would have is the XBI and overall market not cooperating.
---
Disclosure: I may trade in the ticker symbols mentioned, both long or short. My articles represent my personal opinion and analysis and should not be taken as investment advice. Readers should do their own research before making decisions to buy or sell securities. Trading and investing include risks, including loss of principal.

If you liked this article, please click the LIKE (thumbs up) button.
Feel free to leave any comments, question, or opinions. (Sign-up if you haven't already done so)!
Follow us/bookmark us and check back occasionally for additional articles or comments on our page...
.