Trading List: May 5 - Updates & Analyst Actions - AMRN, AUPH, IMMU, TGTX
$AMRN - $AUPH - $IMMU - $TGTX - On our trading list. All with news today or analyst comments. Huge day 30%+ gain for TGTX on positive drug news and analyst price target raises!

---
Northland starts Amarin at Outperform amid 'major paradigm shift'
Northland analyst Carl Byrnes initiated coverage of Amarin with an Outperform rating and $15 price target. The expanded label given to Vascepa represents a "major paradigm shift" in lipid management, addressing "sizeable" market opportunities in the U.S., Europe and the rest of the world, Byrnes tells investors in a research note. And while the ongoing patent litigation represents a "major risk," potential generic entrants will not be able to procure sufficient quantities of FDA-grade icosapent ethyl to pose a material commercial threat, predicts the analyst. Byrnes anticipates a ruling in the patent appeal in late 2020 or early 2021. The risk/reward profile of Amarin shares is compelling, says the analyst.

---
Cowen analyst Ken Cacciatore initiated coverage of Aurinia Pharmaceuticals with an Outperform rating.

---
Immunomedics initiated with an Overweight, $40 target at Barclays
Barclays analyst Peter Lawson initiated coverage of Immunomedics with an Overweight rating and $40 price target. The analyst expanded coverage with six additional SMID cap oncology stocks in the U.S. Small & Mid Cap Biotechnology sector, where he has a Positive view. Lawson expects small and mid cap biotech stocks to continue to outperform the S&P 500 Index and sees upside in Immunomedics shares based on probability adjusted outcomes of upcoming catalysts."

---
TG Therapeutics price target raised to $32 from $24 at H.C. Wainwright
H.C. Wainwright analyst Edward White raised the firm's price target on TG Therapeutics to $32 from $24 and keeps a Buy rating on the shares after the company announced that the Phase 3 UNITY-CLL trial met its primary endpoint of improved progression free survival and will be stopped for superior efficacy. The analyst now has increased confidence in the approval for both umbralisib and ublituximab. White expects a launch of umbralisib plus ublituximab for the treatment of chronic lymphocytic leukemia in 2021.

---
TG Therapeutics price target raised to $29 from $25 at B. Riley FBR
B. Riley FBR analyst Mayank Mamtani raised the firm's price target on TG Therapeutics to $29 from $25 and keeps a Buy rating on the shares after the company's Phase 3 UNITY-CLL trial met its primary endpoint and stopped earlier for superior efficacy.

---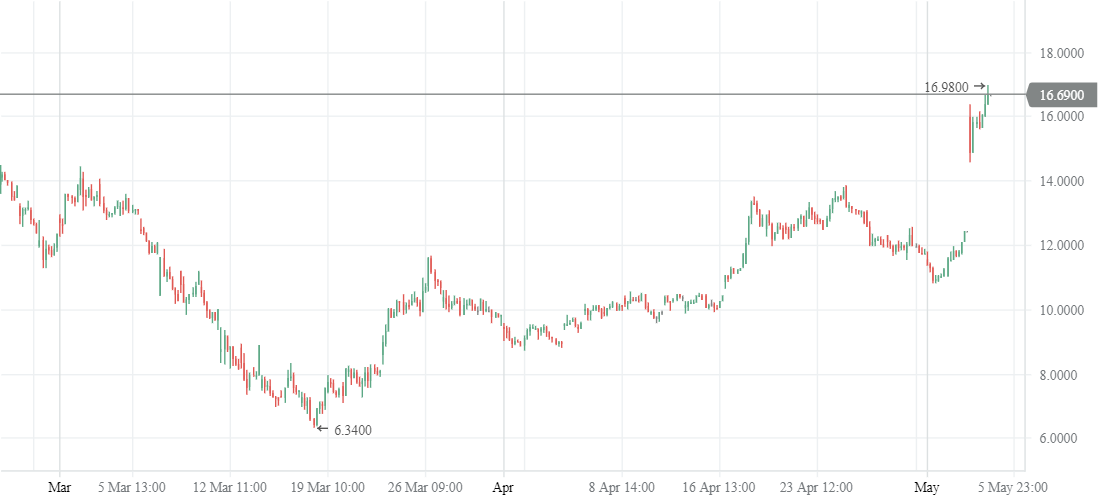 ---
Disclosure: I may trade in the ticker symbols mentioned, both long or short. My articles represent my personal opinion and analysis and should not be taken as investment advice. Readers should do their own research before making decisions to buy or sell securities. Trading and investing include risks, including loss of principal.
If you liked this article, please click the LIKE (thumbs up) button.
Feel free to leave any comments, question, or opinions. (Sign-up if you haven't already done so).
Follow us/bookmark us and check back occasionally for additional articles or comments on our page...
Wild Tiger Trading - start/main page.
.
Are you interested in trading stocks to supplement your income or make a living? Maybe become a professional trader? Many traders have the skills and nerves to trade, but not the upfront capital. Well now that problem is solved!
Try2BeFunded has expanded its trading program! If you're a novice or experienced trader, you can earn access to a trading account with up to $100,000! To learn more about how to qualify, click HERE and give it a shot! You have nothing to lose it is free to try.
.