Today's Trackdown: Tuesday - Sept. 15, 2020
SPY Charts and some Technical Analysis

News to keep in mind Today - Today's Economic Calendar - The Charts - Opinion - Stock Picks.

---
News to keep in mind Tuesday morning:

Futures trade vs fair value were trading slightly higher late last night. Note: Biotech sector was on FIRE Monday! Congrats to our readers who had $IMMU and doubled their money yesterday!

Dow +35, S&P +4, Nasdaq +20, Russell +9. (11:40 pm ET).

We still look ok technically - But use "Caution" message has been on here for a while for a reason. (Quick sell-offs are a possibility at anytime - so we continue to leave this note).
The biggest factors in the market right now are; the Fed, Coronavirus headlines, how the economy is re-opening or not, the Global Economy, China, and upcoming elections.

Watch the VIX - (CBOE Volatility Index) - remains a bit elevated. We did manage to drop the Vix 10% on Friday and 3% more down on Monday. This sometimes is a signal that we are nearing an end to the recent sell-off and finding an area of support.
---
Today's Economic Calendar:
8:30 AM ET, The New York Fed Empire State manufacturing survey for September. The consensus is for a reading of 5.9, up from 3.7.

9:15 AM, The Fed will release Industrial Production and Capacity Utilization for August. The consensus is for a 1.0% increase in Industrial Production, and for Capacity Utilization to increase to 71.5%.
---
THE CHARTS:

(NOTE: Charts are a good guide, but when a tweet or news item can jerk the markets around, they mean a bit less.)
BRIEFING:
A nice rebound day on Monday led by merger and acquisition activity. We had no notable changes to our chart indicators, but we do see bottoming type pattern for the MACD and the Money Flow. The Stochastics were down at oversold, but also appear to have bottomed and started the cycle back up. We would expect the bounce/rebound to continue. Keep paying attention to the 50-day moving average as the support for the markets.
* This last week's action is why we have our "use caution" message on here for a long while now. These sudden drops are a possibility due to how high we have come, the uncertainty about many things, and a higher Vix/volatility readings.


* Don't risk to much, there is still a lack of CERTAINTY in the markets. *

IF wanting to gamble: Options trades on these ETFs will give you a way to place your bets. $TQQQ - $SQQQ - $SPXL - $SPXS.

* Beware - levered ETFs are subject to decay and are not for long-term holding. *


CHANGES:

The Stochastics have bottomed and our cycling back up.

POSITIVES:

We are over the 50-day moving average, which is rising.
We are over the 200-day moving average, which is rising.
NEGATIVES:

We are below the 20-day moving average.
The current Money Flow is negative.

What about the Fundamentals? Virus, Economy & Jobs, Elections, Politics, The FED, and China troubles?

A lot to think and worry about!

The Vix is still a bit high and may remain high for the foreseeable future.

OPINION:
Currently we are still above the 50-day and 200-day MAs. (Bullish).
Technically the market is still in decent shape, BUT this dip/pullback needs to end soon. We can not go back under the 50-day moving average or that would give us a negative technical signal.



We would expect a rebound attempt soon as the Stochastics are now fully oversold.



We still say "Use Caution" for a reason. Do not over risk yourself or over leverage yourself.
We are still susceptible to large drops or dips with a level of uncertainty.

Look for trading opportunities that could result and have your trading lists ready.
* Do not use MARGIN at this time unless absolutely certain of your trade! *

INDICATORS:
The MACD is neutral/declining. The Stochastics are oversold. The Money Flow is negative.

MA +/- (slope): The 50-day MA (332.17)(+0.52) and the 200-day MA (307.65)(+0.15)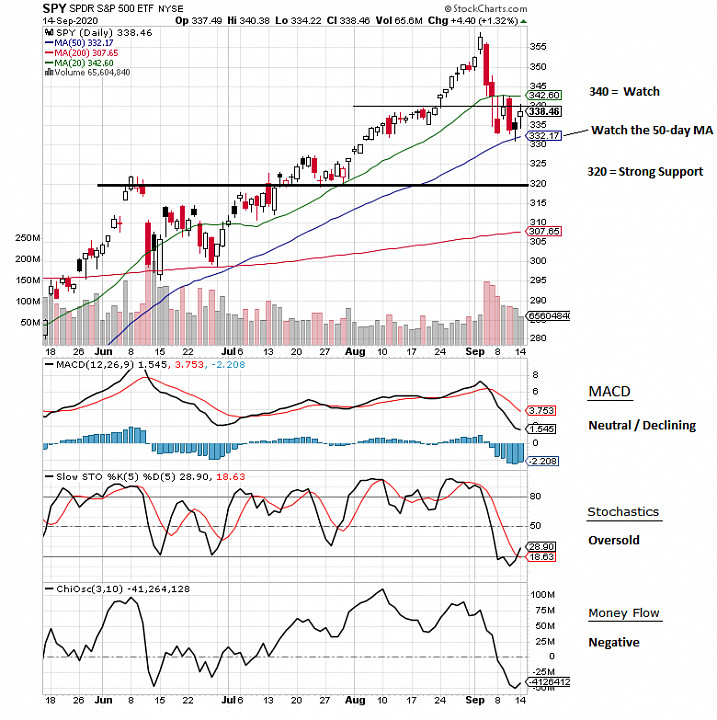 The 9-month chart (below).
We are well above the 200-day moving average (307.65) which is strong support. (Bullish).

We are well above the SPY 320 line, which is also a strong support level.


---
STOCKS: (Our most recent FULL TRADING LIST is posted here).
< Favorites & Trade Ideas > <-- Click here for the quotes, details, news and opinions on our current Favorites and Trade Ideas!

Current trading favorites: AMRN - Amarin, AUPH - Aurinia Pharma (Their Lupus drug is on a path to approval), EPZM - Epizyme, EXEL - Exelixis, HZNP - Horizon Therapeutics, IOVA - Iovance (Is at an attractive buy level), $IMMU - Immunomedics (Buyout possibility after successful drug launch) - UPDATE : BOUGHT for $88!! KPTI - Karyopharm, TGTX - TG Therapeutics (Our Top Pick!).
If your thinking longer-term/income: T - AT&T is worth a look - high dividend yield.
Tech Picks: CRWD - CrowdStrike, DT - Dynatrace.
* Feel free to share your list/picks in the comments below.

---
Disclosure: I may trade in the ticker symbols mentioned, both long or short. My articles represent my personal opinion and analysis and should not be taken as investment advice. Readers should do their own research before making decisions to buy or sell securities. Trading and investing include risks, including loss of principal.

If you liked this article, please click the LIKE (thumbs up) button.
Feel free to leave any comments, question, or opinions. (Sign-up if you haven't already done so)!
Follow us/bookmark us and check back occasionally for additional articles or comments on our page...
With our Daily Trackdowns, check back for additional analysis/observations during the trading day in the comments by us or our readers.
.
Are you interested in trading stocks to supplement your income or make a living? Maybe become a professional trader? Many traders have the skills and nerves to trade, but not the upfront capital.Well now that problem is solved!
Try2BeFunded has expanded its trading program! If you're a novice or experienced trader, you can earn access to a trading account with up to $100,000! To learn more about how to qualify, click HERE and give it a shot! You have nothing to lose it is free to try.

.