Today's Trackdown: Thursday - August 15, 2019
Brief Recap and Updates on the Markets
SPY Charts and some Technical Analysis

In Wednesday's action:
U.S. stock indices lost about 3.0% each on Wednesday, as weak global data and a recessionary signal in the U.S. Treasury market sent stocks reeling. The S&P 500 lost 85 points! China reported its slowest industrial production growth since 2002, and Germany reported a 0.1% qtr/qtr decline in Q2 GDP.
News to keep in mind Thursday morning:
Futures trade vs fair value were slightly higher late last night... Dow +101, S&P +13, Nasdaq +25, Russell +8.
The biggest factors in the market right now are; Global Economy, China trade talks, Fed speak, and the US Treasury markets.
Keep an eye on the VIX - The CBOE Volatility Index is now over 20 again after spiking up during the sell-off Wednesday. Not a total panic level, but high and in an area where many traders or their computer algos take some risk-off.
CHINA TRADE WAR again!!!
Large Economic Calendar Today!
---
Today's Economic Calendar:
8:30 am Weekly jobless claims 8/10
8:30 am Retail sales July
8:30 am Retail sales ex-autos July
8:30 am Productivity Q2
8:30 am Unit labor costs Q2
8:30 am Empire state index Aug.
8:30 am Philly Fed index Aug.
9:15 am Industrial production July
9:15 am Manufacturing output July
9:15 am Capacity utilization July
10 am Business inventories June
10 am NAHB home builders index Aug.
---
THE CHARTS:
(NOTE: Charts are a good guide but when a tweet or news item can jerk the markets around, they mean a bit less.)
The markets ended MUCH lower on Wednesday. The tech indicators took some hits along with the large sell-off on fairly high volume. The MACD is back to negative and declining. The Money Flow continues to be positive but is also dropping a bit.
We still reiterate the note above, as the charts mean a bit less when a tweet or news item jolts the market without notice.
Due to MANY different geopolitical concerns we are staying cautious. (Meaning not starting any new large long positions, taking some profits.) Our strong support line of 280 still has not failed us. On the chart, we twice bounced off of 282 and there is a chance that this level can hold the declines and turn into a support level. We shall see. The 294 level shows up as a point of resistance as the last two rallies could not clear over that mark and now appears to be solid resistance. So we now appear to be in a 282-294 trading range at the moment, with a midpoint line at 288. My current opinion is we are range bound until some certainty is seen. So we are in a 282-294 range inside of a larger 280-300 range.
* Look for the MACD to bottom, that would mark a good buying point. *
The MACD is negative/declining. The Stochastics are neutral. The Money Flow is positive.
The 50-day MA (293.64)(+.10) and the 200-day MA (277.33)(+.09)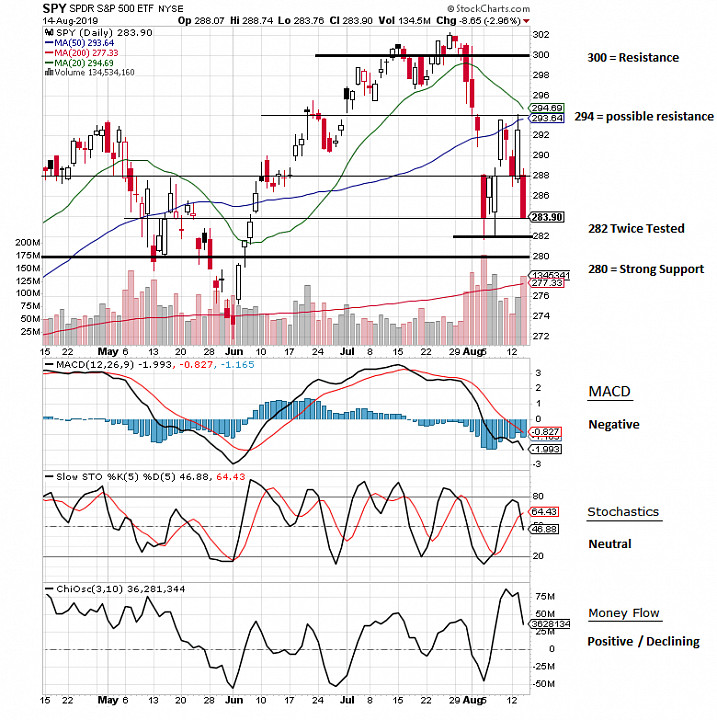 On the 9-month chart below, the previous patterns are behind us. Shown now is the support level at 280 and the top just over the 300 level. A 280 to 300 trading range.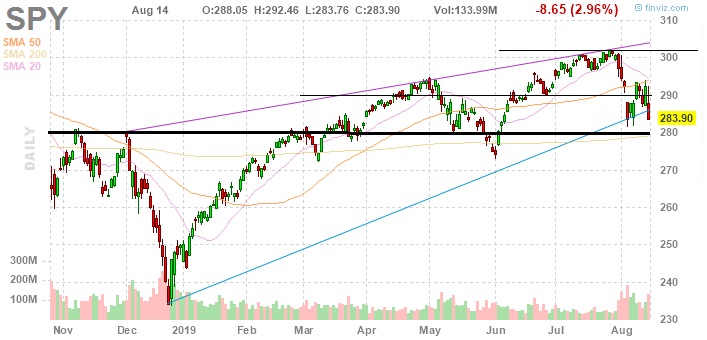 Nasdaq Composite +17.2% YTD
S&P 500 +13.3% YTD
Dow Jones Industrial Average +9.6% YTD
Russell 2000 +8.8% YTD
---
Disclosure: I may trade in the ticker symbols mentioned, both long or short. My articles represent my personal opinion and analysis and should not be taken as investment advice. Readers should do their own research before making decisions to buy or sell securities. Trading and investing include risks, including loss of principal.
If you liked this article, please click the LIKE (thumbs up) button.
Feel free to leave any comments, question, or opinions. (Sign-up if you haven't already done so).
Follow us/bookmark us and check back occasionally for additional articles or comments on our page...
Wild Tiger Trading - start/main page
With our Daily Trackdowns, check back for additional analysis/observations during the trading day in the comments by us or our readers.