Today's Trackdown: Friday - May 24, 2019
Brief Recap and Updates on the Markets
SPY Charts and some Technical Analysis

In Thursday's action:
U.S. stocks sold off on Thursday, with the S&P 500 dropping 34 points, as trade tensions and growth concerns produced a risk-off mindset. Oil prices fell nearly 6%, and U.S. Treasury yields dropped as investors flocked to the safe-haven asset.
---
News to keep in mind Friday morning:
Futures trade vs fair value were slightly higher late last night. Dow +27, S&P +3, Nasdaq +14, Russell +3.
The biggest factors in the market right now are; Global Economy, China trade talks, Fed speak, and the US Treasury markets.
Keep an eye on the VIX - The CBOE Volatility Index spiked again last week, but did has stayed back in the mid-teens.
CHINA TRADE WAR is back on - Shaking up the markets.
---
Today's Economic Calendar:
8:30 am Durable goods orders April
8:30 am Core capital goods orders
---
Quick Notes: (none)
---
THE CHARTS:
The markets were lower again on Thursday. The technicals are still a bit weak right now. The MACD was appearing to halt it's decline, but has continued to weaken. The Stochastics are at neutral, BUT the Money Flow is barely holding positive. We are also below the 50-day moving average.
Good news is, our strong support level at 280 is still holding up. As long as we stay above 280 on a closing basis we should be okay going forward. If not the 200-day moving average is the next possible support.
Currently I see us bouncing around in a 280-290 trading range.
The MACD is trying to bottom out. The Stochastics are neutral. The Money Flow is barely positive and has weakened noticeably.
The 50-day MA (286.81)(+.04) and the 200-day MA (275.51)(+.00)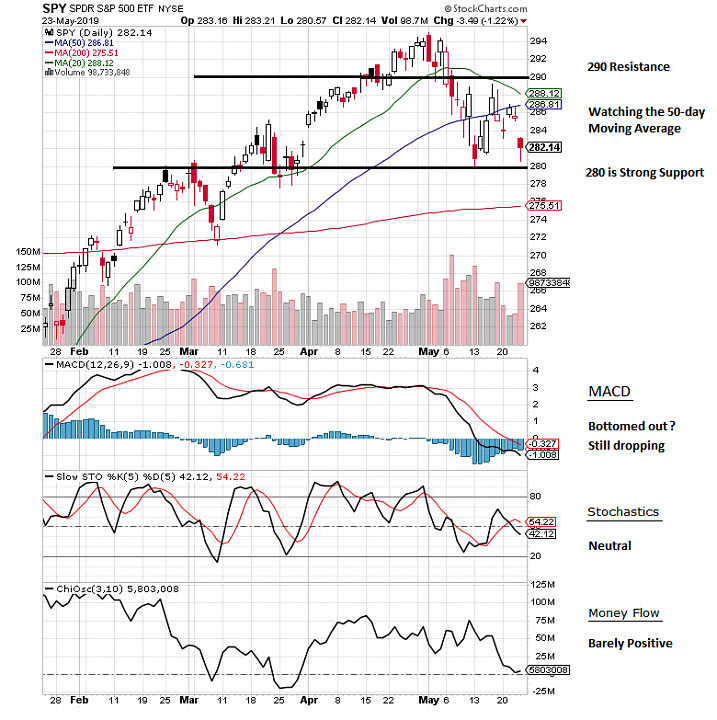 On the 9-month chart below, the previous patterns are behind us. Shown now are the support levels at 280 and the resistance at 290. We may stay in a 280-290 trading range for awhile.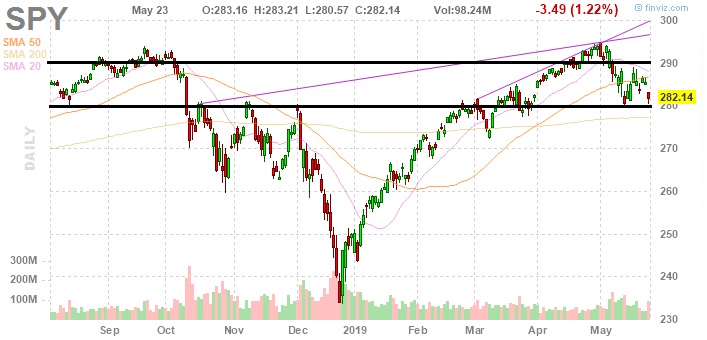 Nasdaq Composite +15.0% YTD
S&P 500 +12.6% YTD
Russell 2000 +11.3% YTD
Dow Jones Industrial Average +9.3% YTD
---
Disclosure: I may trade in the ticker symbols mentioned, both long or short. My articles represent my personal opinion and analysis and should not be taken as investment advice. Readers should do their own research before making decisions to buy or sell securities. Trading and investing include risks, including loss of principal.
If you liked this article, please click the LIKE (thumbs up) button.
Feel free to leave any comments, question, or opinions.
Follow us and check back occasionally for additional articles or comments.
With our Daily Trackdowns, additional analysis/observations during the trading day in the comments by us or our readers.