Today's Trackdown: Wednesday - Jan. 29, 2020
Brief Recap and Updates on the Markets
SPY Charts and some Technical Analysis
---
In Tuesday's action: Jan. 28, 2020
Dow 28722.76 +187.05 (0.66%)
Nasdaq 9269.70 +130.37 (1.43%)
SP 500 3276.24 +32.61 (1.01%)
The stock market bounced back a bit with the S&P 500 gaining 32 points. Negatives for the day were disappointing earnings reports from 3M ($MMM 165.56, -10.07, -5.7%) and Pfizer ($PFE 38.14, -2.02, -5.0%). A nice positive for the day was a rise in the Consumer Confidence Index for January.
---
News to keep in mind Wednesday morning:
Futures trade vs fair value were trading a bit higher late last night. Apple reported good earnings after the close yesterday.
Dow +118, S&P +13, Nasdaq +43, Russell +4.
The biggest factors in the market right now are; Coronavirus headlines, the Fed, the Global Economy and Global Geopolitical conflicts.
Keeping an eye on the VIX - The CBOE Volatility Index may go a bit higher on fear.
CHINA TRADE news is still something to be aware of and can create instant volatility.
---
Today's Economic Calendar:
7:00 AM ET, The Mortgage Bankers Association (MBA) will release the results for the mortgage purchase applications index.
10:00 AM, Pending Home Sales Index for December. The consensus is for a 0.5% increase in the index.
2:00 PM, FOMC Meeting Announcement. No change to policy is expected at this meeting.
2:30 PM, Fed Chair Jerome Powell holds a press briefing following the FOMC announcement.
---
THE CHARTS:
(NOTE: Charts are a good guide but when a tweet or news item can jerk the markets around, they mean a bit less.)
The markets ended a bit higher on Tuesday in a bounce back type of day. We are still pointing out the 'Bearish Engulfing' candle that was formed 2 trading days ago. This candle sometimes marks a short-term top or change in trend. The tight stop/support level at 325 was recovered today, which is a good sign. The MACD and Money Flow are now declining, which is expected after 2 back to back days of selling. We will have to keep a watch on them, but we still favor stocks longer term. So we will be looking for opportunities to act on stocks that get oversold on any market pullbacks or panics.
On the 9-month chart, we are still well above the uptrend line. This will keep us cautious. Our support levels remain the same, with the first support level being marked at 320. This level could also be used as a 'stop' for some positions if you have a low risk tolerance. Much stronger support is at 310.
We are above the 50-day and 200-day moving averages and got just back over the 20-day MA. We will be still bullish as long as we stay above the much watched and used 50-day MA.
* Keep in mind - we would not use excessive margin or open any new large positions currently. *
The Vix will need to be watched more closely. It did spike a bit on virus fears and the market pullback, but still under the 20 level which means 'don't panic' just yet.
The MACD is positive/declining. The Stochastics are neutral. The Money Flow is positive/declining. We are above the 50-day MA.
The 50-day MA (319.08)(+0.39) and the 200-day MA (297.97)(+0.21)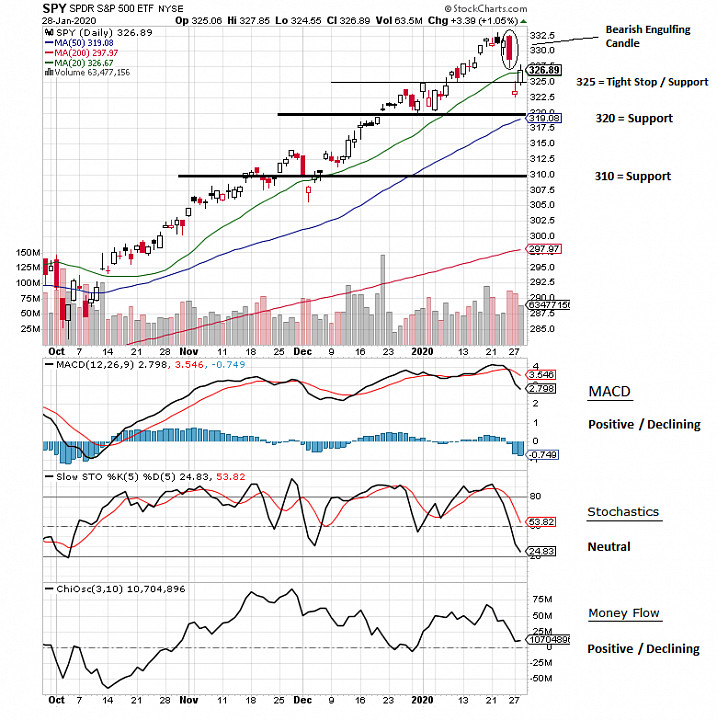 On the 9-month chart below, we remain in an uptrend channel that has lasted now for about 8 months! Caution though as we are currently above the upper trend line, which is an overbought look. In many cases we drop back down into the channel either by a pullback or by going sideways until the upper trend line catches up.
* For those who like to use stops or lock in profits, we would use the upper trend line as the place to do that, currently just above 322. *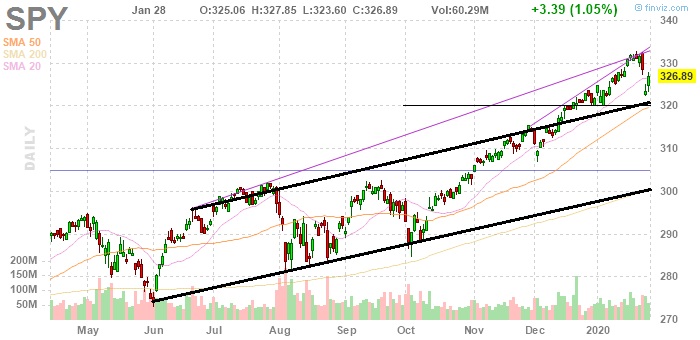 Nasdaq Composite +3.3% YTD
S&P 500 +1.4% YTD
Dow Jones Industrial Average +0.7% YTD
Russell 2000 -0.6% YTD
---
Disclosure: I may trade in the ticker symbols mentioned, both long or short. My articles represent my personal opinion and analysis and should not be taken as investment advice. Readers should do their own research before making decisions to buy or sell securities. Trading and investing include risks, including loss of principal.
If you liked this article, please click the LIKE (thumbs up) button.
Feel free to leave any comments, question, or opinions. (Sign-up if you haven't already done so).
Follow us/bookmark us and check back occasionally for additional articles or comments on our page...
Wild Tiger Trading - start/main page.
With our Daily Trackdowns, check back for additional analysis/observations during the trading day in the comments by us or our readers.