Trading List: Oct. 6/7 - Updates & Analyst Actions - IOVA, TGTX
$IOVA - $TGTX - On our trading list with news today or analyst comments with our opinion & trade ideas. Iovance price target lowered again by more analysts. TG Therapeutics positive chart comments / follow up.
---
Iovance Biotherapeutics price target lowered to $42 from $47 at Stifel
Stifel analyst Benjamin Burnett lowered the firm's price target on Iovance Biotherapeutics to $42 from $47 as he is assuming a delay to commercial sales that's at the long-end of the company's guidance, or about one year, following the announcement that the lifileucel BLA filing will be delayed as the company has not been able to agree with the FDA on certain potency assays. Burnett argues that "a slight increase to approval risk feels warranted," and he is lowering his view on the odds of success to 85%, but he thinks that lifileucel "still remains highly approvable" given its very good clinical data in an area of high unmet need. He keeps a Buy rating on Iovance shares.
---
Iovance Biotherapeutics price target lowered to $36 from $45 at Barclays
Barclays analyst Peter Lawson lowered the firm's price target on Iovance Biotherapeutics to $36 from $45 and keeps an Overweight rating on the shares after the company held a Type B meeting with the FDA and could not reach an agreement on the required potency assays for lifileucel. The analyst "nudged back" commercialization across the entire pipeline to "acid test the model." Further, based upon the uncertainty around the appropriate fix for the assay, "and out of abundance of caution," Lawson lowered the probability across the entire pipeline. Nonetheless, he still likes the risk/reward on shares of Iovance.
Our Take: Just like on Monday, more analysts have come out and lowered their price targets for Iovance after the FDA delay news.
Our opinion remains the same as yesterday; "A big disappointment for current shareholders as a drug manufacturing issue has delayed the progress of their drug. Now remember this also happened to $IMMU - Immunomedics last year and once they solved the issue in the making of their drug it received approval. After a successful launch of the drug IMMU got bought out, as it DOUBLED over that weekend of the deal. So in the short term there maybe pain here, in the long run this is still a potential home run. If you see an oversold/panic it might be a good opportunity to make a trade."
---
Chart Look - TGTX is at it's all-time highs! On the chart we notice a big buying day and that it is above all 3 of the moving averages that we watch. 20, 50, and 200 day. The MACD (positive cross up) and the Money Flow seem favorable.
We mentioned this Monday and BOOM! Here we are on Tuesday and the stock broke thru resistance to new all-time highs. We now have our stop/support/floor level at 27.50ish, and the only resistance now is valuation and the new intraday highs that this one has made.

We still have this stock as our 'top pick'.

Any opinions or comments on this? Please post below.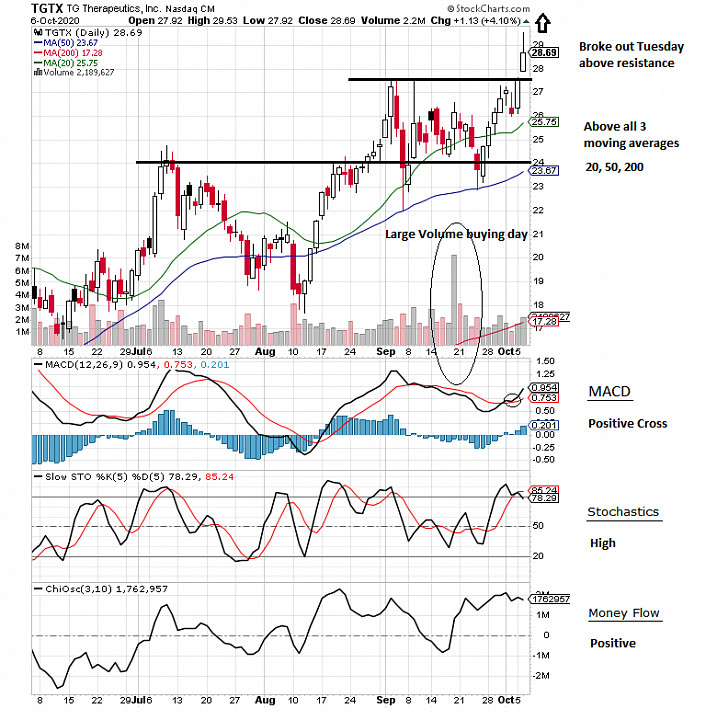 ---
Disclosure: I may trade in the ticker symbols mentioned, both long or short. My articles represent my personal opinion and analysis and should not be taken as investment advice. Readers should do their own research before making decisions to buy or sell securities. Trading and investing include risks, including loss of principal.
If you liked this article, please click the LIKE (thumbs up) button.
Feel free to leave any comments, question, or opinions. (Sign-up if you haven't already done so).
Follow us/bookmark us and check back occasionally for additional articles or comments on our page...
.
Are you interested in trading stocks to supplement your income or make a living? Maybe become a professional trader? Many traders have the skills and nerves to trade, but not the upfront capital. Well now that problem is solved!
Try2BeFunded has expanded its trading program! If you're a novice or experienced trader, you can earn access to a trading account with up to $100,000! To learn more about how to qualify, click HERE and give it a shot! You have nothing to lose it is free to try.
.