Today's Trackdown: Thursday - Feb. 21, 2019
Brief Recap and Updates on the Markets
SPY Charts and some Technical Analysis

In Wednesday's action:
The S&P 500 gained 4 points on Wednesday, as the minutes from the Federal Reserve's January meeting came in near expectations. The Fed will maintain patience in rate hikes and is likely to stop reducing assets on its balance sheet later this year. Good news for the bulls.
---
News to keep in mind Thursday morning:
Futures trade vs fair value were higher late last night - Dow +115, S&P +11, Nasdaq +35, Russell +7.
The China trade war news and Fed watching are still the 2 biggest issues currently.
Keep an eye on the VIX - The Vix dropped over 5% Wednesday to 14.02. At this level and lower is a 'risk on' kind of environment.
We are staying above the 50-day moving average on the S&P 500 - This level is now strong support.
FULL Economic Calendar Today!
---
Today's Economic Calendar:
---
Quick Notes: $ADI
Semiconductor stocks outperformed the market led in part by an upbeat earnings report from Analog Devices (ADI 106.82, +2.60, +2.5%).
---
THE CHARTS:
The markets were slightly higher on Wednesday. Keep in mind 280 is major resistance line.
We are still above the 50-day moving average AND the 200-day moving average now. Both MAs are also rising in a very slight upward slope. A very good sign for the market technically when the moving averages are all headed in an upward sloping direction.
The MACD is positive. The Stochastics are overbought. The Money Flow is positive.
I see us being in a 270-280 trading range. The 50-day MA (261.24) and the 200-day MA (272.31) are now both support levels.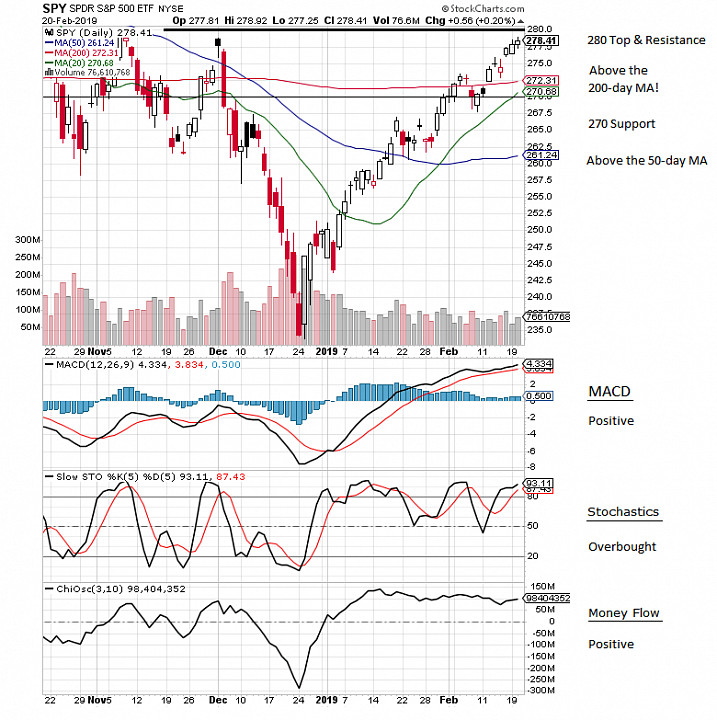 On the 9-month chart below, the previous patterns are behind us. Shown now is the resistance level at 280. Support is found at 270. We are right back into the trading range of 260-270-280 before the V-dip.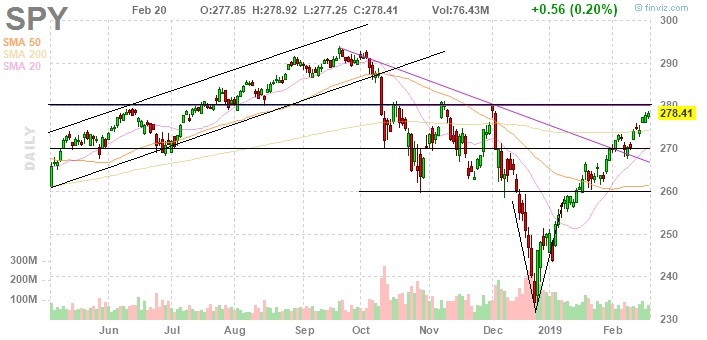 Russell 2000 +17.3% YTD
Nasdaq Composite +12.9% YTD
Dow Jones Industrial Average +11.3% YTD
S&P 500 +11.1% YTD
NOTICE: The Russell 2000 (IWM) is leading the market higher so far this year, outperforming the larger averages.

---
Disclosure: I may trade in the ticker symbols mentioned, both long or short. My articles represent my personal opinion and analysis and should not be taken as investment advice. Readers should do their own research before making decisions to buy or sell securities. Trading and investing include risks, including loss of principal.
If you liked this article, please click the LIKE (thumbs up) button.
Feel free to leave any comments, question, or opinions.
Follow us and check back occasionally for additional articles or comments.
With our Daily Trackdowns, additional analysis/observations during the trading day in the comments by us or our readers.