Today's Trackdown: Friday - March 22, 2019
Brief Recap and Updates on the Markets
SPY Charts and some Technical Analysis

In Thursday's action:
The S&P 500 gained 30 points on Thursday, bolstered by the notion of a dovish Fed and persistently low U.S. Treasury yields. Leadership came from the S&P 500 information technology sector (+2.5%), driven by gains in Apple ($AAPL 195.09, +6.93, +3.7%) and Micron ($MU 43.99, +3.86, +9.6%). The S&P 500 closed at its highest level this year!
---
News to keep in mind Friday morning:
Futures trade vs fair value were slightly lower last night - Dow -10, S&P -1, Nasdaq -0, Russell -3.
The China trade war news and Fed watching are still the 2 biggest issues to keep an eye on.
Keep an eye on the VIX - The Vix is still in the teens, which is "risk on" for the markets.
We are staying above the 200-day moving average and the 2,800 level so far on the S&P 500 - These levels are now support.
Take notice that big tech is starting to move up again.
---
Today's Economic Calendar:
9:45am Markit manufacturing PMI March
9:45am Markit services PMI March
10:00am Existing home sales Feb.
10:00am Wholesale inventories
2:00pm Federal budget Feb.
---
Quick Notes:
Shares of Biogen ($BIIB 226.88, -93.71) plunged 29.2% after the company said it will discontinue its Phase 3 trials of aducanumab for Alzheimer's.
Very painful setback!
---
THE CHARTS:
The markets were much higher on Thursday. Notice that big tech is now retaking the lead in gains made this year to date. The Nasdaq QQQ ETF is now the leader on the year up a nice +18.1%!
As I have been writing here for a while: "Do keep in mind 280 is major resistance line." This level is now support and the bottom of a new trading range. next resistance on a short-term basis is around 287.50.
Both the 50-day and 200-day MAs are rising. This is a good sign for the market technically when the moving averages are all headed in an upward sloping direction. In addition, we are heading towards a "golden cross" as the 50-day is poised to cross back above the 200-day.
The MACD is positive. The Stochastics are high. The Money Flow is a slight positive.
Currently we are in between strong resistance and good support. Negative is that we have gone pretty high up into a tough resistance area and higher valuations. Positive is we are seeing strong momentum and some bullish technicals, like the impending 'golden cross'.
The 50-day MA (271.57)(+.58) and the 200-day MA (272.42)(+.07) are both support levels.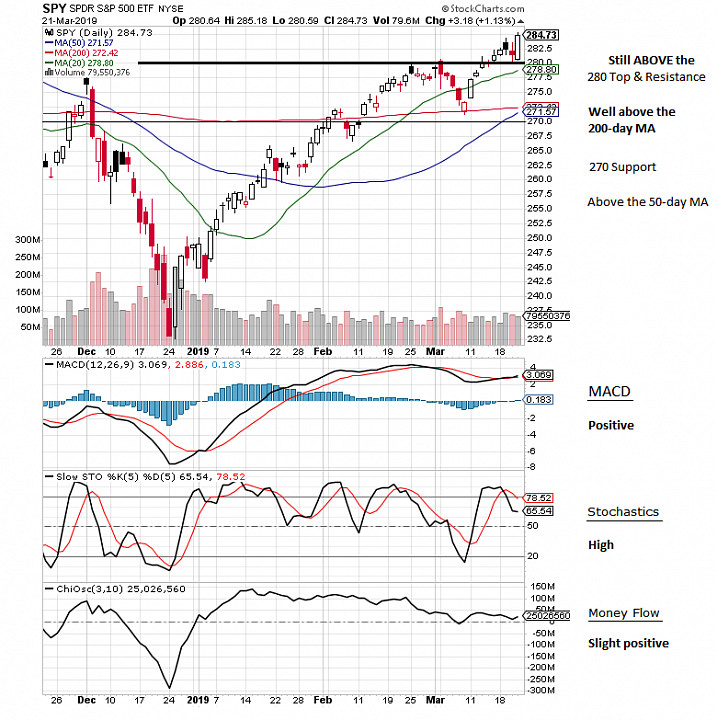 On the 9-month chart below, the previous patterns are behind us. Shown now IS the support level at 280. We will use the old all-time highs as the top/resistance level.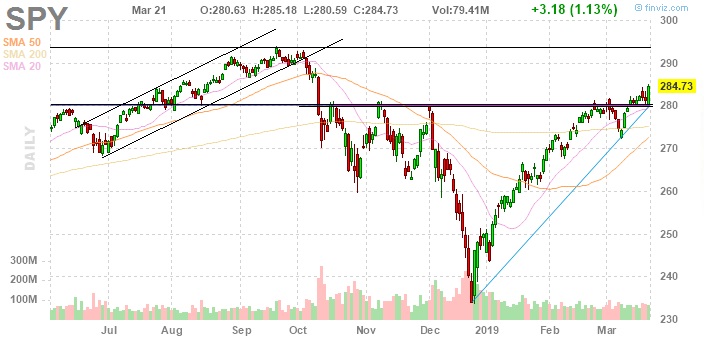 Nasdaq Composite +18.1% YTD
Russell 2000 +15.9% YTD
S&P 500 +13.9% YTD
Dow Jones Industrial Average +11.3% YTD
---
Disclosure: I may trade in the ticker symbols mentioned, both long or short. My articles represent my personal opinion and analysis and should not be taken as investment advice. Readers should do their own research before making decisions to buy or sell securities. Trading and investing include risks, including loss of principal.
If you liked this article, please click the LIKE (thumbs up) button.
Feel free to leave any comments, question, or opinions.
Follow us and check back occasionally for additional articles or comments.
With our Daily Trackdowns, additional analysis/observations during the trading day in the comments by us or our readers.