March 10 - Trading List: Tech Chart & Our Take - TGTX
A quick tech chart from our trading list, followed by our take.
---
Today's Chart is of TG Therapeutics - $TGTX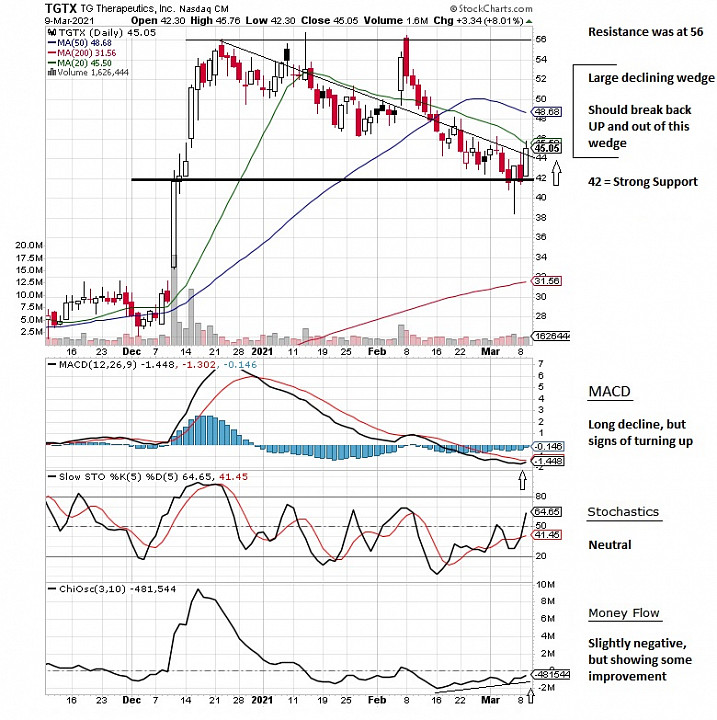 ---
Ok fellow TGTX'rs - techinical chart wise we look good right now. Noticing on the chart the strong support at $42 bucks and the pending breakout to the upside out of a large declining wedge. (Bullish).
The MACD seems to have finally bottomed and poised to turn upwards. At the same time, the Money Flow has been slightly improving.
Our Take: "Anything under $48 would be a good entry point. Besides the chart looking favorable, this biotech has a few drugs in phase 3 trials which all have a good chance of approvals. On the chart, during December you can see what very good MS drug data news did to the stock. I expect this stock to run up and have additional large bounce opportunities along the way."
---
Disclosure: I may trade in the ticker symbols mentioned, both long or short. My articles represent my personal opinion and analysis and should not be taken as investment advice. Readers should do their own research before making decisions to buy or sell securities. Trading and investing include risks, including loss of principal.

If you liked this article, please click the LIKE (thumbs up) button.
Feel free to leave any comments, question, or opinions. (Sign-up if you haven't already done so)!
Follow us/bookmark us and check back occasionally for additional articles or comments on our page...
.