Trading List: Sept. 13 - Update and HUGE news! - IMMU, TGTX
$IMMU - $TGTX - On our trading list with news today or analyst comments with our opinion & trade ideas. Gilead Sciences to acquire Immunomedics for $88 per share in cash!
---
HUGE DEAL - CONGRATS TO MY READERS who have some Immunomedics! You more than doubled your investment over the weekend!!

* To the smuck, arrogant, scared person who didn't believe in me - You should be totally ashamed of yourself! *

---
Gilead Sciences to acquire Immunomedics for $88 per share in cash
Gilead Sciences (GILD) and Immunomedics (IMMU) announced that the companies have entered into a definitive agreement pursuant to which Gilead will acquire Immunomedics for $88.00 per share in cash. The transaction, which values Immunomedics at approximately $21B, was unanimously approved by both the Gilead and Immunomedics Boards of Directors and is anticipated to close during the fourth quarter of 2020. The agreement will provide Gilead with Trodelvy, a first-in-class Trop-2 directed antibody-drug conjugate that was granted accelerated approval by the U.S. Food and Drug Administration in April for the treatment of adult patients with metastatic triple-negative breast cancer who have received at least two prior therapies for metastatic disease. Immunomedics plans to submit a supplemental Biologics License Application to support full approval of Trodelvy in the United States in the fourth quarter of 2020. Immunomedics is also on track to file for regulatory approval in Europe in the first half of 2021. In the Phase 3 ASCENT study, which was halted early due to efficacy based on the unanimous recommendation of the independent Data Safety Monitoring Committee, Trodelvy significantly improved progression-free survival and overall survival in previously treated patients with advanced mTNBC. Detailed results from this study are expected to be presented at the upcoming European Society for Medical Oncology Virtual Congress 2020. Beyond mTNBC, Trodelvy is also being studied in an ongoing Phase 3 trial in third line HR+/HER2- breast cancer and a registrational Phase 2 study in bladder cancer. Additional ongoing studies are evaluating the potential of Trodelvy as a treatment for non-small cell lung cancer and other solid tumor types. Trodelvy is being studied as both a monotherapy and in combination with checkpoint inhibitors and other non-immuno-oncology products by Immunomedics and independent investigators. Additional clinical data for Trodelvy in bladder cancer and other solid tumors will also be presented at ESMO this coming week.
Our Take: A big congrats to our readers as we have highlighted this one as a takeover/buyout candidate for about a month now as part of our daily Today's Trackdowns among our 'favorites list'.
---
So what's next? Well we have another buyout candidate on our favorites list!
It is just a matter of time before TG Therapeutics is acquired. ($TGTX) Why? Well they have 3 drugs currently in phase 3 trials. At least 2 of the drugs should be approved. One of their drugs is a MS drug which looks like it could end up being best in class according to a couple of analysts. AND it just so happens a big pharma company is trying to expand their MS pipeline. Currently Roche ($RHHBY) is working on their own MS drugs, but have a history if acquisitions and their market cap is currently over 300 Billion! TGTX would be a snack for them. :-)

Our Take: TGTX is our top pick off our favorites list. Should be bought and accumulated on any dips.
Yahoo finance story - Roche expands multiple sclerosis portfolio
---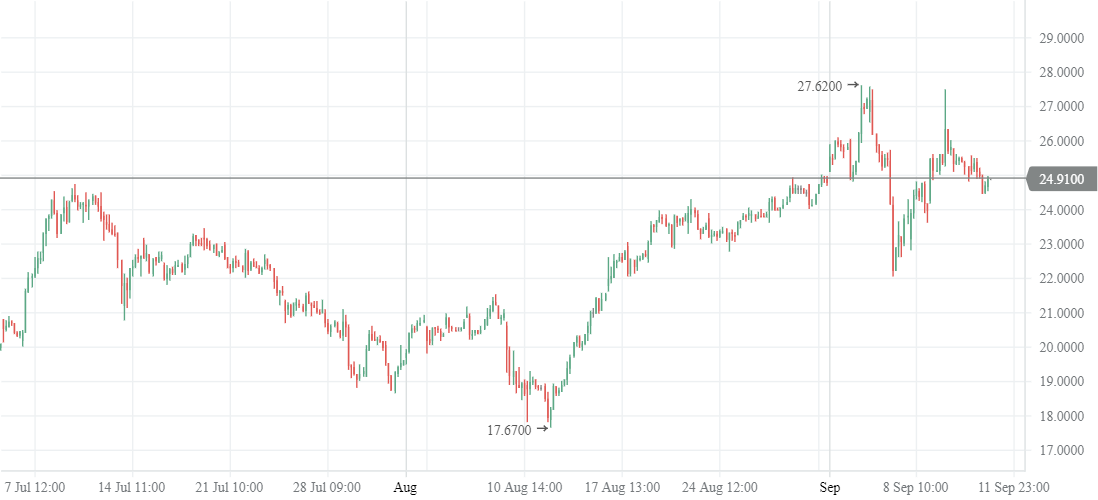 ---
Disclosure: I may trade in the ticker symbols mentioned, both long or short. My articles represent my personal opinion and analysis and should not be taken as investment advice. Readers should do their own research before making decisions to buy or sell securities. Trading and investing include risks, including loss of principal.
If you liked this article, please click the LIKE (thumbs up) button.
Feel free to leave any comments, question, or opinions. (Sign-up if you haven't already done so).
Follow us/bookmark us and check back occasionally for additional articles or comments on our page...
.
Are you interested in trading stocks to supplement your income or make a living? Maybe become a professional trader? Many traders have the skills and nerves to trade, but not the upfront capital. Well now that problem is solved!
Try2BeFunded has expanded its trading program! If you're a novice or experienced trader, you can earn access to a trading account with up to $100,000! To learn more about how to qualify, click HERE and give it a shot! You have nothing to lose it is free to try.
.