Today's Trackdown: Friday - Nov. 9, 2018
Brief Recap and Updates on the Markets
SPY Charts and some Technical Analysis

In Thursday's action:
The S&P 500 was slightly lower on Thursday on the heels of the Federal Open Market Committee's (FOMC) decision to leave the fed funds rate unchanged as expected.
News to keep in mind Friday morning:
Markets are lower in pre-market trading
At 9:00am ET - Dow futures vs fair value: -119.00. S&P futures vs fair value: -14.25. Nasdaq futures vs fair value: -65.00. Russell 2000 futures vs fair value: -8.00.
Keep an eye out for any trade headlines or political risks
Keep an eye on the VIX - it is up 2% in pre-markets
Today's Economic Calendar:
8:30 Producer Price Index
9:00 Randal Quarles Speech
10:00 Consumer Sentiment
10:00 Wholesale Trade
1:00 PM Baker-Hughes Rig Count

---
The SPY charts are pictured below. The first is a 4-month chart followed by a longer-term 9-month chart.
The markets were slightly lower on Thursday. Glad that the election is over and we can move on now. The MACD lines are now heading up. The Stochastics are high and at overbought. The Money Flow is now a positive.
I still have 270 as the support level and 280 as the resistance. We are a bit above 280, the next resistance I see would be at the 50-day moving average. The money flow has improved, which is a good sign to me. The MACD has bottomed and is turning up. We are back above the 200-day moving average! We still may have some weakness to deal with some days, but I believe the correction is over and the bottom is in. The technicals have really improved over the last week.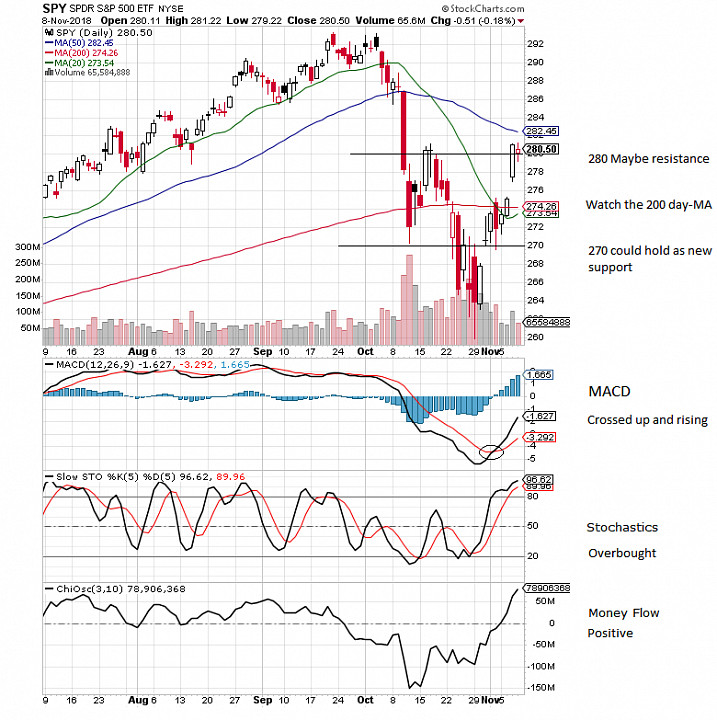 On the 9-month chart, the nice channel since April has been shown. This trend/pattern was broken to the downside. Awaiting the emergence of the next pattern. The 270 line is strong support now. Possible resistance maybe at 280.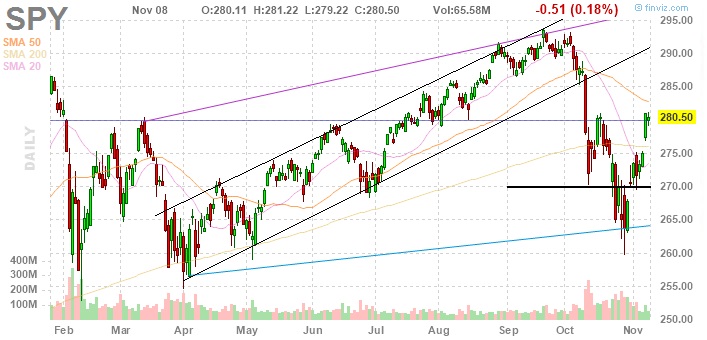 Nasdaq Composite +9.1% YTD
Dow Jones Industrial Average +6.0% YTD
S&P 500 +5.0% YTD
Russell 2000 +2.8% YTD
---
Disclosure: I may trade in the ticker symbols mentioned, both long or short. My articles represent my personal opinion and analysis and should not be taken as investment advice. Readers should do their own research before making decisions to buy or sell securities. Trading and investing include risks, including loss of principal.
If you liked this article, please click the LIKE (thumbs up) button.
Feel free to leave any comments, question, or opinions.
Follow us and check back occasionally for additional articles or comments.
With our Daily Trackdowns, additional analysis/observations during the trading day in the comments by us or our readers.