Today's Trackdown: Thursday - Sept. 12, 2019
Brief Recap and Updates on the Markets
SPY Charts and some Technical Analysis
---
In Wednesday's action: Sept. 11, 2019
Dow 27137.02 +227.61 (0.85%)
Nasdaq 8169.71 +85.52 (1.06%)
SP 500 3000.93 +21.54 (0.72%)
Stocks rise amid strength in growth and value stocks with small-caps and mid-caps outperforming. Apple ($AAPL 223.59, +6.89, +3.2%) led the tech sector higher. The S&P 500 gained 21 points to close just above the big 3,000 level.
---
News to keep in mind Thursday morning:
Futures trade vs fair value were higher late last night on positive tariff delay news... Dow +140, S&P +14, Nasdaq +55, Russell +7.
The biggest factors in the market right now are; Global Economy, China trade talks, Fed speak, and the US Treasury markets.
Keep an eye on the VIX - The CBOE Volatility Index is down in the mid-teens. This is a level at which usually means we are in a risk on environment.
CHINA TRADE WAR is still an ongoing drama!
---
Today's Economic Calendar:
8:30 am Weekly jobless claims 9/7
8:30 am Consumer price index Aug.
8:30 am Core CPI Aug.
2 pm Federal budget Aug.
---
THE CHARTS:
(NOTE: Charts are a good guide but when a tweet or news item can jerk the markets around, they mean a bit less.)
The markets ended higher on Wednesday in a good follow thru to the latest rally and break above 294. Even so, we are still cautious due to many macro economic and geopolitical issues, but things are looking better. We are now right at the next resistance level at SPY 300. The futures are higher on tariff delay news, but we would be taking some profits (on a case by case basis) during the opening pop as the Stochastics are very overbought here. Are we really ready to make a new all-time high?
Remember one bad tweet and we get blown up!
The strong resistance level we had at 294 was decisively broken to the upside and is now support. We closed just above 300 today, but will continue to observe it as a resistance level for now. The only resistance above this is at the all-time highs near 302.

The MACD is positive/crossed upwards. The Stochastics are overbought. The Money Flow is very positive. We are above the 50-day MA.
The 50-day MA (294.60)(+.09) and the 200-day MA (279.67)(+.20)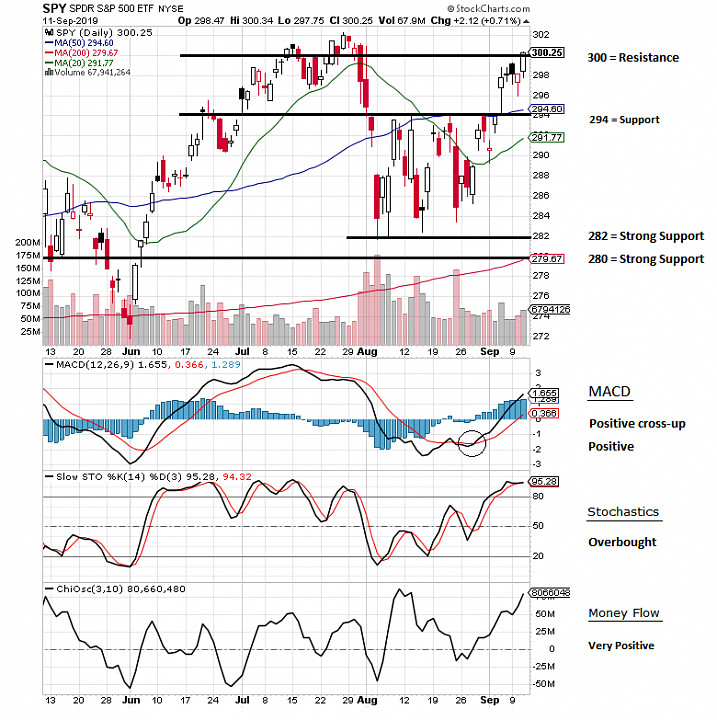 On the 9-month chart below, the previous patterns are behind us. Shown now is the support level at 280 and the top just over the 300 level. We are in a 280/290 to 300 trading range for now.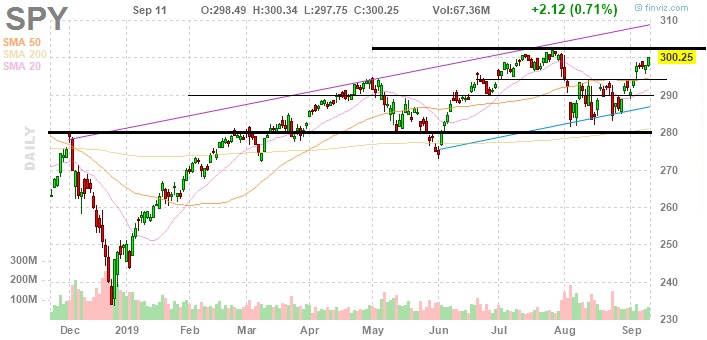 Nasdaq Composite +23.1% YTD
S&P 500 +19.7% YTD
Dow Jones Industrial Average +16.3% YTD
Russell 2000 +16.8% YTD
---
Disclosure: I may trade in the ticker symbols mentioned, both long or short. My articles represent my personal opinion and analysis and should not be taken as investment advice. Readers should do their own research before making decisions to buy or sell securities. Trading and investing include risks, including loss of principal.
If you liked this article, please click the LIKE (thumbs up) button.
Feel free to leave any comments, question, or opinions. (Sign-up if you haven't already done so).
Follow us/bookmark us and check back occasionally for additional articles or comments on our page...
Wild Tiger Trading - start/main page
With our Daily Trackdowns, check back for additional analysis/observations during the trading day in the comments by us or our readers.