Trading List: May 21 - Updates & Analyst Actions - CVS, DVAX, HZNP
$CVS - $DVAX - $HZNP - On our trading list. All with news today or analyst comments & our opinions. CVS adds more drive-thru testing sites. DVAX files to sell more stock. HZNP has it's price target raised.
---
CVS Health opens 16 additional new drive-thru test sites in Arizona
CVS In an ongoing effort to help slow the spread of the virus, CVS Health expanded its COVID-19 testing program by announcing 16 additional test sites at select CVS Pharmacy drive-thru locations across Arizona. The opening of additional test sites on Friday, May 22 add to the 10 locations previously opened on May 15 in Arizona. These new sites will utilize self-swab tests and mark the next phase of the company's nationwide COVID-19 testing strategy, announced April 27. CVS Health expects to have up to 1,000 locations across the country offering this service by the end of May, with the goal of processing up to 1.5 million tests per month, subject to availability of supplies and lab capacity. The 26 test sites in Arizona are part of a total of nearly 350 locations across 14 states including Arizona, California, Connecticut, Florida, Georgia, Illinois, Indiana, Louisiana, Maryland, Massachusetts, New Jersey, New York, Pennsylvania and Texas.
Our Take: A big healthcare company doing their job at the same time helping fight the virus. This is a good long-term health care holding.
---
Dynavax files to sell common stock, no amount given
Cowen, Evercore ISI and William Blair are acting as joint book-running managers for the offering. H.C. Wainwright & Co. is acting as co-manager for the offering.
Our Take: We like this stock much less now. Recently pumped on Covid-19 drug hopes and then sells more stock. Bogus.

---
Horizon Therapeutics price target raised to $61 from $50 at Piper Sandler
Piper Sandler analyst David Amsellem raised the firm's price target on Horizon Therapeutics to $61 from $50 and keeps an Overweight rating on the shares. The analyst increased U.S. sales estimates for Tepezza to reflect "not only the brisk pace of initial uptake," but also what is "increasingly looking like rapid adoption" of the product as a standard-of-care option in patients with active thyroid eye disease. Early feedback from our physician checks points to early evidence of success in this population, Amsellem tells investors in a research note. The analyst believes "there is still ample room for multiple expansion" in shares of Horizon Therapeutics.
Our Take: HZNP is up at all-time highs and killing it. This has transitioned from a speculative biotech stock into a longer-term specialty pharma play. Very positive.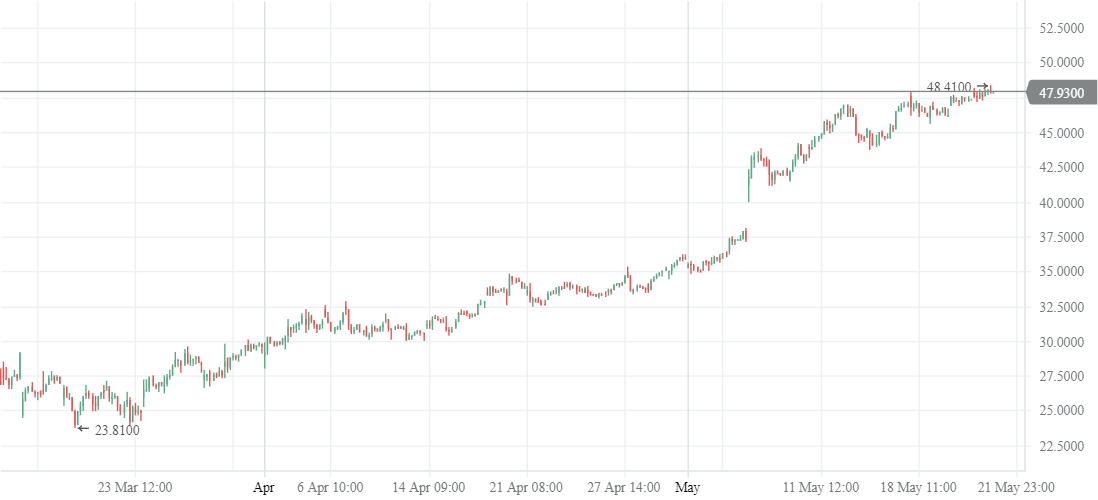 ---
Disclosure: I may trade in the ticker symbols mentioned, both long or short. My articles represent my personal opinion and analysis and should not be taken as investment advice. Readers should do their own research before making decisions to buy or sell securities. Trading and investing include risks, including loss of principal.
If you liked this article, please click the LIKE (thumbs up) button.
Feel free to leave any comments, question, or opinions. (Sign-up if you haven't already done so).
Follow us/bookmark us and check back occasionally for additional articles or comments on our page...
.
Are you interested in trading stocks to supplement your income or make a living? Maybe become a professional trader? Many traders have the skills and nerves to trade, but not the upfront capital. Well now that problem is solved!
Try2BeFunded has expanded its trading program! If you're a novice or experienced trader, you can earn access to a trading account with up to $100,000! To learn more about how to qualify, click HERE and give it a shot! You have nothing to lose it is free to try.
.