Today's Trackdown: Wednesday - May 12, 2021
SPY Charts and some Technical Analysis

News to keep in mind Today - Today's Economic Calendar - The Charts - Opinion - Stock Picks.

---
News to keep in mind Wednesday morning

Futures trade vs fair value were trading lower last night. * The Nasdaq still needs to find a bottom. *

Dow -140, S&P -16, Nasdaq -74, Russell -16. (1:40 am ET).

We look good technically - But use "Caution" message has been on here for a while for a reason. (Quick sell-offs and/or getting overbought are a possibility at anytime - so we continue to leave this note).
Watch the VIX - (CBOE Volatility Index) - The Vix has jumped over 20 with the latest sell-offs. Keep an eye on it. It will start coming back down when the market recovers/rebounds.
---
Today's Economic Calendar:
7:00 AM ET, The Mortgage Bankers Association (MBA) will release the results for the mortgage purchase applications index.

8:30 AM, The Consumer Price Index for April from the BLS. The consensus is for 0.2% increase in CPI, and a 0.3% increase in core CPI.

11:00 AM, NY Fed: Q1 Quarterly Report on Household Debt and Credit

---
THE CHARTS:
(NOTE: Charts are a guide, do other research as well.)
BRIEFING:
The market took another hit on Tuesday. To remind everyone, this is why we have our "use caution" message still on here for so long. It is also why we left the SPY 420 line on the charts as a possible resistance point or top.
A trading range of SPY 403 to 420 is a good possibility for a while. We need some regrouping before the markets can make any substantial moves up or down. The MACD is declining again, keep an eye on it.

Besides the technicals to consider, we will be seeing many earnings reports and the reactions to them. So far earnings have been good. But many have also been 'sell the news' type of events.

On the longer term 8-month chart the trend looks very positive. Short-term we may be a bit uncertain.

* If you have any questions or opinions to add please do so! *


IF wanting to gamble: Options trades on these ETFs will give you a way to place your bets. $TQQQ - $SQQQ - $SPXL - $SPXS.

* Beware - levered ETFs are subject to decay and are not for long-term holding. *


CHANGES:

POSITIVES:

The MACD is positive, but declining.

The Money Flow is positive.

We are over the 20-day moving average, which is rising.

We are over the 50-day moving average, which is rising.

We are over the 200-day moving average, which is rising.
NEGATIVES:

Possible market top or trading range in the future?

Thinking about the Fundamentals, Valuations, Virus news, the Economy, Jobs, Politics, The FED, etc.?

Some things out there to worry about still! Or a wall of worry to climb as the saying goes.

OPINIONS:

Longer-term we are still bullish. The 8-month chart shows a strong uptrend.


Some risks to the markets still remain.
Longer-term question to ask? When will the Fed's easy money and the stimulus sugar run out?



We still say "Use Caution" for a reason. Do not over risk yourself or over leverage yourself.

We are still susceptible to large drops or dips.
Look for trading opportunities that could result and have your trading lists ready.
* Be careful if using MARGIN, be certain of your trades! *

INDICATORS:
The MACD is positive, declining. The Stochastics are neutral. The Money Flow is positive.

MA +/- (slope): The 50-day MA (403.29)(+0.52) and the 200-day MA (366.12)(+0.49)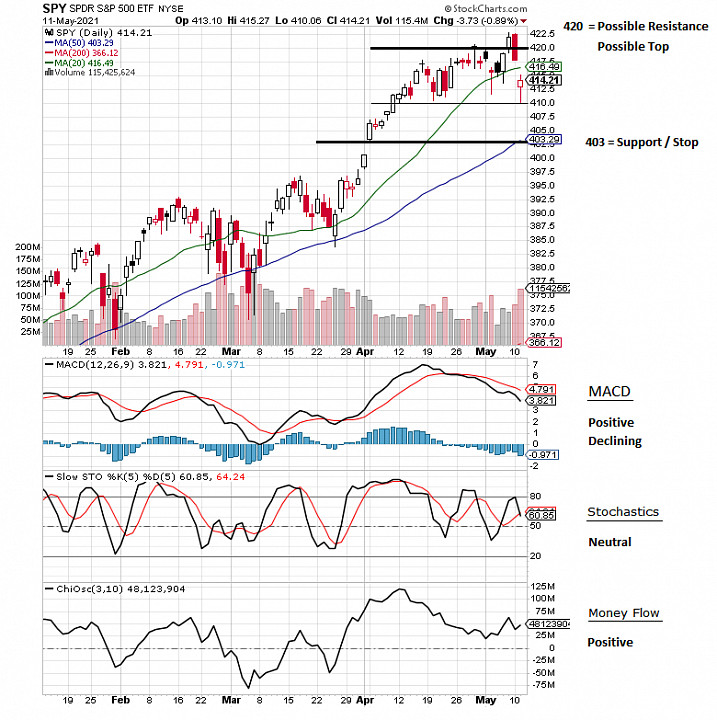 The 8-month chart (below).
We are above the SPY 403 support level. 420 currently resistance.
The market continues to climb in an impressive up-channel. Longer-term things look really good.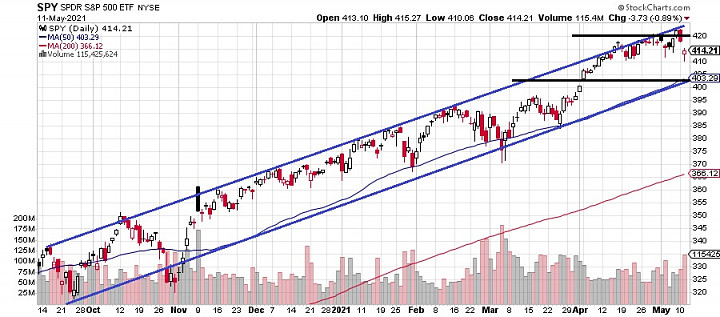 ---
STOCK PICKS: (For trades and/or investments.)
Current trading favorites: AUPH - Aurinia Pharma, EPZM - Epizyme, EXEL - Exelixis, HZNP - Horizon Therapeutics (A big winner for us last year), IOVA - Iovance (Under 30 is a good place to buy), KPTI - Karyopharm (Good buy under $10), SGMO - Sangamo, TGTX - TG Therapeutics (Our Top Pick!), TRIL - Trillium Therapeutics.
Tech Picks: CRWD - CrowdStrike (Be aware it has a high valuation.)
Also watching: IMGN, VKTX.
* IOVA, SGMO, and TGTX are oversold/good buys at current levels. *
* Feel free to share your list/picks in the comments below.

---
Disclosure: I may trade in the ticker symbols mentioned, both long or short. My articles represent my personal opinion and analysis and should not be taken as investment advice. Readers should do their own research before making decisions to buy or sell securities. Trading and investing include risks, including loss of principal.

If you liked this article, please click the LIKE (thumbs up) button.
Feel free to leave any comments, question, or opinions. (Sign-up if you haven't already done so)!
Follow us/bookmark us and check back occasionally for additional articles or comments on our page...
With our Daily Trackdowns, check back for additional analysis/observations during the trading day in the comments by us or our readers.
.