Midday Markets by Mike Paulenoff 5/21 - LNG Peaking?
(Posted on behalf of mptrader.com and author Mike Paulenoff)
Monday May 21st, 2018
by Mike Paulenoff
LNG-- It should not be a surprise that LNG hit its bear phase low at 22.80 in early Feb. 2016, right around the time of the low in NYMEX Crude Oil at $26.05. The attached daily chart shows the beautiful, well-defined bullish price channel that has developed during the past 2-1/4 years.
Today, LNG hit its highest price since Aug. 2015, but in so doing popped above the upper channel resistance line at 65.80, then ran to 66.66 (is four 6's better or worse than three 6's?), prior to reversing under the upper resistance line again. Right now, LNG is trading at 63.37, suggesting that there IS serious resistance along the upper channel boundary line.
Inability of LNG to climb to regain the upper channel could be problematic in the near term, and likely is warning LNG bulls that the most recent upleg from the 3/02/18 low at 50.08 to today's high at 66.66 is complete, which if accurate, means that LNG is peaking and starting a correction that will point the price structure towards a test of support in and around the 60.50-59.20 area prior to a resumption of strength.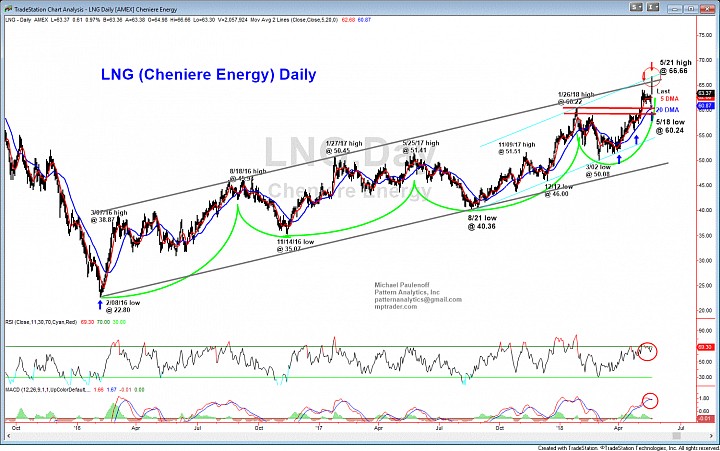 5 21 18 LNG Day GIF
Mike Paulenoff is author of MPTrader.com, a real-time diary of his technical analysis & trade alerts on ETFs for precious metals, energy, currencies, and an array of equity indices and sectors, including international markets, plus key ETF component stocks in sectors like technology, mining, and banking. Sign up for a Free 15-day Trial!

* I really like Mike's charts and analysis. This is shared with my readers here via MPtrader.com *
---
Disclosure: I may trade in the ticker symbols mentioned, both long or short. My articles represent my personal opinion and analysis and should not be taken as investment advice. Readers should do their own research before making decisions to buy or sell securities. Trading and investing include risks, including loss of principal.
If you liked this article, please click the LIKE (thumbs up) button.
Feel free to leave any comments, question, or opinions.
Follow us and check back occasionally for additional articles or comments.