Today's Trackdown: Thursday - March 21, 2019
Brief Recap and Updates on the Markets
SPY Charts and some Technical Analysis

In Wednesday's action:
The S&P 500 closed the day down 8 points as traders reacted to the Fed's Policy Decision by whip sawing the market up and down after the decision. The Dow ended negative and tech stayed positive.
---
News to keep in mind Thursday morning:
Futures trade vs fair value were mixed late last night - Dow -35, S&P -1, Nasdaq +12, Russell -1.
The China trade war news and Fed watching are still the 2 biggest issues to keep an eye on.
Keep an eye on the VIX - The Vix is still in the teens, which is "risk on" for the markets.
We are staying above the 200-day moving average and the 2,800 level so far on the S&P 500 - These levels are now support.
Expect more fallout from the Fed decision. Also take notice that big tech is starting to move up again.
---
Today's Economic Calendar:
---
Quick Notes: $FDX
An earnings warning from FedEx (FDX 175.07, -6.34, -3.5%) helped fuel economic growth concerns.
---
THE CHARTS:
The markets were mixed/unchanged on Wednesday, the Dow was negative after the Fed dovish stance and FedEx's weak earnings. Take note though that big tech seems to be coming back to life.
As I have been writing here for a while: "Do keep in mind 280 is major resistance line." This level will be a tough fight.
Both the 50-day and 200-day MAs are rising. This is a good sign for the market technically when the moving averages are all headed in an upward sloping direction. In addition, we are heading towards a "golden cross" as the 50-day is poised to cross back above the 200-day.
The MACD is positive. The Stochastics are high/overbought. The Money Flow is a slight positive.
Currently we are in between strong resistance and good support. Negative is that we have gone pretty high up into a tough resistance area and higher valuations. Positive is we are seeing strong momentum and some bullish technicals, like the impending 'golden cross'.
The 50-day MA (270.99)(+.57) and the 200-day MA (272.35)(+.07) are both support levels.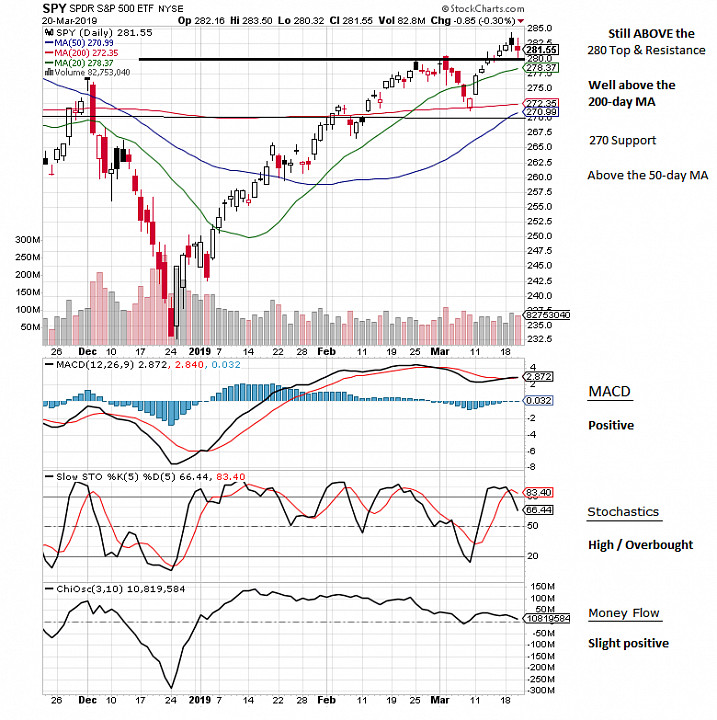 On the 9-month chart below, the previous patterns are behind us. Shown now WAS the resistance level at 280. We will have to wait and see what the market does from here. Will 280 become support? So far so good.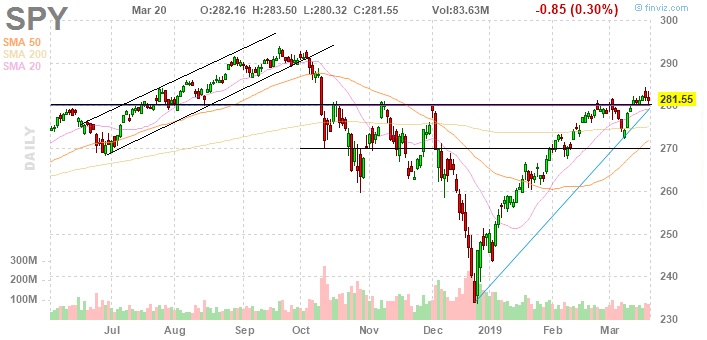 Nasdaq Composite +16.5% YTD
Russell 2000 +14.4% YTD
S&P 500 +12.7% YTD
Dow Jones Industrial Average +10.4% YTD
---
Disclosure: I may trade in the ticker symbols mentioned, both long or short. My articles represent my personal opinion and analysis and should not be taken as investment advice. Readers should do their own research before making decisions to buy or sell securities. Trading and investing include risks, including loss of principal.
If you liked this article, please click the LIKE (thumbs up) button.
Feel free to leave any comments, question, or opinions.
Follow us and check back occasionally for additional articles or comments.
With our Daily Trackdowns, additional analysis/observations during the trading day in the comments by us or our readers.