Mid-Day Markets by Mike P. 10-23 - The MSFT Technical Set Up Heading into Earnings
Wednesday October 23rd, 2019
by Mike Paulenoff
MSFT-- from a near term technical perspective, all of the action since the end of July has carved out a high level bullish Coil formation (see attached 4 hour chart). Such a formation atop an underlying uptrend argues strongly for upside continuation. With the integrity of the near three month Coil still intact just 2-1/2 hours prior to the earnings report, we should give the benefit of the doubt to a likely positive upside reaction to MSFT's report. Should such a scenario emerge, MSFT will thrust out of the Coil to a measured upside target zone of 150 to 153, or 10% to 12%.
If we look at MSFT from a longer term perspective (see my attached Weekly Chart), we can see that the Coil pattern sits atop a very mature uptrend that exhibits WEEKLY Momentum divergences which warn holders of long positions that the 4 year, 2 month bull phase could be laboring in a state of near exhaustion at this time.
When we view my 4 hour timeframe together with my Weekly chart, three conclusions emerge: 1) that MSFT's quarterly results need to exceed expectations to thrust prices to the upside on a sustainable basis to correct the Momentum divergences... 2) that any results short of "nearly outstanding" likely will be used as a sell-the-news opportunity... and 3) that an inability of MSFT to thrust and remain above the prior all time high at 142.37 will leave the pattern vulnerable to a possibly acute bout of selling pressure that will point to a breach of nearer term support levels at 133 and 130, in route to a 116-121 target zone.
Bottom Line: caution is the word heading into MSFT earnings, especially if it pops to a new all time high above 142.37, but is unable to sustain the gains... Last is 136.24/25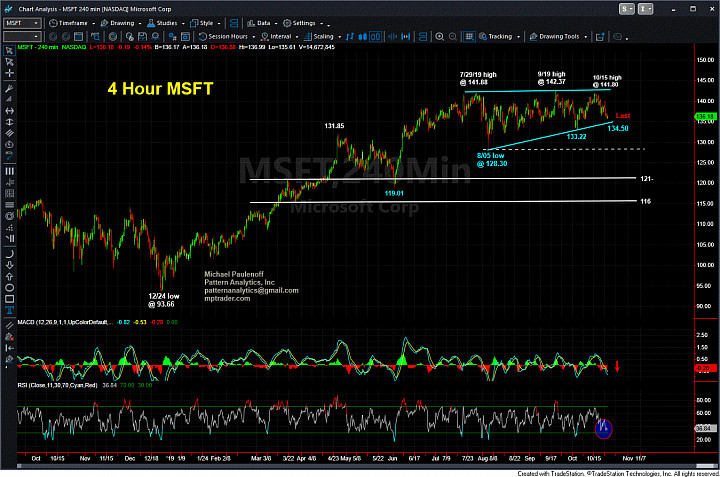 10 23 MSFT 4 Hr GIF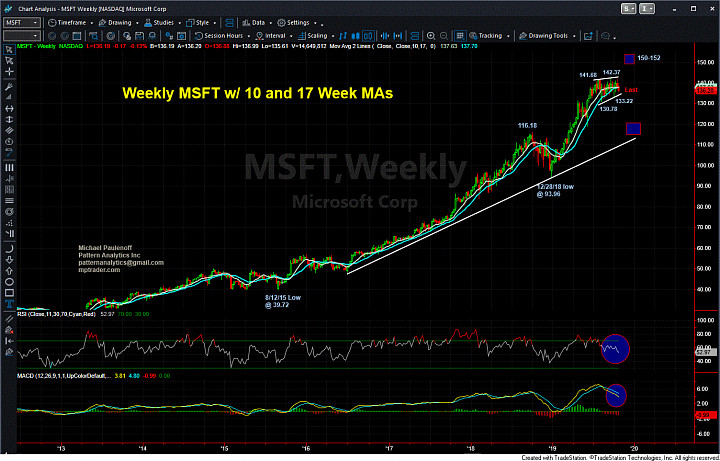 ---
Mike Paulenoff is author of MPTrader.com, a real-time diary of his technical analysis & trade alerts on ETFs for precious metals, energy, currencies, and an array of equity indices and sectors, including international markets, plus key ETF component stocks in sectors like technology, mining, and banking.
* I really like Mike's charts and analysis. This is shared with my readers here via MPtrader.com *
---
Disclosure: I may trade in the ticker symbols mentioned, both long or short. My articles represent my personal opinion and analysis and should not be taken as investment advice. Readers should do their own research before making decisions to buy or sell securities. Trading and investing include risks, including loss of principal.
If you liked this article, please click the LIKE (thumbs up) button.
Feel free to leave any comments, question, or opinions. (Sign-up if you haven't already done so).
Follow us/bookmark us and check back occasionally for additional articles or comments on our page...